Feature | Exhibition
5 Must-See Exhibitions During Art Week Tokyo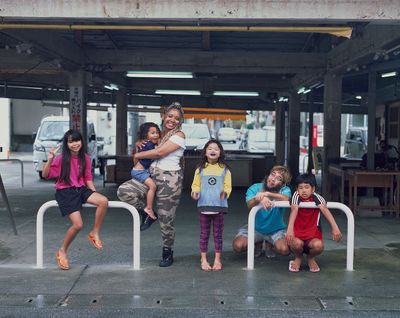 Mao Ishikawa, Living as bi-racial (mixed-roots) in Okinawa (2021), from the series 'The Great Photographic Scroll of the Ryūkyū'. Courtesy Tokyo Opera City Art Gallery.
Following its first full-scale, post-pandemic edition last year, Art Week Tokyo returns for its most ambitious edition yet with 50 participating institutions and galleries, organised in collaboration with Art Basel.
From 2 to 5 November, visitors can experience an expanded programme encompassing talks, screenings, and a curated sales platform debuting at Okura Museum of Art. We have selected five must-see shows during Art Week Tokyo across Japan's capital, from photographer Mao Ishikawa's intimate restaging of Okinawa histories to Saori Miyake's AI-generated post-pandemic landscapes.
Mao Ishikawa, Living as bi-racial (mixed-roots) in Okinawa from 'The Great Ryukyu PhotoScroll' (2021). Courtesy Tokyo Opera City Art Gallery.
Mao Ishikawa: What Can I Do?
Tokyo Opera City Art Gallery, Tokyo Opera City 3F, 3-20-2 Nishi-Shinjuku
13 October–24 December 2023
Expect: intimate and performative documentations reflecting on Okinawa's history, geopolitics, as well as the intricate fabric of Okinawan identities.
Okinawa-born photographer Mao Ishikawa is renowned for her documentation of her home prefecture's intertwined history. Taking up her camera in the early 1970s amid Okinawa's reversion from U.S. to Japanese control, Ishikawa made her debut with the seminal series, 'Red Flower: The Women of Okinawa' (1975–77). The series portrays women befriended by the artist while working at military bars in intimate photographs that testify to the power of love and camaraderie.
What can I do?, Ishikawa's first solo institutional exhibition in Tokyo, showcases over 60 photographs from her 50-year career. Her lens captures the diverse tapestry of the Japan Self-Defense Forces, stationed U.S. military, biracial Okinawan residents, and the people in her surroundings. The exhibition highlights 'The Great Photographic Scroll of the Ryūkyū' (2014–ongoing), a series in which Ishikawa invites friends to perform and recreate scenes from Okinawa's complex history, from the 1609 Invasion of Ryūkyū to the lingering racial tensions and societal prejudices of today.
Spanning a full spectrum of emotion from anger to humour, Ishikawa presents a jubilant celebration of genuine personal connections that emerge in the face of adversity, defiantly challenging societal norms while prompting contemplation on what we can do.
Marcel Broodthaers, Magnifique Peinture (c. 1963–1964). Paint rollers, paint brushes, plastic sphere, and plaster on sponges mounted on panel. 61.8 x 96 cm. ©️ Estate Marcel Broodthaers. Courtesy Taro Nasu.
Marcel Broodthaers
Taro Nasu, Piramide Bldg 4F, 6-6-9 Roppongi
2 November–23 December 2023
Expect: an exploration of the Belgian conceptual pioneer's inventive fusion of visual art and poetry, characterised by his groundbreaking use of everyday objects, language, and institutional critique.
Despite his relatively brief artistic career, Marcel Broodthaers dedicated his life to finding 'the place where the world of visual art and poetry may perhaps converge on the exact dividing line that absorbs both.'
Following the inclusion of Broodthaers in their 2022 group exhibition Works on Paper alongside peers such as Piero Manzoni, Alighiero Boetti, and Sol LeWitt, Taro Nasu presents a solo exhibition of paintings, installations, and editions by the Belgian artist. A prominent exhibitor of Conceptual art in Japan for more than two decades, Taro Nasu has consistently exhibited works by influential Japanese and international artists such as Ryoji Ikeda, Simon Fujiwara, Lawrence Weiner, and Pierre Huyghe.
This new exhibition highlights Broodthaers' exploration of the interplay between objects and language, as well as his critical perspectives of institutions and painting traditions. On view are early works including collage installations that juxtapose popular images with domestic items, and three-dimensional 'paintings' where painting tools are affixed to canvases to create an impasto effect.
Martha Atienza, Adlaw sa mga Mananagat 2022 (Fisherfolks Day 2022) (2022) (still). Video, silent. 45 min, 44 sec (loop). Production support: Han Nefkens Foundation, Mondriaan Fund, and Shane Akeroyd. Commissioned by the 17th Istanbul Biennial, 2022. Courtesy Silverlens, Manila/New York.
Our Ecology: Toward a Planetary Living
Mori Art Museum, Roppongi Hills Mori Tower 53F
18 October 2023–31 March 2024
Expect: a glimpse into a future where art, sustainability, and global awareness intertwine, delineated by artists including Monira Al Qadiri, Pierre Huyghe, Yutaka Matsuzawa, and Apichatpong Weerasethakul.
Celebrating 20 years of artistic innovation, Mori Art Museum presents a group exhibition which engages 34 artists from around the world, unravelling the intricate threads of artistic response to shared planetary challenges.
One part of Our Ecology spotlights commissioned works that respond to the local context, providing a vibrant expression of the relationship between art and ecological consciousness. Beyond contemporary environmental crises, the exhibition delves into historic responses by Japanese artists to ecological issues such as pollution and radioactive contamination between the 1950s and 1980s.
Examples of inventive repurposing include Jef Geys' use of pressed weeds from the museum's vicinity; Kate Newby's assemblage of objects found en route from Roppongi to Ginza; Daniel Turner's use of parts of a dismantled Japanese chemical freighter; and Yasura Takeshi's juxtaposition of melted rubbish with marble.
Saori Miyake, Nowhere in Blue (2023) (still). Single-channel video. 20 min. ©︎ Saori Miyake. Courtesy the artist and WAITINGROOM.
Saori Miyake: Nowhere in Blue
WAITINGROOM, Nagashima Bldg 1F, 2-14-2 Suido
21 October–19 November 2023
Expect: a meditative moment to reimagine post-pandemic landscapes, generated by cyanotype techniques and AI.
Known for her research projects incorporating photographs, videos, archival materials, and found objects, Saori Miyake conjures enigmatic landscapes that invoke intimacy and memories. By employing broad, fluid brushstrokes on transparent sheets before exposing them directly onto photosensitive paper, Miyake creates painterly photograms that reverse the positive and negative, residing in a realm between paintings and photographs.
Her latest exhibition extends her exploration of shadows, transforming WAITINGROOM into a blue box filled with a new series of cyanotype prints and videos. Inspired by her walks in nature during the Covid-19 pandemic, Miyake experiments with cyanotypes, a technique involving the exposure of negatives to sunlight. Several furniture pieces from her mountain retreat are also included in the exhibition.
Blending observed scenes with AI-generated imagery, Miyake creates liminal 'nowhere' landscapes—rivers, caves, forests, and mountains that exist in a temporal limbo, detached from both past and future.
Yoko Terauchi, One is Many Many is One (2022). Paper and plaster. 386 x 555 x 429 cm. Exhibition view: Galerie Hoffman, Friedberg (2022). Courtesy Hagiwara Projects. Photo: Fabian Stransky.
Yoko Terauchi: One is Many Many is One
Hagiwara Projects, 1-13-6 Tokiwa
1 November–2 December 2023
Expect: minimalist sculptures that defy binary oppositions in space, with everyday materials transformed to invite a fresh perspective of the familiar.
Investigating the formal potential and contradictions of commonly used materials in sculpture, Yoko Terauchi reminds the viewer of the space beyond physical reach and perception.
After studying sculpture at Saint Martin's School of Art in the late 1970s, Terauchi lived in London for over 20 years, where she developed a scepticism towards the dualism in Western thought. She is known for mapping spaces with large-scale, site-specific installations. In 1994, she applied a solid graphite drawing (titled Air Castle) directly to the walls, floor, and ceiling of Chisenhale Gallery.
At Hagiwara Projects, Terauchi presents a series of sculptures made of Japanese paper, plaster, and lead. By simply tearing, folding, rolling up, and crumpling the materials without altering their physical properties, Terauchi questions the structural binary oppositions inherent in objects—such as the inside and outside, the front and back. For Terauchi, 'there is no opposition in the world.' —[O]