News | Galleries
24 Galleries Will Join Art Basel in Switzerland for the First Time in 2021
Rebuilding after a tough 2020, the new participants come from near and far, including Milan, Pristina, Hong Kong, and Buenos Aires.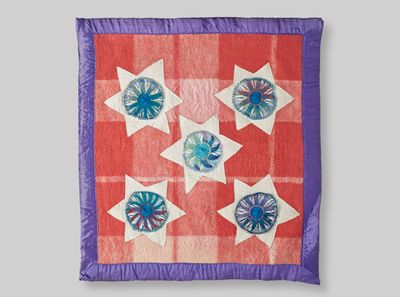 Feliciano Centurión, S_T (cinco círculos azules sobre estrellas blancas) (1990-1993). Acrylic and embroidery on blanket, 49 x 46cm. Courtesy waldengallery.
Art Basel has announced a strong lineup of 273 participants at this year's fair in Basel, Switzerland, down slightly from 290 in 2019.
Twenty-four galleries are participating for the first time, including Ben Brown Fine Arts and Edouard Malingue from Hong Kong, Isla Flotante and waldengallery from Buenos Aires, Cardi Gallery from Milan, and LambdaLambdaLambda from Pristina.
'It is our first time at Art Basel, Basel, and we are very excited', said Ricard Ocampo, founder of waldengallery.
The gallery will present a project by Paraguayan artist Feliciano Centurión (1962–1996), who Ocampo said is having a moment after showing at the Americas Society in New York last year and at the 13th Shanghai Biennale.
Edouard Malingue said it would show works by artists Yu Ji, Ho Tzu Nyen, Ellen Pau, Wong Ping, Liu Xiaohui, Chou Yu-Cheng, Yuan Yuan, Brook Hsu, and Samson Young.
Yuan Yuan, The voice behind the curtain (2020). Oil on canvas. 195 × 330cm. Courtesy the artist and Edouard Malingue Gallery.
Marc Spiegler, global director of Art Basel, emphasised the importance of galleries showing work in person again.
'While the pandemic has been a time of resilience and innovation, it has not always been one of discovery – patrons have often not been able to discover the work of new artists; likewise, galleries have not had ample opportunities to meet new collectors who can start to engage with and then later sustain their programs.'
According to Clare McAndrew's Art Market Report 2021, art dealers' average client bases shrank from 64 in 2019 to 55 in 2020.
A survey shared by the Art Dealers Association of America this week found that revenues fell for 70% of U.S. galleries in the 2020 financial year. Over three quarters of them planned to attend in-person fairs in 2021.
Ocampo said Covid-19 had made things 'very complex', but also created opportunities.
'At the end of the year, the gallery will open its new headquarters in Uruguay in a rural area, away from everything,' he said.
Feliciano Centurión, S_T (tigre) (1990-1993). Acrylic on blanket. 204 x 146cm. Courtesy waldengallery.
Despite the challenges, many galleries and auction houses grew their businesses online in 2020. According to McAndrew's report, online sales of art and antiques reached a record $12.4 billion last year, double the value in 2019. It now accounts for 25% of the total market.
Spiegler said that Art Basel will continue to build upon their own digital innovations at the same time as staging their in-person fairs 'to continue engaging the broadest possible audiences worldwide.'
All 24 galleries participating in Art Basel, Basel, for the first time are included below. The full list of 273 galleries attending the fair can be viewed here. —[O]
New Galleries at Art Basel, Basel 2021
Ben Brown Fine Arts, Hong Kong, London and Palm Beach
Bodega, New York
Bridget Donahue, New York
Cardi Gallery, Milan and London
Company Gallery, New York
Edouard Malingue Gallery, Hong Kong
Emalin, London
Galerie Jérôme Poggi, Paris
Garth Greenan Gallery, New York
High Art, Paris
Hosfelt Gallery, San Francisco
Isla Flotante, Buenos Aires,
Kasmin, New York
LambdaLambdaLambda, Pristina
Lars Friedrich, Berlin
Loevenbruck, Paris
Lyles & King, New York
Mignoni, New York
Mulier Mulier Gallery, Knokke-Heist
Queer Thoughts, New York
René Schmitt, Westoverledingen
Union Pacific, London
Venus Over Manhattan, New York
waldengallery, Buenos Aires