News | Artists
Art Dream Fund Awards a Total of $100,000 to 13 Would-be NFT Artists

APENFT FOUNDATION | SPONSORED CONTENT
Over 500 artists submitted artworks in an open call backed by the APENFT Foundation and TRON. LiveArt will help the winners mint NFTs of their artworks.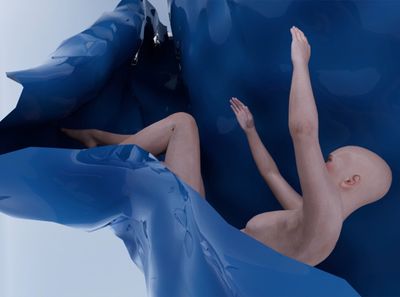 WMD Studio, Infinite Falling (2021). Digital animation. Courtesy the artist.
The APENFT Foundation and TRON today announced the winners of Art Dream Fund's open call for artworks exploring the theme 'Second Life'.
WMD Studio was awarded the grand prize of US $20,000 for their submission Infinite Falling (2021). Four artists received $10,000 Best Creativity Awards: Verdi Jackson, Kong, Allyn Belfred, and Chengcheng Shi. Eight more received $5,000 category awards: Ron Guetta, HUIHUAN, Lil E, Pandalifa, Jansword Zhu, RocketHand Studio, LOVEBEING, and duo Zhang Hui and Zhao Xuetong.
Allyn Belfred, Home Base (2021). Blender rendering. Courtesy the artist.
The winning works were chosen by a panel of experts after two weeks of deliberation.
'A good artwork has two essential components,' said Sydney Xiong, Art Director of APENFT Foundation. 'First, a universal message – the work must have a clear and common language, so that the audience understands what you are trying to say. Good artworks can be understood across cultures. Second, artists' own coding – in other words, their own symbols and styles. Entries that meet these two criteria are considered desirable by me.'
Chengcheng Shi, New Language (2021). New media art. Courtesy the artist.
The award-winning works will be displayed in an offline exhibition and in the virtual APENFT Art Museum in virtual world Cryptovoxels in January 2022.
The $100 million Art Dream Fund was established by the APENFT Foundation and cryptocurrency giant TRON to bring new voices to the art market. In addition to the prize money, the award-winning artists will have access to online workshops on NFT technology and the NFT art market. APENFT will partner with LiveArt to mint NFTs of their artworks.
LOVEBEING, SUPERPOSITION NOSTALGIA (2021). Digital assemblage. Courtesy the artist.
'LiveArt and Justin Sun share a common vision of bridging the traditional and digital art worlds, and APENFT is an ideal partner in that journey,' said Marisa Kayyem, Chief Curator of LiveArt.
The Art Dream Fund is also planning open calls for musical and architectural works and artist-in-residence programs to attract more young creators. —[O]