News | Institutions
Pornhub Launches Art Guide to Museum Nudes
Porn star Cicciolina poses as the titular figure in Botticelli's The Birth of Venus in an introduction to the Classic Nudes guide.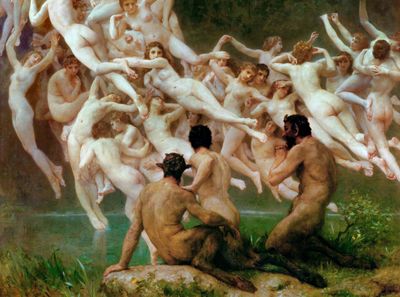 William Bouguereau, The Oreads (1902). Oil on canvas. 236 cm × 182cm. Public domain.
Pornhub has released an unlikely guide to nude paintings and sculptures in six art museums in Europe and the United States.
In a video introduction to the guide, entitled Classic Nudes, Hungarian-Italian porn star Cicciolina, the ex-wife of Jeff Koons, argues, 'Some of the best porn in the world isn't on Pornhub. It can only be found in a museum.'
The guide features maps to help locate the works, and cheeky texts and audio guides—voiced by Pornhub brand ambassador Asa Akira—explaining artistic innuendoes and past sexual mores. Caravaggio's Boy Bitten by a Lizard (1594-95) at London's National Gallery, for instance, isn't immediately recognisable as an erotic painting.
Caravaggio, Boy Bitten by a Lizard (1594-95). Oil on canvas. Public domain.
Less edifying, at least for those more interested in art history, are the six 'video guides'—sexually explicit scenes inspired by classical paintings featuring Kim and Paolo, the content creators behind MySweetApple.
Among the works they act out are Edgar Degas' Male Nude (1856), found at the Metropolitan Museum of Art, New York; and Titian's Venus of Urbino (1538), found at the Uffizi Gallery, Florence.
Dozens of other works are found in Classic Nudes, including: William Bouguereau's The Oreads (1902) at Musée d'Orsay, Paris; Peter Paul Rubens' The Three Graces (1630-1635) at Museo del Prado, Madrid; and Portrait of Madeleine (1800) by Marie-Guillemine Benoist at the Louvre Museum, Paris.
Because the figures depicted in artworks at these museums are overwhelmingly white—Madeleine being a notable exception—Pornhub chose to include works from other parts of the world in an additional section they call Another Perspective.
These include a woodblock print from the series Fujin sogaku jittai (1802-1803) by Japanese artist Kitagawa Utamaro and The Brazilian Lumberjack (1875) by José Ferraz de Almeida Junior.
Pornhub's decision to showcase art nudes has been met with more amusement than outrage in the art world.
Collector Alain Servais tweeted in support of the initiative saying that Facebook, Instagram and other social media platforms have become 'too prudish' to show nude paintings and sculptures online.
Pornhub's previous forays into the art world include using artificial intelligence to remaster century-old erotic films, commissioning an art show at Maccarone, Los Angeles, called The Pleasure Principle, and hosting the premier of SHAKEDOWN, a documentary on Los Angeles' Black lesbian stripper scene by Leilah Weinraub. —[O]