Feature
Auckland Art Shows to See: 2019 Lowdown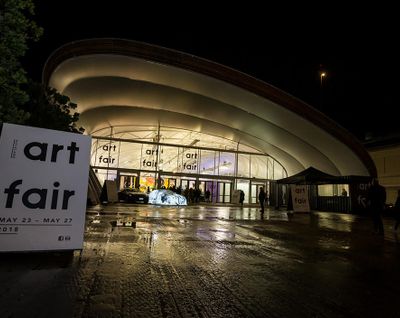 Exhibition view: Auckland Art Fair (23–27 May 2018). Courtesy Auckland Art Fair. Photo: Matt Hunt.
This year, the month of May kicks off with the annual Auckland Art Fair (2–5 May 2019) at The Cloud on Queens Wharf, where over 40 leading galleries from the Pacific Rim will exhibit. A carefully curated selection of talks and exhibitions will accompany the fair, including the 2019 Projects Programme organised by Francis McWhannell titled Whanaungatanga, which roughly means 'kinship' in English. Whanaungatanga includes ten commissions by mostly New Zealand-based artists that explore ideas of community and collaboration. Another must-see at The Cloud is CHINA IMPORT DIRECT, a group exhibition curated by Shanghai's Monumental Culture that will showcase nine of the 'best digital and video artists practicing across China.' With an exciting line-up of exhibitions taking place in Auckland in the weeks leading up to and after May, here is a list of shows to see in the city.
Auckland Art Gallery Toi o Tāmaki, Wellesley St E, 1010
At any time of the year in Auckland, the Auckland Art Gallery Toi o Tāmaki is the obvious place to go for a view of both historical and contemporary, and international and domestic art. Following its display of American artist Nick Cave's Soundsuit (18 February–3 March 2019), the city's preeminent gallery is now showing a range of shows. Long-term stays include In the Listening Light: Momentary Impressions in Painting 1890–1920 (15 December 2018–17 November 2019), a retrospective of more than 150 artworks by Frances Hodgkins; Pillars: Project Another Country (23 February 2019–16 February 2020), an installation project of cardboard houses stacked in upturned boats, suspended from the ceiling of the North Atrium, by the artist duo Alfredo and Isabel Aquilizan; and Living Portraits: Mata Raurangi (16 March 2019–31 May 2020), an exhibition of Gottfried Lindauer and Charles F Goldie's portraits alongside works by contemporary artists who are associated with the subjects of the earlier paintings.
Two other retrospective exhibitions on view, of the Pacific Sisters and the Guerrilla Girls respectively, are especially commendable for their thorough presentations of pioneering contemporary female artists both at home and abroad.
Exhibition view: Pacific Sisters, He Toa Taera | Fashion Activists, Auckland Art Gallery (23 February–14 July 2019). Courtesy Auckland Art Gallery.
Pacific Sisters: He Toa Tāera | Fashion Activists
23 February–14 July 2019
Originally developed by the Museum of New Zealand Te Papa Tongarewa last year, this exhibition brings together the works of the Pacific Sisters over the past 26 years in consideration of their role in facilitating conversations about contemporary Indigenous identity. A collective of Māori and Pacific, mostly female, artists, the Pacific Sisters emerged in Auckland in the 1990s to shape a Pacific voice that had until then been near non-existent. Through their collaborative and interdisciplinary works, which often involved combining avantgarde fashion, music, performances, and film, the Sisters actively challenged misconceptions about Pacific culture and, in particular, the imagery of the exoticised Pacific women known as the Dusky Maiden.
On view are original costumes made by the Sisters, many of whom—among them the founding members Selina Haami, Suzanne Tamaki, and Nephi Tupaea, as well as Selina Forsythe, Jaunnie 'Ilolahia, Ani O'Neill, Lisa Reihana, Rosanna Raymond, Feeonaa Wall, and Henzart @ Henry Ah-Foo Taripo—are also leading New Zealand artists today. 21st Sentry Cyber Sister (1997) is one of the highlights of the show, being possibly the Sisters' best-known work, that comprises 27 pieces made from natural and recycled materials that merge contemporary and traditional garb to create a female warrior.
In the Gallery's Creative Learning Centre, O'Neill has paired with Raymond to create DiscoVERY (28 March–3 November 2019), a participatory project that asks the audience to change into the attire provided by the artists (or remain as they came) and dance to music while their moves are streamed into a live video feed.
Exhibition view: Guerrilla Girls, Reinventing the 'F' Word—Feminism!, Auckland Art Gallery (8 March–13 October 2019). Courtesy Auckland Art Gallery.
Guerrilla Girls: Reinventing the 'F' Word—Feminism!
8 March–13 October 2019
Auckland Art Gallery's take on the Guerrilla Girls, which opened to the public on International Women's Day, focuses on the collective's posters, books, and archive materials from 1984 until 2016. This anonymous collective formed in New York City in 1985 as a response to the overwhelming under-representation of female artists in the art world—the meagre inclusion of 13 women in a cast of 169 artists in An International Survey of Painting and Sculpture at the Museum of Modern Art that year is cited as a catalyst. What began as mounting posters throughout the streets of SoHo in the dead of night evolved into a decades-long practice, defined by the use of provocative and satirical language grounded in statistics gathered from art galleries and museums. From posters, billboards, and bus advertisements, to exhibitions in the very institutions they criticise, the Guerrilla Girls seek to combat sexism and racial discrimination in the art world and society at large.
Reinventing the 'F' Word—Feminism! follows the Guerrilla Girls' key pieces throughout the decades, beginning with their iconic posters such as Do Women have to be naked to get in to the Met. Museum? (1989). Originally appearing on the buses of New York City, the image depicts the reclining nude woman from French artist Jean-Auguste-Dominique Ingres' La Grande Odalisque (1814), her head replaced with the gorilla mask associated with the Guerrilla Girls (a result of one member misspelling 'guerrilla' as 'gorilla'). What follows is a display of posters that tackle sexism and objectification of the female body in Hollywood, such as The Birth of Feminism (2001), while Even Michele Bachmann Believes "We All Have The Same Civil Rights" (2012) opposes Minnesota's then-proposed constitutional ban on same-sex marriage. The show aptly ends with a wall dedicated to gathering the visitors' thoughts on gender inequality.
Exhibition view: Santee Smith and Louise Potiki Bryant, Blood Water Earth, Te Uru Waitakere Contemporary Gallery, Auckland (2 March–19 May 2019). Courtesy Te Uru Waitakere Contemporary Gallery.
Santee Smith and Louise Potiki Bryant: Blood Water Earth
Te Uru Waitakere Contemporary Gallery, 420 Titirangi Rd, Titirangi, 0604
2 March–19 May 2019
In West Auckland, Te Uru is showcasing an international collaboration between Kahnyen'kehàka artist Santee Smith with Ngāi Tahu dancer and video artist Louise Potiki Bryant, Blood Water Earth—the exhibition part of their performance series at Auckland Arts Festival (7–24 March 2019). The series, which took place on 9 and 10 March 2019, explored ideas of femininity in relation to Indigenous identity. Its exhibition component consists of a ceramic display and immersive video installation, which contains footage of sceneries from Aotearoa and Six Nations of the Grand River in Ontario, Canada, alongside dance productions from Kaha:wi Dance Theatre, where Smith is the director.
Blood Water Earth accompanies a selection of other exhibitions at Te Uru by local and international artists, including No Reasonable Offer Refused (19 February–17 May 2019), a solo exhibition by Canberra-based artist Zoe Brand, which explores the communicative potential of jewellery; a solo presentation from last year's McCahon House artist-in-residence Sorawit Songstaya (Jupiter, 23 February–26 May 2019); and an exhibition and live performance by New Zealand-based Mark Harvey, part of which entailed working with local primary school students (Drop the Ball, 2 March–19 May 2019), among others.
Exhibition view: PĀNiA!, The True Artist Helps the World by Asking for Trust, Te Tuhi, Auckland (23 March–19 May 2019). Courtesy Te Tuhi.
Part One: The True Artist Helps the World by Asking for Trust
Te Tuhi, 13 Reeves Rd, Pakuranga, Auckland 2010
23 March–19 May 2019
In partnership with Mokopōpaki on Karangahape Road, Te Tuhi is holding a solo exhibition of PĀNiA!, known as 'the anonymous and enigmatic but always interesting über-cool-girl, artist-about-town'. The title of her exhibition at Te Tuhi is derived from American artist Bruce Nauman's iconic wall sign, The True Artist Helps the World by Revealing Mystic Truths (1967) in which a pair of parallel neon red tubes form a spiral frame encasing the words in the title in neon blue.
In PĀNiA!'s version, the True Artist is all about trust. Pakuranga Customs House or Attitude Arrival Lounge (2019) transforms the exhibition space at Te Tuhi into an immigration and border control office, made up of transparent, walk-through walls, which 'represent the change of heart necessary for trust, allowing visitors access to the unexpected realm of PĀNiA!' Once through, viewers encounter works such as Cloakroom Motukiore Māori School (2019), a wall installation of a row of neon orange beanies on coat hooks, and Portrait of the Artist as Bruce Nauman (After Bruce Nauman) (2019), a black-and-white image of a seated figure with her face blocked out by an orange dot.
Yllwbro, Internal Circulation Klosterstraβe 50 (2019). Courtesy the artist.
The Dutch Embassy
Mokopōpaki, 454 Karangahape Rd, 1010
1 May–22 June 2019
On the first day of the Fair, PĀNiA! launches the second part of her solo show, True Artist Helps the World by Asking for Trust, at Te Tuhi in Mokopōpaki's exhibition room known for its unconventional brown walls. In association with Yllwbro, the anonymous sister-and-brother artist duo, and A.A.M. Bos., PĀNiA! is to display works that explore the relationship between people and place. Together, they entertain an alternate scenario to James Cook's landing at Poverty Bay in 1769 in favour of Abel Janszoon Tasman's, the first recorded European to have sighted Aotearoa in 1642. Works in the exhibition include Yllwbro's Internal Circulation Klosterstraβe 50 (2019), a drawing depicting a white line work of a complex, building-like compartment on tank wheels, with an orange sitting at its heart, against a black background.
Exhibition view: Judy Millar: A World Not of Things, Gow Langsford Gallery, Auckland (17 April–11 May 2019). Courtesy Gow Langsford Gallery.
Judy Millar: A World Not Of Things
Gow Langsford Gallery, 26 Lorne St, 1010
17 April–11 May 2019
Coinciding with Judy Millar's first survey exhibition at the Kunstmuseum St. Gallen in Switzerland (The Future and the Past Perfect, 2 March–19 May 2019) and her inclusion in Frozen Gesture: Gesture in Painting – from Roy Lichtenstein to Katharina Grosse at Kunst Museum Winterthur, also Switzerland (18 May–18 August 2019), Gow Langsford Gallery is presenting new paintings by the artist at its space on Lorne Street. One of New Zealand's most acclaimed contemporary painters, Millar is known for her gestural oil and acrylic paintings, and her latest works continue to explore the rendering of space and light from within the canvas confines. In works such as The Five (2018), iridescent blues, yellows, and dusty pinks radiate from beyond the artist's characteristic ribbon-like forms which swirl across the surface of the work in muddy pinks and oranges, wrapping and unwrapping.
In relation to this new body of work, Millar writes in her artist statement for the show: 'I have wanted to suggest a multitude of things and nothing at all.' The artist's statement goes on to note that in the wake of the terror attacks in Christchurch on 15 March 2019, she reflected on her latest work, questioning a life in art and its ability to influence. In pondering these questions, she drew from a quote by French philosopher, mystic, and political activist, Simone Weil, who referenced the 'absurdities which project light'. This, Millar states in her writing, gave her some hope: 'At the very least I will take it as a definition of my own project ... I hope that it will encourage contrasting viewpoints. In doing so it might enable the widening of our individual perspectives.'
Gretchen Albrecht, Jumping into the Light (2019). Exhibition view: Between gesture and geometry, Two Rooms, Auckland (12 April–25 May 2019). Courtesy Two Rooms.
Gretchen Albrecht: Between gesture and geometry
Two Rooms, 16 Putiki St, Newton, 1021
12 April–25 May 2019
This exhibition at Two Rooms shares its title with Gretchen Albrecht's recently released monograph, written by leading art historian Luke Smythe. There are three paintings on her signature hemisphere canvases—Vigils (the night watch), Jumping into the Light, and Prime 'the sun has risen' (all 2019) that continue her exploration of illumination and space with brushstrokes that express bursts of energy and movement. On the more traditional rectangular canvases are Nearing the Compline Hour and Crossing the Sand Bar (both 2018), where horizontal expanses of colours introduce warmth and resonances with natural landscapes.
While not as well known in the public eye as her contemporaries Colin McCahon and Gordon Walters, Albrecht is no stranger to the art world, both nationally and internationally. Since her first solo exhibition in 1964, which was opened by McCahon, Albrecht has led the field of abstract painting in New Zealand. She began working with her characteristic semicircular and oval-shaped canvases in the 1980s, often featuring vortices of bold colours and thin slices of rectangular patches.
Exhibition view: Layover, Artspace Aotearoa, Auckland (15 March–25 May 2019). Courtesy Artspace Aotearoa.
Layover
Artspace Aotearoa, 300 Karangahape Rd, 1145
15 March–25 May 2019
Layover is the second chapter of an ongoing curatorial project led by Indigenous curators Sarah Biscarra Dilley, Freja Carmichael, Léuli Eshraghi, Tarah Hogue, and Lana Lopesi to chart contemporary Indigenous experience. Featuring new and existing works from Edith Amituanai and BC Collective with Louisa Afoa, the exhibition revolves around the notion of a layover as 'being-in-motion' and the various manifestations of homes, especially Samoan, in such moments of transit.
Edith Amituanai's photographic practice centres on the portrayal of diasporic Samoan communities, which began with her intimate documents of the residents of West Auckland (where she grew up) and developed into depictions of Samoan homes across the world. For her series 'Déjeuner' (2007), she travelled to France and Italy to photograph New Zealand-Samoan rugby players based there. The first artist of Pacific descent to be nominated for the prestigious Walters Prize in 2008, Amituanai was awarded the inaugural Marti Friedlander Photographic Award for what Friedlander described as 'an exceptional talent' that reveals 'New Zealanders and all their diversity.'
BC Collective, which stands for 'Before Cook and Before Columbus', was launched in 2017 by multidisciplinary artists Daniel Twiss (of Lakota and Sioux descent) and Cora-Allan Wickliffe (of Ngapuhi, Tainui, Alofi, and Liku descent) with the goal to support Indigenous artists. Last year, BC Collective initiated two prizes—Lafaiki Residency, an artist residency programme based in Niue, and Indigenous Award for AUT Art and Design. For Layover, the collective has liaised with Louisa Afoa, a New Zealand-Samoan artist known for her candid documentary-style films concerning diasporic communities.
At Auckland Art Fair, Artspace Aotearoa has partnered with Samoa House Library along with eight other Auckland-based, non-profit galleries to construct a public reading room in response to the impending closure of the University of Auckland's Fine Arts, Music and Architecture and Planning Libraries.
Exhibition view: Martino Gamper: Hookaloti, Michael Lett, Auckland (3 April–4 May 2019). Courtesy Michael Lett.
Martino Gamper: Hookaloti
Michael Lett, 312 Karangahape Rd, Newton, 1145
3 April–4 May 2019
At Michael Lett, there is still time to catch the solo exhibition of London-based Italian designer Martino Gamper before it closes on 4 May 2019. The spacious ground-floor space has been transformed into a collector's room of sorts, with a myriad of single wall hangers—all titled Hookaloti—dotted across the white walls and on columns. The diversity of the hangers' designs, dimensions, colours, and materials recalls Gamper's penchant for incorporating used and discarded materials into his design—back in 2007, he famously made a chair a day over a period of 100 days from salvaged chairs. Ninety-nine of the chairs were showed at City Gallery Wellington in 2017, with Gamper making the 100th one especially for the show.
Hookaloti also features iterations of Gesamtkunsthandwerk, an ongoing project Gamper began with artist and his wife, Francis Upritchard and jeweller Karl Fristch in 2011. Meaning the 'total artwork' in German, Gesamtkunsthandwerk proposes to extend a more complete artistic experience by incorporating art and design, with the collaboration between artists in this project's case offering greater totality. At Michael Lett, this takes the form of a table accompanied by four chairs, with the wall hangers as a backdrop. Gesantkunsthandwerk continues in the vault-turned-exhibition space in the basement, featuring even more creations from different artists (ceramics from Jaime Jenkins, Nicholas Brandon, and Laurie Steer, and brooches from Lisa Walker) and Upritchard's watercolour pieces.
Francis Upritchard, Jessie (2019). Steel and foil armature, modelling material, fabric, paint. 117 x 48 x 23 cm. Courtesy the artist.
Francis Upritchard: Centaurs and Sea Creatures
Ivan Anthony, 312 Karangahape Rd, 1010
3 April–4 May 2019
Imagery of centaurs and sea creatures and polymer clay mannequins populate Francis Upritchard's new exhibition at Ivan Anthony—a follow up to her solo show Wetwang Slack at the Barbican in London earlier this year (27 September–6 January 2019). The range of artworks on view highlight the diverse and collaborative nature of Upritchard's practice: wood-fired ceramics with illustrations of crabs and prawns on them, for example, are products of working with Nicholas Brandon, a master potter in New Plymouth. Deliberate coarseness and a hint of absurdity lurks in pieces like the watercolour Kiss Kiss (2019), where the lenses of a pair of glasses each feature a face, lips puckering in anticipation; or in the small-scale sculpture Shibuichi Rodin Centaur (2019) that shows a centaur raising arms that end in tiny, tiny hands. Overlapping with the show at Michael Lett, Centaurs and Sea Creatures also features Lisa Walker's brooches and Fritsch's rings, as well as a selection of Gamper's Hookaloti.
Since relocating to London in 1998, this 2006 Walters Prize winner has been expanding her international reputation. Upritchard held her first major survey exhibition, Jealous Saboteurs—encompassing her practice over the past 20 years—at Monash University Museum of Art in 2016 and has shown her work at two iterations of the Venice Biennale, first in 2009 when she represented New Zealand alongside Judy Millar, and in 2017 as part of the international exhibition Viva Arte Viva. Her extensive and multidisciplinary collaborations over the years have included working with her husband and designer Martino Gamper and glass artist Jochen Holz.—[O]