Feature
São Paulo Art Weekend: Shows to See in 2019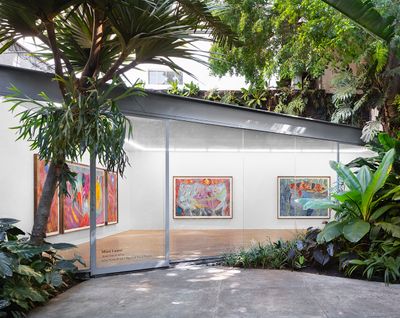 Exhibition view: Mimi Lauter, Après nous le déluge, Mendes Wood DM, São Paulo (24 August–10 November 2019). Courtesy Mendes Wood DM.
Organised by the non-profit organisation ABACT (Brazilian Association of Contemporary Art), Art Weekend São Paulo returns between 8 and 10 November for its fourth edition to showcase the best of art in Brazil and beyond.
Mimi Lauter: Après nous le déluge
Mendes Wood DM, Rua da Consolação 3358, Jardins
24 August–10 November 2019
Oily pastel pieces by Los Angeles-based artist Mimi Lauter distil extracts of mythology—in particular Phlegethon, one of five rivers of the Underworld in Greek Mythology—literature, and historical events to explore life and death; ruin and origin. Immensely detailed, these riotous pictures are filled with colour, from plump pinks, egg yolk yellow, to indigo, rendered through processes of scratching, smudging, and layering. Lauter believes painting has the power to make people believe, and her devotional relationship to the medium is contagious.
Vik Muniz, Surfaces: Calligraphy, after Carla Accardi (2019). Archival inkjet prints assembled in layers. Unique edition. 106.7 x 145.8 cm. Courtesy the artist and Galeria Nara Roesler.
Vik Muniz: Superfícies
Galeria Nara Roesler, Avenida Europa 655, Jardim Europa
24 October 2019–30 January 2020
Born in Brazil and based in the U.S. since 1983, Vik Muniz is renowned for his portraits, landscapes, and other subjects drawn from art history and journalism, using unusual materials—from chocolate syrup and dirt to diamonds. The artist has devoted his three-decade-long career to breaking the boundaries between photography and painting, and in this exhibition Muniz discards the figurative altogether to create modernist-looking collages of archival inkjet print paper cut-outs that have been reassembled and covered in colour.
Exhibition view: Laura Lima, qual, Galeria Luisa Strina, São Paulo (25 September–9 November 2019). Photo: Edouard Fraipont.
Laura Lima: qual
Mathias Duville: Projection seul
Galeria Luisa Strina, Rua Padre João Manuel 755, Cerqueira César
25 September–9 November 2019
Two exhibitions at São Paulo's oldest contemporary art gallery include Rio de Janeiro-based Laura Lima's ghostly tulle and dry ice pieces and charcoal and cotton drawings; along with Buenos Aires-based Mathias Duville's large sanguine drawings of mysterious landscapes and patterned sculptures of clay cast in bronze that he describes as 'microuniverses within the landscapes'.
Galeria Luisa Strina is celebrating its 45th anniversary this year with a cycle of exhibitions at its Annex space at Rua Padre João Manuel 974a, where the first iteration—running until 23 November 2019—presents a series of works that were shown at the gallery between 1974 to the mid-1990s. At this same space, various personalities of São Paulo's art scene, including artists, curators, collectors, and art advisors, will participate in talks staged between 11am and 8pm on Saturday 9 November.
Erika Verzutti, Man Ray with Fish (2019). Bronze, cast aluminium, and oil. 70 x 57 x 10 cm. Unique work in a series of 3. © Erika Verzutti. Courtesy Fortes D'Aloia & Gabriel, São Paulo/Rio de Janeiro. Photo: Eduardo Ortega.
Erika Verzutti: Carne Sintética
Fortes d'Aloia & Gabriel, Rua Fradique Coutinho 1500, Vila Madalena
19 October–20 December 2019
Visibly smudged and scratched, the sculptures of Erika Verzutti are immensely tactile. Rendered in earthy tones with bright interruptions of colour, they range from tropical fruit and plants to other sensuous, anthropomorphic forms. Verzutti studied industrial design at the Universidade Presbiteriana Mackenzie in São Paulo before completing her postgraduate studies at Goldsmiths College in London. Carne Sintética, which translates to 'Synthetic Meat', presents 15 wall reliefs in bronze, papier mâché, and clay.
A launch of the Brazilian edition of the catalogue of Verzutti's Centre Pompidou exhibition that took place earlier this year will happen at 11am on Saturday 9 November.
David Lamelas, Señalamiento de 3, 4 y 6 (1989). Courtesy the artist and Galeria Jaqueline Martins.
David Lamelas: Nomadic Architecture
Galeria Jaqueline Martins, Rua Dr. Cesário Mota Junior 443, Vila Buarque
8 November 2019–24 January 2020
Galeria Jaqueline Martins is presenting the first Brazilian gallery exhibition of peripatetic artist David Lamelas. Lamelas' practice orients around time, space, and language—interests developed in his native Buenos Aires as part of the 1960s avantgarde before participating at the Venice Biennale in 1968, aged 21, and continuing studies at Saint Martin's School of Art in London, where he transitioned from sculpture to film. Lamelas shifts between Buenos Aires, Los Angeles, and Europe, and like an ode to his wanderings, this exhibition looks at the critical and curatorial possibilities that reside in an artwork when it is shown in different cities.
This exhibition is co-produced in partnership with Argentina's Herlitzka + Faria gallery and Brussels' Jan Mot Gallery, as the first instalment of the Gallery Share project. A performance will activate the works at the exhibition's opening, between 6 and 9pm on Friday 8 November.
Regina Silveira, Matar a Sede (2018). Glass on porcelain. 21 x 36 cm; 33 x 39 x 39 cm. Courtesy the artist and Luciana Brito.
Regina Silveira: Coisas
Luciana Brito Galeria, Avenida Nove de Julho 5162, Bela Vista
9 November–21 December 2019
Opening on the Saturday of São Paulo Art Weekend, this exhibition presents over 30 works in porcelain and glass created by master 'shadow artist', Regina Silveira. For Silveira, printmaking 'contaminates everything', and her graphic experimentations extend from her early videos, to later works in embroidery, plastic, wood, silkscreen, and more. In Coisas, which translates to 'Things', graphic forms and letters spill across transparent, reflective, and pure white surfaces, created between the 1990s and 2018 using domestic objects in glass and porcelain that the artist has appropriated.
Exhibition view: Ascânio MMM, Casa Triângulo, São Paulo (28 September–14 November 2019). Courtesy Casa Triângulo. Photo: Filipe Berndt.
Ascânio MMM
Casa Triângulo, Rua Estados Unidos 1324, Jardim America
28 September–14 November 2019
Born in the northern Portuguese village of Fão in 1941, Ascânio relocated to Rio de Janeiro aged 18, where he studied at the National School of Fine Arts between 1963 and 1964, followed by the Architecture and Urbanism College at Rio de Janeiro's Federal University between 1965 and 1969. His practice as an artist and architect, having abandoned the latter in 1976, has been guided by mathematics and philosophy, and his works to this day—primarily rendered in aluminium—comprise subtle spatial structures rooted in Brazilian Constructivism.
Carlos Motta, Corpo fechado: a obra do diabo (2018). 16 min 9 sec HD video, sound, colour. Exhibition view: We The Enemy, Galeria Vermelho, São Paulo (8 October–10 November 2019). Courtesy the artist and Galeria Vermelho.
Carlos Motta: We The Enemy
Galeria Vermelho, Rua Minas Gerais 350, Higienópolis
8 October–10 November 2019
A 'historian of untold narratives and an archivist of repressed histories' Bogotá-born and New York-based interdisciplinary artist Carlos Motta reveals various stories of historical and contemporary sexual and gender repression across videos, inkjet prints, bronze sculptures, and a wall mural. Arresting films include Legacy (2019), a 30-minute endurance performance in which the artist, wearing a dental gag, attempts to read out a timeline of HIV/AIDS from 1908 to 2018, becoming increasingly exhausted—both mentally and physically—as he progresses.
Bruce Conner, Breakaway (1966) (still). Courtesy Galeria Bergamin & Gomide.
Bruce Conner: Breakaway
Galeria Bergamin & Gomide, Rua Oscar Freire 379, Jardim Paulista
5 November–20 December 2019
A member of the San Francisco Bay Area Beat scene, Bruce Conner—avantgarde filmmaker and artist—is being presented in this exhibition through photographs, drawings, and film. Conner was inspired by surrealism and abstract expressionism; mortality and the grotesque, as seen in his infamous assemblage, CHILD (1959)—a casting wax sculpture of an infant bound to a chair that was created in response to the capital punishment case of Caryl Chessman. Photographs in this exhibition capture nightlife at Mabuhay Gardens—a club frequented by Conner and S.F.'s punk scene; while the film Breakaway (1966) captures Conner's friend Toni Basil dancing and singing in dizzying, rapid-fire cuts to music by Ed Cobb.
Vicente de Mello, Grand Tour (2016). Courtesy Galeria Eduardo Fernandes.
Vicente de Mello: Monolux
Galeria Eduardo Fernandes, Rua Harmonia 145, Vila Madalena
17 October–18 December 2019
In the bohemian neighbourhood of Vila Madalena, Galeria Eduardo Fernandes presents Vicente de Mello's photographic series, 'Monolux' (2017–2018). Using light-sensitive paper, these photograms have been produced without a camera. Instead, de Mello has placed objects directly onto the paper, which is then exposed to light in the darkroom. The result is a series of abstracted objects and forms that emerge from deep black backgrounds like celestial bodies. A number of recognisable images are present throughout, also, including a ghostly photogram of discarded negatives from a trip to Italy (Grand Tour, 2016); along with A Dimensão do Volume é a Própria Superfície, in which a hand is captured folding a piece of paper, thus materialising the 'air between the hand and the paper.'
José Carlos Machado, Untitled (2018–2019). 140 x 90 x 90 cm. Courtesy Galeria Marcelo Guarnieri. Photo: Filipe Berndt.
José Carlos Machado: Zé Bico
Galeria Marcelo Guarnieri, Alameda Lorena 1835, Jardim Paulista
17 October–14 November 2019
José Carlos Machado's sculptures explore the relationship between balance and instability. While early works used magnets to investigate gravitational force, these sculptures in wood, glass, and metal revolve around the field of optics. Pendant pieces of wood appear to fall gently from the ceiling and onto pedestals, as if in the process of coming together or falling apart; while fragmentation is furthered in works of iron and aluminium blocks that have been placed before mirrors, creating an interplay between the solidity of material and reflective surfaces.
Stephan Doitschinoff, Interventu (2017) (detail). Dimensions variable. Courtesy Janaina Torres Galeria.
Stephan Doitschinoff: Estaremos Aqui Para Sempre
Janaina Torres Galeria, Rua Joaquim Antunes 177, Jardim Paulistano
15 August–7 December 2019
Self-taught Brazilian artist Stephan Doitschinoff extracts visual vocabularies from religion and the military to create his own symbology, which he spreads among performances, installations, paintings, and drawings. At Janaina Torres Galeria, sculptures of sacred books and psychoactive plants occupy the walls, along with surrealistic canvases depicting naked female bodies foregrounded by money sacks, pyramidal structures, psychoactive plants, and more.
The artist will be present at the gallery on Saturday 9 November, to give guided tours between 4 and 7pm.—[O]