Feature
Sydney Summer Report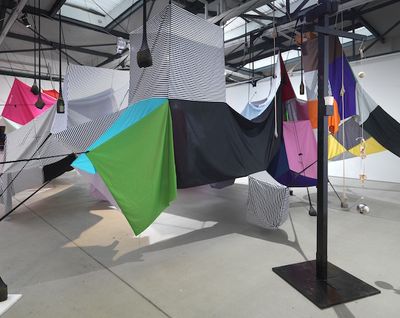 Image: Mikala Dwyer, Square Cloud Compound (detail), 2010. Installation view, Mikala Dwyer: MCA Collection, Museum of Contemporary Art, Sydney. Image courtesy and © the artist. Photograph: Christopher Snee
When Silence Falls


Art Gallery of New South Wales, Sydney

19 December 2015 - 1 May 2016Currently showing in the contemporary galleries of the Art Gallery of New South Wales, When Silence Falls is a collection-based, group exhibition curated by AGNSW curator of Aboriginal and Torres Strait Islander art, Cara Pinchbeck.


When Silence Falls is an exhibition largely focused on the work of artists who have responded to or attempted to investigate violent historical events such as massacres, ethnic cleansing or cultural displacement. The exhibition includes the work of nineteen Australian and international artists and is presented across four galleries.


The works depict or reference the horrific events—from the Armenian genocide to the Aboriginal massacres closer to home—in a variety of ways. Some works are deliberately absent of figures such as in the painting by Judy Watson, a picnic with the natives - the gulf (2015), which maps the sites of Aboriginal massacres in the north of Australia. The title itself stems from the documented euphemism used to describe the act of carrying out Aboriginal massacres, 'a picnic with the natives.' Ben Quilty too utilises absence in Fairy Bower Rorschach (2012), a monumental painting of idyllic waterfalls in the Southern Highlands of NSW where an Aboriginal massacre also occurred.


Image: Ben Quilty, Fairy Bower Rorschach, 2012. AGNSW, Purchased with funds provided by the Patrick White Bequest 2012.© Ben Quilty. Courtesy AGNSWTightly curated, the figure begins to appear as one continues through the exhibition. The final room is haunting with dark figurative works by Shane Cotton, Vernon Ah Kee and Fiona Hall combining to present something akin to the aftermath of a bloodbath. In Outlook (White) (2007) Cotton's characteristic floating skull stares out from a gothic sky and more sinister is Vernon Ah Kee's depiction of evil in his red, black and white splattered portrait, Brutalities 9 (2014) from the 14th Istanbul Biennial. In the centre Fiona Hall's installation, Slash and Burn (1997) presents body parts knitted from the physical video tapes of films that glorify war and violence.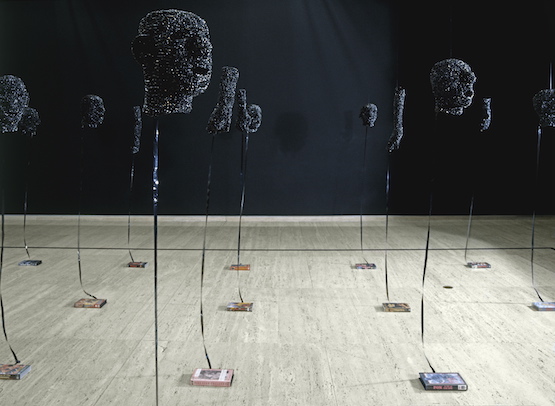 Image: Fiona Hall, Slash and burn, (detail) 1997. AGNSW, Contemporary Collection Benefactors 1997. © Fiona Hall. Courtesy AGNSWThe exhibition is certainly sombre and it is perhaps inescapable that the works sometimes feel as though they are solely memorials or prompts to consider the horror that humans are capable of, here, mostly in regards to race. The question remains as to what the role of the artist is in the face of horrific historic events?
William Kentridge's animation, Second-hand Reading (2013) offers one thought in regards to this question. As a flip book film, Kentridge presents the viewer with a pensive protagonist who walks a Johannesburg landscape. His movements are spliced with figures that transform into the trees of the scrubby hills, bold statements of instruction and poetry and the hypnotic image of a black figure dancing with two flags. Physically, Kentridge invites contemplation as the work is close to seven minutes in duration yet further Kentridge successfully activates the audience by allowing his protagonist, the artist himself, to physically step in and join the viewer in an act of mutual contemplation. He does not ask the audience to sit and suffer alone. A tone of hope is present which perhaps, as Kentridge says, 'gives a demonstration of how one can be in the world even under dire circumstances.'

Image: Richard Bell, Emory Douglas, We can be heroes, 2014. AGNSW, Purchased with funds from the Wendy Barron Bequest Fund 2015. © Richard Bell & Emory Douglas, courtesy Milani Gallery, Brisbane
Mikala Dwyer: MCA Collection


Museum of Contemporary Art, Sydney


21 December 2015 - 21 February 2016

In the first floor project space of the Museum of Contemporary Art, Sydney a brightly coloured canopy installation by Australian artist Mikala Dwyer is currently on show.
Square Cloud Compound (2010), recently acquired by the MCA, consists of various pieces of coloured cloth, sewn together to create a type of make-shift cubby house. A number of trinkets are found throughout the folds and the swathes of fabric are held upright by timber lamp posts or perhaps structures akin to gallows. The audience is invited to explore Dwyer's vision—an aesthetic that includes Dwyer's trademark use of disfigured plastics and everyday materials such as panty hose. Dwyer's installations are typically an alchemic melting pot of post-punk meets occult.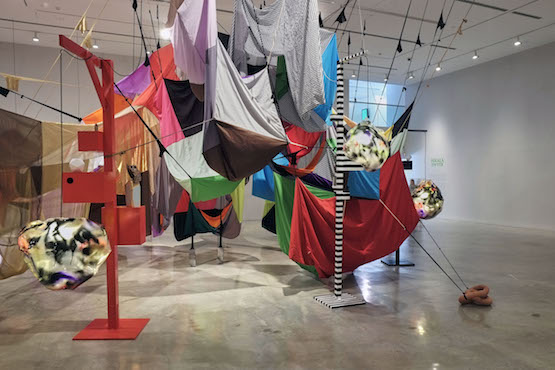 Image: Mikala Dwyer, Square Cloud Compound (detail), 2010. Exhibition view, Mikala Dwyer: MCA Collection, Museum of Contemporary Art, Sydney. Fabric stockings, glass, beer, champagne, plastic, ceramics, found things, wood, rocks, lights, paint, acrylic, cat and bird ornaments. Purchased with funds provided by the MCA Foundation, 2015, image courtesy and © the artist. Photograph: Christopher Snee Yet in its current incarnation Square Cloud Compound (2010) feels slightly void of context. The work was originally informed by the artist's residency at Cockatoo Island and was initially installed at Hamish Morrison Galerie, Berlin in 2010 together with two performance videos, Captain Thunderbolt's Sisters (2010) and Redrockers (2010). Both videos were performed within the confines of Cockatoo Island and directly reference the site. The videos assist in making clear Dwyer's interest in the island and it's former history as both a notorious prison and a reform institution for wayward girls. Further, seen in context with Dwyer's installation from the 17th Biennale of Sydney, An Apparition of a Subtraction (2010), Square Cloud Compound (2010) starts to say something slightly more concrete about myth, gender and the architectural form or internal space of the cave or cell.


Accompanying the work at the MCA is a striking, geometric wall painting, Spell for a Corner (2015). The piece is much more formal in its execution than the installation and aids in at least aesthetically anchoring the nebulous Square Cloud Compound (2010).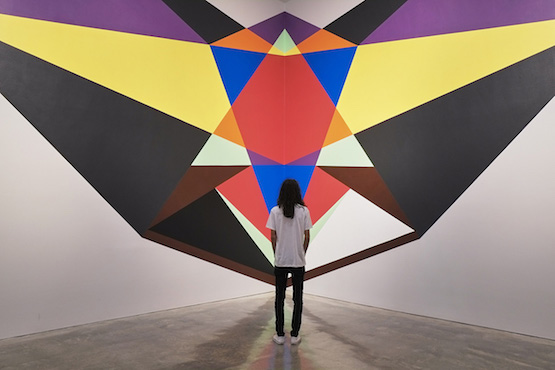 Image: Mikala Dwyer, Spell for a Corner, 2015. Acrylic on wall, Exhibition view, Mikala Dwyer: MCA Collection, Museum of Contemporary Art, Sydney. Donated through the Australian Government's Cultural Gifts Program by the artist, image courtesy and © the artist. Photograph: Christopher Snee
El Anatsui: Five Decades


Carriageworks, Sydney


7 January - 6 March 2016
Currently showing at Carriageworks, the blockbuster exhibition of the 2016 Sydney summer is the retrospective,
El Anatsui: Five Decades.
The ambitious exhibition is the first major showing of El Anatsui's work in Australia and will showcase works from the span of El Anatsui's career to date.


Image: El Anatsui, Tiled Flower Garden, 2012. Aluminium and copper wire, approx 12 x 12 m, dimensions variable. © El Anatsui. Courtesy of the artist and Jack Shainman Gallery, New York.Ghanian artist, El Anatsui won the Golden Lion for Lifetime Achievement at the 2015 Venice Biennale and is a contemporary artist of critical and international acclaim. Included in El Anatsui: Five Decades are ceramics, drawings, sculptures and woodcarvings alongside his trademark monumental assemblages. His work looks to examine issues of consumption, waste, trade and exchange through the use of everyday materials such as bottle caps, tin boxes, wood and other discarded objects.


El Anatsui: Five Decades is also the first of the collaborative Anna Schwartz / Carriageworks projects which aim to present large-scale exhibitions, at least two a year (one local, one international) over the next five years. After the closure of her Sydney gallery, Schwartz gifted $500,000 to Carriageworks in order to support the project. Importantly, her cavernous former gallery space within the Carriageworks complex will also be used as an additional site for the exhibition program. —[O]