News | Artists
Fujii Hikaru and Yamashiro Chikako Win Tokyo Contemporary Art Award 2020–2022

TOKYO ARTS AND SPACE | SPONSORED CONTENT
The 3 million yen prize is awarded to mid-career Japanese artists who 'deserve global recognition'.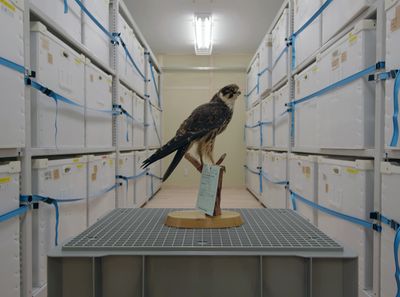 Fujii Hikaru, Les Nucléaires et les Choses (2019).
Fujii Hikaru and Yamashiro Chikako have been named the winners of the Tokyo Contemporary Art Award (TCAA) 2020–2022.
Established by the Tokyo Metropolitan Government and Tokyo Arts and Space in 2018, the annual award carries with it a 3 million yen (US$29,000) cash prize, publication of a monograph about the winner's work, additional funding to produce art abroad, and an exhibition at the Museum of Contemporary Art Tokyo.
Both prize-winning artists were born in 1976 and use video as an integral part of a broader practice.
'Fujii Hikaru's work varies between a cinematic practice with a script, and a documentary approach, recording the situation and performers objectively,' said Kamiya Yukie, chair of the TCAA's selection committee.
In the multi-channel video Les Nucléaires et les Choses (2019), pictured top, Fujii documented the cultural fallout of the Fukushima-Daiichi nuclear power plant meltdown. The work muses on memory and catastrophe, including contributions from former curators at the History and Folklore Museum Futaba-Machi, situated just 4km from the power plant, whose collection was removed to avoid radioactive contamination and biological damage.
Yamashiro Chikako, Chinbin Western – Representation of the Family (2019). Video. Copyright Chikako Yamashiro. Courtesy Yumiko Chiba Associates.
Yamashiro Chikako also uses video, though she does so primarily to document her own performances, which often reference war and colonialism in Okinawa, where she was born and raised.
Her video work Chinbin Western – Representation of the Family (2019), for instance, addresses plans for a new US Marines base in Nago, Okinawa. The piece visually references that most American of genres, Spaghetti Westerns, with its title substituting an Okinawan traditional crepe, or chinbin, in place of spaghetti. According to the selection committee, Yamashiro is now expanding her practice beyond Japan's southernmost prefecture.
'Scrutinising the omnipresent trauma and pain in every history, she is embarking on new efforts to examine the world as a contiguous place,' Kamiya said.
The winners of the TCAA were selected following an open call for applications and nominations from the selection committee. Following research into the applicants and nominees, six finalists were visited and interviewed in their studios.
'This year the outbreak of the COVID-19 virus meant that some members of the selection committee had to put off their trips to Japan, but the Internet enabled them to take part in the entire selection process and provided a setting for a full discussion,' Kamiya said.
Kamiya is the Gallery Director of Japan Society, New York. The other members of the selection committee are: Sumitomo Fumihiko, Director, Arts Maebashi and Associate professor at Tokyo University of Arts; Doryun Chong, Deputy Director, Curatorial and Chief Curator, M+; Maria Lind, writer, curator and educator; Carol Yinghua Lu, Director, Beijing Inside-Out Art Museum; and Kondo Yuki, Program Director, Tokyo Arts and Space.
The winners of the inaugural Tokyo Contemporary Art Award (2019–2021) were woodcut print maker Kazama Sachiko and multimedia artist Shitamichi Motoyuki. —[O]