News | Exhibitions
Tautai Opening a 'Dream' for Pacific Art Community
The new art space on Auckland's Karangahape Road is the culmination of a decades-long effort to support artists of Pacific heritage.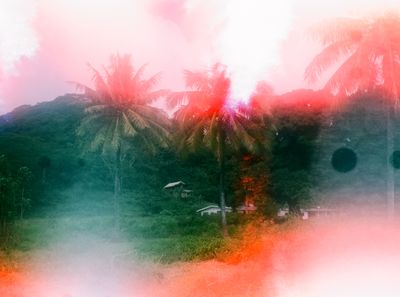 Talia Smith, Surfacing (2020). Detail. Courtesy the artist and Tautai.
Prior to the COVID-19 lockdown announced today, New Zealand Prime Minister Jacinda Ardern was scheduled to launch Pacific Arts organisation Tautai's new space in Auckland on Thursday 26 March.
That won't happen, but the space is nevertheless a major step forward for the Pasifika arts community according to its director, Courtney Sina Meredith.
'The establishment of a gallery specifically for contemporary Pacific artists was a dream of founding patron Fatu Feu'u and his peers when Tautai initially formed [in the 1980s]. He's been in to see the space recently and the smile on his face said it all,' she said.
'This is a historic moment that marks the beginning of a new chapter for our artists and our community, but it's also about coming full circle and honouring our founders,' Meredith said.
She said the new Tautai would be primarily a place to share ideas and practices, but wouldn't preclude Pasifika artists selling their work.
'All events and activities will be free, and any purchases of work will take place directly between artists and interested buyers—Tautai will not take a commission,' she said.
The name Tautai draws on the Samoan word for navigator, and the organisation has successfully found a way to secure six years of funding from government arts agency Creative New Zealand for their 500 square metre space on Auckland's Karangahape Road. The building features a sculpture reminiscent of a spiky conch shell by Kiwi artist Guy Ngan, who identified as Pacific Chinese.
Curated by Cora-Allan Wickliffe, the space's inaugural exhibition is entitled Moana Legacy and features works by Ahsin Ahsin, Gina Ropiha, Israel Randell, Mereani Qalovakawasa, Naawie Tutugoro, Rangituhia Hollis, Talia Smith, and a piece made collaboratively by Wickliffe and Kelly Lafaiki.
The exhibition continues until 5 June, though it is unlikely to receive many visitors in its first month. New Zealanders have been asked to stay at home for the next four weeks.
'Due to COVID-19 some of the activities we had planned for 2020 may need to be reimagined. Whether or not we activate more digitally this year than planned, we will be focusing solely on the art of Oceanic creatives, regardless,' Meredith said. —[O]