Feature | Lowdown
Frieze Los Angeles: Shows to See in 2020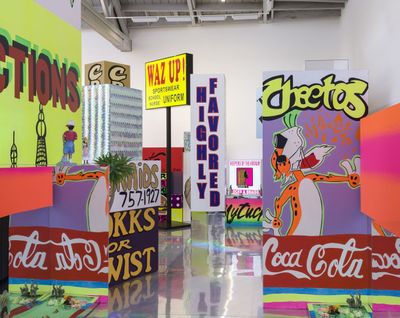 Exhibition view: Lauren Halsey, David Kordansky Gallery, Los Angeles (25 January–14 March 2020). Courtesy David Kordansky Gallery.
Lauren Halsey
Huma Bhabha
David Kordansky Gallery, 5130 West Edgewood Place
25 January–14 March 2020
Lauren Halsey fills David Kordansky Gallery with a 'vivid mythopoetic hauntscape of South Central Los Angeles' made up of sculptural painting installations that address gentrification in the city and its impact on Latino/a businesses. In another show at the gallery, Karachi-born, New York-based sculptor Huma Bhabha's signature biomorphic figures, rendered in materials such as cork, metal, wood, paint, and foam, explore decay and the cycle of life.
Luchita Hurtado, Untitled (1970). Oil on canvas. 76.2 × 127 cm. Courtesy the artist and Hauser & Wirth. © Luchita Hurtado. Photo: Jeff McLane.
Luchita Hurtado: I Live I Die I Will Be Reborn
Los Angeles County Museum of Art, 5905 Wilshire Boulevard
16 February–3 May 2020
On 15 February between 2 and 3pm, ninety-nine-year-old artist Luchita Hurtado will join Hans Ulrich Obrist to discuss this survey of over eight decades of work, which departs from her place of birth, Venezuela, and follows her travels across New York, Mexico City, Mill Valley, and finally Los Angeles, where she has been based since the early 1950s. A unique approach to self-portraiture, nature, and the human figure through line, colour, pattern, and form will take over LACMA's Nathanson Gallery, including the partial reconstruction of Hurtado's solo show at the Woman's Building in Los Angeles in 1974.
Jibade-Khalil Huffman, Tuskegee (2019). Inkjet print, framed. 69.9 x 56.5 cm. Edition of 3, 1 AP. Courtesy Anat Ebgi.
Jibade-Khalil Huffman: You Don't Have to Say You Love Me
Anat Ebgi, 2660 South La Cienega Boulevard
11 January–16 February 2020
At Anat Ebgi, Jibade-Khalil Huffman presents two new video works alongside photographs and photo collages, interspersed with vinyl wall text, all exploring—with a poetic and 'obsessive collecting impulse'—topics around information and authority. Huffman, who graduated with an MFA in Literary Art from Brown, creates an artful synthesis of media with linguistic forms, frequently incorporating ephemera and archival materials to examine the erasure of people, voices, and ideas.
Niki de Saint Phalle, Marilyn (1964). Courtesy Niki Charitable Art Foundation. Photo: André Morin.
New Images of Man
Blum & Poe, 2727 South La Cienega Boulevard
1 February–14 March 2020
New Images of Man, curated by Alison M. Gingeras, is a revisiting of the 1959 Museum of Modern Art exhibition curated by Peter Selz, which explored conditions of 'solitude and anxiety' in the post-war era. The original exhibition included 100 works by artists such as Giacometti, César, Campoli, Dubuffet, and Golub; a line-up that will be partially revisited at Blum & Poe with works by artists who were overlooked during this period, such as Alina Szapocznikow, Niki de Saint Phalle, and Yuki Katsura.
Exhibition view: Michael Brewster, Frequency, Baik Art, Los Angeles (18 January–14 March 2020. Courtesy Baik Art.
Michael Brewster: Frequency
Baik Art, 2600 South La Cienega Boulevard
18 January–14 March 2020
Late Michael Brewster's explorations of sound and space in Frequency demonstrate his significant contributions to the Southern California's modern art scene. With the same determination as the 1960s Light and Space Movement to capture phenomenological experiences, Brewster's 'sound sculptures' involved full-blown sonic environments, activating the audience and space by fusing art with technology. His legacy is explored at Baik Art through hand-drawn schematics and archival materials, demonstrating his meticulous approach to capturing sound.
Lucio Fontana, Ambiente spaziale a luca nera [Spatial Environment in Black Light] (1949) (detail). Coloured ink on photograph. 21 x 17 cm. © Fondazione Lucio Fontana by SIAE 2019. Courtesy Fondazione Lucio Fontana, Milano.
August Sander: New Women, New Men, and New Identities
Lucio Fontana—Walking the Space: Spatial Environments, 1948–1968
Nicolas Party: Sottobosco
Hauser & Wirth, 901 East 3rd Street
13 February–12 April 2020
Three blockbuster exhibitions await at Hauser & Wirth, including a historic presentation of photographic portraits by August Sander capturing feminist and queer movements in the Weimar Republic, curated by LACMA's Stephanie Barron. The gallery will partner with Los Angeles Philharmonic for this exhibition, tying into its month-long 'Weimar Republic: Germany 1918–1933' festival. A comprehensive presentation of spatial environments by visionary Lucio Fontana will accompany this, along with the woozy pastel worlds of Nicolas Party for his first L.A. solo.
Courtesy Sprüth Magers.
Cyprien Gaillard: Reefs to Rigs
Sprüth Magers, 5900 Wilshire Boulevard
11 February–21 March 2020
Cyprien Gaillard responds to Sprüth Magers' location atop a planned site for a metro station and across from the La Brea Tar Pits to consider the intersection between the prehistoric world and urban infrastructure. Fossils, aluminium, limestone, and pink coral combine in his sculptures on the gallery's ground floor, while upstairs, Ocean II Ocean (2019), Gaillard's film that premiered at the 58th Venice Biennale, features loops of imagery traversing the fossil-encrusted walls of metro stations across Russia and the former Soviet Bloc, and the journeys of subway cars through New York, before being dumped at the bottom of the Atlantic Ocean.
Exhibition view: Naama Tsabar, Inversions, Shulamit Nazarian, Los Angeles (10 January–29 February 2020). Courtesy Shulamit Nazarian.
Naama Tsabar: Inversions
Shulamit Nazarian, 616 North La Brea Avenue
10 January–29 February 2020
Israeli-born, New York-based artist Naama Tsabar presents a selection of new sculptures at Shulamit Nazarian that combine parts from instruments such as guitars, harps, banjos, and violins. Reaching into the shallow space behind the gallery wall, these sculptures—titled 'Inversions'—require the participants' physical presence to activate them, and are amplified through various wires, knobs, and connectors in the 'Transition' series, transforming the visual into the sonic.
Exhibition view: Shirin Neshat, I Will Greet the Sun Again, The Broad, Los Angeles (19 October–16 February 2020). Courtesy The Broad. Photo: Joshua White/JWPictures.com.
Shirin Neshat: I Will Greet the Sun Again
The Broad, 221 South Grand Avenue
19 October–16 February 2020
With over 230 photographs and eight immersive video and installation works, this is the largest exhibition to date of Iranian artist Shirin Neshat. Throughout her near-30-year career, Neshat has addressed issues related to displacement, meeting and speaking with people who have directly experienced events such as the Arab Spring in Egypt and Iran's Green Movement. Living in the United States, the self-exiled artist is uniquely positioned in her work, which unveils political realities in Iran, while shedding light on cultural misrepresentations of the region in the United States.
Ellen Berkenblit, Electric Lace (2018). Courtesy Jeffrey Deitch.
All of Them Witches
Jeffrey Deitch, 925 North Orange Drive
8 February–11 April 2020
At Jeffrey Deitch, writer, editor, and curator Dan Nadel and artist Laurie Simmons offer their take on the allure of art; one with a certain 'witchiness', constructed through iconography from supernatural and occult worlds to 'channel ideas about power, the body, and gender'. Among the 78 artists in this exhibition are Marilyn Minter, Ellen Berkenblit, Judy Chicago, Colette, Marguerite Humeau, and Sylvie Fleury—artists who 'share in a knowledge of, and taste for, a bit of the cauldron and a touch of darkness.'
Tishan Hsu, Liquid Circuit (1987). Acrylic, compound, alkyd, oil, aluminium on wood. 229 x 363 x 23 cm. Frederick R. Weisman Art Museum, Minneapolis.
Tishan Hsu: Liquid Circuit
Hammer Museum, 10899 Wilshire Boulevard
26 January–19 April 2020
Works by Tishan Hsu have cropped up across galleries and museums over the last few years, from K11 Art Foundation's group exhibition Glow Like That in Hong Kong in 2019, to Sotheby's presentation, The Blazing World, which opened in December 2019—acknowledgments that are long-overdue for the New York-based artist, who began making his signature anthropomorphic wall reliefs in the 1980s, referencing technological emergence and its impact on the human condition. This exhibition is Hsu's first U.S. survey.
Lorna Simpson, Tense (1991). 3 silver gelatin prints, 3 frames total (1 print in each) 5 engraved plastic plaques. 125.1 x 326.39 x 4.76 cm. © Lorna Simpson. Courtesy the artist and Hauser & Wirth. The Eileen Harris Norton Collection. Photo: Charles White.
Collective Constellation: Selections from The Eileen Harris Norton Collection
Art + Practice, 3401 West 43rd Place
8 February–1 August 2020
Eileen Harris Norton, who co-founded Art + Practice with artist Mark Bradford and social activist Allan DiCastro, has partnered with the Hammer Museum to showcase works by women of colour, drawn from her own collection. Having started with a focus on young L.A.-based artists, Harris Norton has expanded her collection to encompass different generations, looking at how women of colour have changed contemporary art discourse around the world. Artists in this presentation include Lorna Simpson, Betye Saar, Carrie Mae Weems, and Lynette Yiadom-Boakye, to name a few.
Kristy Luck, Fountain (2020). Oil on linen. 91.44 x 76.2 cm; Soft Touch (2020). Oil on linen. 152.4 x 127 cm (left to right). Exhibition view: Transformer, Philip Martin Gallery, Los Angeles (11 January–22 February 2020). Courtesy Philip Martin Gallery. Photo: Jeff McLane.
Kristy Luck: Transformer
Philip Martin Gallery, 2712 South La Cienega Boulevard
11 January–22 February 2020
Fluid forms and colours across the canvases of Kristy Luck make up Transformer, where viewers' associations roam free. Interspersed throughout this abstraction are motifs ranging from 'erupting volcanoes, bursting blooms, and spinning tornadoes', signalling states of transformation that Luck has referred to as creative processes of finding 'a visual language for personal melancholia and intuition' rooted in feminine experience.
Käthe Kollwitz, The People (before 1923). Brush and black ink with white gouache over charcoal on laid paper. Getty Research Institute, Los Angeles. Gift of Dr Richard A. Simms in honor of Hildegard Bachert. © 2019 Artists Rights Society (ARS), New York.
Käthe Kollwitz: Prints, Process, Politics
Getty Center, 1200 Getty Center Drive
3 December 2019–29 March 2020
The social impact of World War II is conveyed in the harrowing works of master printmaker Käthe Kollwitz, that utilise a strength of line and starkness of form to express human suffering and perseverance. This exhibition at Getty Center sheds light on Kollwitz's career as an artist and activist, through her social commentary in works such as In Memoriam Karl Liebknecht (1920)—a woodcut tribute to the leader of the Communist Party of Germany, Karl Liebknecht, who was captured and killed during the Spartacist Uprising in Berlin in 1919.
Ree Morton, For Kate (1976). Oil on wood and wire and enamel on elastic. 12 parts; 304.8 × 396.2 × 152.4 cm overall; installation dimensions variable. Courtesy the Estate of Ree Morton and Alexander and Bonin, New York. Photo: Joerg Lohse.
Ree Morton: The Plant That Heals May Also Poison
Institute of Contemporary Art, Los Angeles, 1717 East 7th Street
16 February–14 June 2020
Bright colours and feminine motifs such as bows and flowers conceal wry commentary in the works of Ree Morton, who—like many artists active in the 1960s and 70s—came up against a profound sexism in the art world that challenged her to choose between a domestic versus artistic existence. Having had three children by the age of 25, Morton embarked on an M.F.A at the relatively late age of 32, her career cut short by her untimely death in 1977, at the age of 41. This exhibition brings together works made throughout these nine years, including installations, drawings, sculptures, and archival materials.
Exhibition view: Alisha Sofia, Queens of the Caucasus; Nairi Mila Amirkhanian, Havasar I – VII, Iris Project, Los Angeles (18 January–1 March 2020). Courtesy Iris Project. Photo: Alan Shaffer.
Alisha Sofia: Queens of the Caucasus
Iris Project, 953 Amoroso Place
18 January–1 March 2020
The subtly rendered female figures of Alisha Sofia are calmly defiant, created through an earthy palette of ground pigments ranging from terra cotta, rhyolite, greywacke, and charcoal; their naked bodies occasionally featuring natural adornments such as sea buckthorn, cypress, and dates—elements the Armenian-American artist encountered on her travels in the Caucasus region, with the figures' facial features drawn from Byzantine masks and Greco-Roman sculptures.
Exhibition view: Karl Haendel, Double Dominant, Vielmetter Los Angeles (25 January–7 March 2020). Courtesy Vielmetter Los Angeles. Photo: Robert Wedemeyer.
Karl Haendel: Double Dominant
Vielmetter Los Angeles, 1700 South Santa Fe Avenue #101
25 January–7 March 2020
Twenty-four monumental drawings of exquisite detail will be divided into two exhibitions at Vielmetter Los Angeles, with the second chapter of Karl Haendel's presentation opening on 15 February 2020. Each drawing captures the intimate interlocking of hands, between Haendel and his ex-wife—an alternative to portraiture that he expresses as having a powerful, 'embodied sculptural presence', which he eventually expanded to include the hands of his friends.
Parker Ito, V550 / Me in the Studio With Red Hat (2020). Modified photo colour scanner, stainless steel, extension cord. 27.9 x 54.6 x 47.6 cm. Courtesy the artist and Château Shatto. Photo: Ed Mumford.
Parker Ito: Longevity Buns
Château Shatto, 1206 south Maple Avenue, Suite 1030
8 February–7 March 2020
Los Angeles artist Parker Ito moves fluidly between sculpture, drawing, painting, and installation, donning his works a liquid quality through reflective materials, as in 'The Agony and the Ecstasy' (2012), which featured spatters of paint on Scotchlite; or making them appear saturated and information-heavy, as in his oil on linen reproductions of flower photographs taken with a flash, in Belle Époque and Oxford (both 2019). His exhibitions are rendered as circuits of material—a quality that will see sculptures, paintings, videos connected and encircled by cords and chains at Château Shatto.
Eric N. Mack, Parade (2016) (detail). Tartan fabric, suitcase fabric, newspaper page, fashion magazine page, cardboard, cotton, rope, twine, thread, grommets, aluminium curtain rod, dye, acrylic paint. 198 x 175.5 x 5 cm. Courtesy Morán Morán.
Eric N. Mack: Face It
Morán Morán, 937 North La Cienega Boulevard
8 February–7 March 2020
Eric N. Mack's wall pieces and installations are manifestations of their creative processes—stitched, dyed, and manipulated to take up space with their unique forms and colours. Combining elements such as blankets, pegboards, grommets, and garments, these works appear as if in flux, while referencing the fashion industry—as seen in the presence of images sourced from magazines that have been enlarged and pasted directly to the gallery walls.
Exhibition view: Jessica Stockholder, Digital Thoughts, 1301PE, Los Angeles (18 January–29 February 2020). Courtesy 130PE. Photo: Marten Elder.
Jessica Stockholder: Digital Thoughts
1301PE, 6150 Wilshire Boulevard
18 January–29 February 2020
Explosions of colour and form are present at 1301PE for Jessica Stockholder's third solo exhibition with the gallery, where banal forms and objects are used as platforms for abstraction. These works relate to the varying definitions of the digital: as an adjective, a temporal indicator, and relating to fingers or a finger. Stockholder uses these definitions as a means to explore digital thoughts as 'coded pieces of information that are in themselves abstract'.
Johanna Went, Hong Kong Café, Los Angeles, CA, 1 September 1980. Photo: Alan Peak.
Johanna Went: Passion Container
The Box, 805 Traction Avenue
25 January–14 March 2020
Performance artist Johanna Went, an active member of Los Angeles' punk scene of the early 1980s, is showing at The Box with a selection of costumes and props from her wild performances that confront the grotesque and the absurd. Videos of these will also be included in the exhibition, alongside archival materials and photographs by Ed Colver, Alan Peak, Ann Summa, Peggy Morrison, and Tom Vinetz. —[O]