Insight | Artists
African Connections: Artists to Watch at 1-54 and Frieze Masters
Rebecca Anne Proctor highlights eight artists showing with 1-54 Contemporary African Art Fair, taking place at Somerset House in London (8–10 October 2020) alongside an online edition powered by Christie's (7–12 October 2020), plus Ben Enwonwu's focus with kó as part of Frieze Masters online (9–16 October 2020).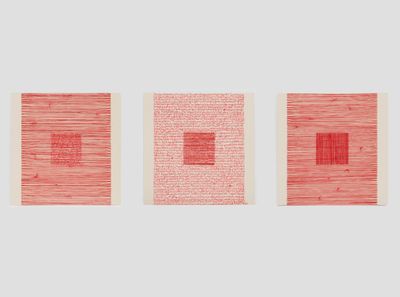 DuduBloom More, Bounded Awareness (2020). Hand-sewn threaded and handwritten text on paper. 55 x 17 cm. Courtesy Berman Contemporary.
DuduBloom More at Berman Contemporary, 1-54 Contemporary African Art Fair
Leaving behind her studies in accounting at the University of Johannesburg, DuduBloom More shifted to studying art at Artist Proof Studio, from where she graduated in 2018.
Just a year later, More was awarded the 2019 Cassirer Welz Art Prize, for which she received a ten-week residency at The Bag Factory Artists' Studios, culminating with a presentation of her layered abstract works at Kalashnikovv Gallery between 1 and 22 February 2020, titled Delicate/Tendency/Response.
Using materials including wool and ink, More renders subtle patterns on paper that come together as constellations of personal experience.
In the past few months, More has continued to create intricate abstract works in response to the anxieties of lockdown. 'I had to make a mental decision to not sink into all the fear and confusion in the best way I knew how; creating with the purpose of staying present', explained the artist.
Joana Choumali, I'am afraid i won't be able to attend this (2020). 80 x 80 cm. Courtesy Loft Art Gallery.
Joana Choumali at Loft Art Gallery, 1-54 Contemporary African Art Fair
The alluring works of Abidjan-based Ivorian photographer Joana Choumali merge photography with embroidery to render intimate aspects of life in Côte d'Ivoire.
Presented digitally at 1-54, three works by Choumali (I'am afraid i won't be able to attend this, The healers, and And still, my garden grows—all from her series 'Albahian' and executed in 2020) demonstrate the artist's practice of embroidering directly on her images in meditative and attentive gestures.
'Textiles in general appeal to several senses at the same time—touch, sight and sometimes even smell,' Choumali explained by email. 'It is a sensory experience in itself, which often leads to the first memories of life, and to the most striking ones—birth, childbirth, but also death, in all cultures. Textiles transmit a wide range of emotions, both consciously and unconsciously.'
Choumali, who won the Prix de Pictet in November 2019, making her the first African artist to win the prestigious award, states that textiles could be a substitute for language. 'In my work, integrating textiles has given it a slightly different direction, as it has allowed me to express things that I was not attracted to express in words.'
Choumali likes to wake up early in the morning to walk around her neighbourhood in Abidjan. Then she gets to work. 'There is also the notion of dialogue and connection between reality and dream, between present and memory,' she says of her work. 'The different layers both veil and unveil, the feelings that coexist in my imagination.'
Soly Clissé, Cotton Field (2019). 46 rods wrought iron cotton fibres sand. 180 x 300 x 138 cm. Courtesy Sulger-Bruel Gallery.
Soly Cissé at Sulger-Buel Gallery, 1-54 Contemporary African Art Fair
One of Senegal's most revered artists, Soly Cissé is known for abstract paintings, sculptures, and fantastical installations that conjure up imaginary subjects that oscillate between our present-day realities and a fantasy realm.
Based in his hometown of Dakar, Cissé's work has long focused on issues pertaining to social injustice through his abstract works that often juxtapose traditional with modern aspects of life in Senegal.
In recent years, Cissé's work has focused on the pivotal role of slavery in the global economy, with a particular focus on the cotton industry. Since the 16th century, cotton has remained an important business.
On display at 1-54 presented by London-based Sulger-Buel Gallery, the artist's Cotton Field (2019), an installation made out of welded iron and cotton fibres, reveals rows of recreated cotton plants. At 300 by 180 centimetres, the metaphorical installation commemorates those whose freedoms have been abolished by the cotton industry.
Through this work, Cissé transports the viewer to Alabama, Georgia, Louisiana, the Caribbean, and countless other places. The installation incorporates no human figures or sound—just the reference to the cotton fields and the plantations that gave way to the struggles, new cultures, and ultimately, new world order that still haunts us today.
Nonzuzo Gxekwa, Untitled 04 (2020). Archival inkjet print on semi-gloss paper. 100 x 68 cm. Edition of 10 plus 2 AP. Courtesy THK Gallery.
Nonzuzo Gxekwa at THK Gallery, 1-54 Contemporary African Art Fair
The work of up and coming Johannesburg-based photographer Nonzuzo Gxekwa centres around documenting the surprising and unusual aspects of daily life in Africa.
Presented by Cape Town-based THK Gallery, Gxeka's evocative images capture the intimate moments of everyday existence in Africa, which include at times herself. Gxekwa's photographs explore the human condition—its fragility, pain, and beauty—in myriad and creative ways.
Gzekwa frequently collaborates with others to produce her photographs, as seen in 'The Mask Project'—a series made in collaboration with artist Pierre le Riche during lockdown in South Africa and presented by THK Gallery at 1-54.
The African women in each photograph wear vibrantly coloured masks in a variety of styles. The fabricated masks incorporate elements from Africa's rich use of textiles and fabrics in order to comment on the new reality of the masked world.
'I couldn't help but fantasise about how these objects would integrate into our daily lives—pictured them becoming an extension of fashion and flesh,' said Gxekwa. 'Inevitably, these masks become props for a masquerade which can hopefully distract from the spectacle of a world riddled with a pandemic.'
Ben Enwonwu, The Boxer (1942). Wood. 63.5 x 29.2 x 11.4 cm. Courtesy kó.
Ben Enwonwu at kó, Frieze Masters
One of the highlights at this year's Frieze Masters is the debut of newly launched Lagos-based art gallery, kó, presenting 12 works by African modernist pioneer Benedict (Ben) Enwonwu (1921–1994).
Nigerian painter and sculptor, Odinigwe Benedict Chukwukadibia Enwonwu MBE, known as Ben Enwonwu, was born in Umuese-Aroli, Onitisha, Nigeria in 1917. He is arguably one of the most influential African artists of the 20th century and is known as the father of Nigerian modernism.
The presentation of Enwonwu's work at Frieze Masters spans painting and sculpture, including his 'Africa Dances' series, portraying the artist's views on the state of modern Nigerian culture during the 1970s.
In the series, he incorporates symbolic imagery via elegant and elongated African women in scenes of dance and ritual performance, drawing largely from his Onitsha-Igbo heritage. Throughout his career, Enwonwu would revisit the theme of dance, masquerade, and traditional ceremonies in Nigerian traditional and modern heritage.
Since Enwonwu's death in 1994, international presentations of the artist's work include a 2004 exhibition at the Commonwealth Institute in London to mark the 10th anniversary of Enwonwu's death, and an exhibition at GAFRA Gallery in London in 2015.
This most recent presentation at Frieze Masters is pivotal in disseminating the late artist's work once again to a global audience, tying together his influences drawn from African modernism and international art movements.
Importantly, the showing offers an important key to better understanding the history behind today's boom in African contemporary art.
Leila Alaoui, No Pasara (2008). Courtesy Fondation Leila Alaoui and Galleria Continua.
Leila Alaoui at Somerset House, 1-54 Contemporary African Art Fair
It is close to impossible not to be lured by the seductive images of the late French-Moroccan photographer, video artist, and activist Leila Alaoui.
The subjects of her work are the oft-unseen individuals marred by conflicts throughout the Mediterranean and Africa. Alaoui captured their plight through alluring portrayals that underline her humanistic vision.
In Rite of Passage, which takes place at London's Somerset House (11 October 2020–28 February 2021) in conjunction with 1-54, also marking the artist's first major U.K. retrospective, three of Alaoui's photographic series are on view: 'Les Marocains' (2010–2014), 'No Pasara' (2008), and 'Natreen' (2013).
These include images of Syrian refugees fleeing civil war in Lebanon, young North Africans leaving their homelands to seek a better life in Europe, and many other poignant photographs revealing the everyday realities of individuals living in areas burdened by conflict.
'Alaoui was renowned for her warmth and for her efforts to build trust between herself and those she met, before photographing them,' said Grace Perrett, exhibitions manager at Somerset House. 'When you encounter Alaoui's portraits, you come face-to-face with the people she met as they gaze back at you. Through this intimacy, Alaoui encourages an essential human understanding and compassion. At a time when many people are facing very different struggles, a call for empathy for each other, no matter how different our lives, feels vital.'
Alaoui was tragically killed in Burkina Faso in 2016 while working on a photography project for a women's rights campaign at the age of 33.
Ekene Maduka, Merrily, merrily, merrily, life is but a dream (2020). Oil on canvas. 198.1 x 198.1 cm. Courtesy POLARTICS.
Ekene Maduka at POLARTICS, 1-54 Contemporary African Art Fair
Ekene Maduka's self-portrait moves fluidly between her canvases, sometimes appearing in multiple, as seen in this recent painting, Merrily, merrily, merrily, life is but a dream (2020), showing at 1-54 with POLARTICS.
Her paintings explore the notion of the 'self', transitioning through various personal narratives as a means to reflect on themes of representation and femininity. In her works, the female figure often locks eyes with the viewer, as a means of restoring power to the beholder of the gaze.
Born in Nigeria in 1996, where she grew up in Kano, the artist is now based in Winnipeg, Canada, having graduated this year from her BFA at the University of Manitoba.
Maduka has already held two solo exhibitions since 2019, including Walk back home at La Maison des Artistes Visuels Francophones in Winnipeg (7 February–2 March 2019) and What is a dream, presented online with Mirror Mirror Gallery (7 August–25 September 2020).
At 1-54, a selection of Maduka's paintings will be on view at Somerset House between 8 and 10 October 2020, with further works on view at Christie's Duke Street gallery between 6 and 12 October 2020.
Gideon Appah, Lovers Park 1 (2020). Acrylics on canvas. 223 x 249 cm. Courtesy Gallery 1957.
Gideon Appah at Gallery 1957, 1-54 Contemporary African Art Fair
Born in Accra, Ghana, in 1989, Gideon Appah earned his BFA from The Kwame Nkrumah University of Science and Technology in Kumasi in 2012.
A year after graduating, the artist's solo exhibition at the Goethe Institute in Accra received critical acclaim, bringing his richly hued and collaged paintings of communal life in Ghana to light.
Having grown up in a large family, Appah often draws materials from old photo albums and his own memories, along with archives of his family histories, such as posters used by his aunts, uncles, and grandparents advertising their work as barbers and tailors, offering a personal entry into life in Ghana.
For the New York edition of 1-54 in 2018, Appah staged a recreation of his grandmother's living room, with posters, prints, and photographs collaged into paintings with thick layers of acrylic paint.
A new selection of paintings by the artist, shaped by memories of his childhood, will be on view at Gallery 1957 for 1-54 in London. The presentation precedes the opening of Gallery 1957's London space in Hyde Park Gate on 23 October, with an inaugural exhibition featuring work by Kwesi Botchway, co-curated by writer Ekow Eshun.
Anya Paintsil, Mair at Cylch Meithrin (2020). Acrylic, wool and synthetic hair on hessian. 106.68 x 91.44 cm. Courtesy Glynn Vivian Art Gallery and Ed Cross Fine Art.
Anya Paintsil at Ed Cross Fine Art, 1-54 Contemporary African Art Fair
Welsh-Ghanaian artist Anya Paintsil has just completed her Master's at Manchester Metropolitan University's School of Art, having been announced as one of three mentees, alongside Bryn Rogers and Wincent Szczerba, to take part in a programme organised by Castlefield Gallery that supports artists in their first year after graduation.
Using methods that include rug hooking, embroidery, and afro hair dressing, Paintsil assembles tactile, humorous, and politically charged works that subvert the positioning of textiles as a medium that has beendevalued for its associations with the domestic and the marginalised.
In the last few months, a selection of the artist's tapestry works that explore themes of race and gender, have been presented by Ed Cross Fine Art online, between 24 September and 1 October 2020, with a solo exhibition at 1-54 with the gallery to follow. —[O]