Insight | Artist, Australia
Michael Cook at THIS IS NO FANTASY + dianne tanzer gallery, Art Basel in Hong Kong 2016
is a Brisbane-based photomedia artist of Bidjara heritage who has forged an international reputation as an artist with a significant vision. His photographic series, Majority Rule was a stand out success at the 19th Biennale of Sydney: You Imagine What You Desire, 2014. In 2015 his work was exhibited in Personal Structures – Crossing Borders at Palazzo Mora during the 56th Venice Biennale; Indigenous Australia: Enduring Civilization at The British Museum, London; The Encounters, National Museum of Australia, Canberra and in SaltWater Country, an international touring exhibition organised by the Gold Coast City Gallery.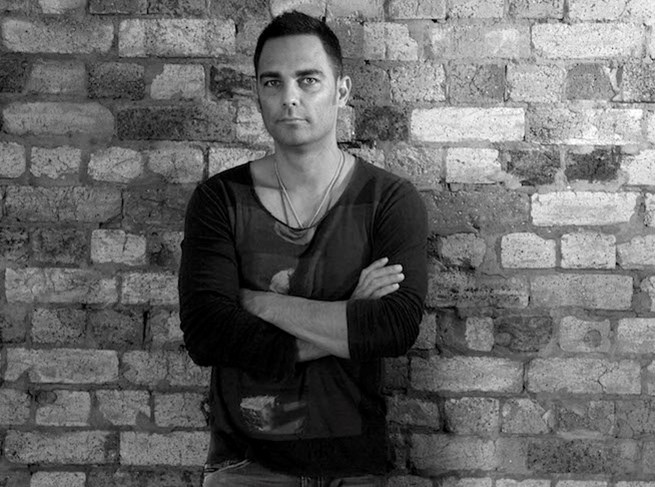 Image: Michael Cook. Courtesy the artist.
Adopted into a non-Indigenous family at birth, his work is driven by the conflicted history of colonial occupation of Australia and the ongoing lack of recognition of his country's Indigenous ownership.
In this Insight we spoke to Michael Cook about his engaging new series, Mother, which will be unveiled at Art Basel Hong Kong. Cook uses this body of work to unravel his personal history and explore broader universal ideas of motherhood, belonging and identity.
Tell us a bit about your background. How did you first become interested in photography and what was your journey into the art world?
I've been taking pictures since I was 14, when my brother gave me my first camera. My training was in photo-processing labs and then portraits and weddings. In 2008, I embarked on creating two fashion-based projects to build my portfolio with the hope of getting representation within the commercial industry. This was a great learning process: I taught myself how to create an image that tells a story. I soon realised however that I wanted to control the image, from start to finish, which you don't often have in commercial photography. Art allows me to freely explore my interests and discover more about my Indigenous identity. These projects not only help me understand who I am, but may also shift other people's perspectives. For these reasons, I work to create depth and a powerful narrative within my projects. Shining light on a subject can impact by changing the point of view of others.
Much of your work explores notions of what it means to be an Indigenous artist in contemporary Australia. Share with us some of your experiences in terms of exploring your own identity and also what sort of responses you have you received to your work.
I wouldn't say I am an Indigenous artist. I am an artist. My heritage is Aboriginal and European. I was adopted at birth and raised in a non-Indigenous family. I have never been to my ancestral country. I was raised by a mother who fought for Indigenous rights and much of what you see within my work comes from the stories my mother taught me when I was growing up. I feel the combination of my heritage and upbringing gives my work a unique perspective. With each project, I learn a little more about Australian history, and connect to that part of my identity.
My projects ask questions and I often create historical role-reversals. The majority of people only see things from their own perspective. Using role-reversal I try to show multiple colours in between, in a world where most just see the black and the white.
One is struck by the ethereal, dreamlike quality of your works. They are very beautiful yet tackle confronting and politically-charged subjects. Is this visual style an intentional attempt to 'soften the blow', allowing an easier path of access to viewers?
I think if an image is beautiful to look at, people will spend time with that image to experience the story. My images don't prescribe: they ask questions.
This allows the viewer to take their own journey in their own time. They may get the story I am telling, or they may see something different, that comes from their own experiences. My works are not just about my experience–they offer an opportunity for the viewer to ask their own questions too.
When I develop a new body of work, my rule is, if I won't hang it on my own wall, then I don't expect others will want to either.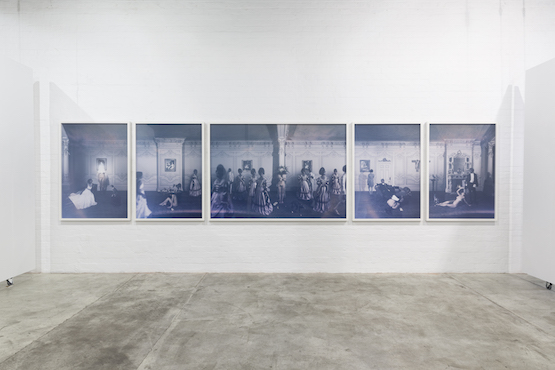 Image: Michael Cook, Exhibition view, Object, 2015. Courtesy THIS IS NO FANTASY + dianne tanzer gallery, Melbourne.
In more recent works, including the series Object that was shown to great acclaim at the 56th Venice Biennale, you seem to be shifting towards more universal themes. Can you talk about this and the new series you will be showing at Art Basel HK?
It can be difficult to attract international interest as an Australian artist, especially when your work is politically focused. In my last two projects—
Objec
t and
Mother
—I have addressed themes that may be seen from an Australian perspective, but I am hoping people from the rest of the world can also relate to their own culture.
In the past my work was largely about colonisation. Now I am focused more on identity and events that not only occurred in Australia, but also throughout the world. For instance, with Mother I wanted to create works that related to Australia's Stolen Generation and, although the end result is a project that may be seen in that context, it may also be seen relating to adoption or even the loss of child. In Object, the universal theme of slavery underpins the series. This can be seen from an Indigenous perspective, but applies to any country with a history of slavery. The series asks global questions about objectification, class gaps, racism, and equality for women.
Do you always work in series?
Mostly I work in series. It helps me create a complete story. I tend to think of a concept and a way to relate a story. In this way it is a bit like a movie script. In Object, I set the images up against one another like a filmstrip. Working in this way is demanding, not only do I need to achieve strength within a complete series, each image needs to be able to stand alone.
And what about the production process? Your images are very carefully constructed and of course have a large amount of technical expertise. Can you tell us a little about how you work—what photographic processes and technologies do you employ?
I say I am like a painter, but instead of paint and canvas I use a camera and photographic layers to achieve a 'painterly' depth in the image.
Unlike documentary or photojournalism, where you would capture a moment as it happens, I start with an idea (a blank canvas), and then create a process to achieve an end result.
The camera is usually picked up late in the process. Formulating and finessing the idea may take months, then the camera is the tool I use to capture that vision. There is a discovery and education process that happens. I usually draw up images, either on the computer or by hand. I then scout for possible locations and may test a location to see if the concept will work before organising the model/s, the props and costumes, etc. required to bring the project together.
I change direction during the process if it's not going well, and have even discarded projects more than once! I have also learnt the tough way that just because something is technically difficult, doesn't mean it's going to be a strong idea, and vice-versa; something simple can be very powerful.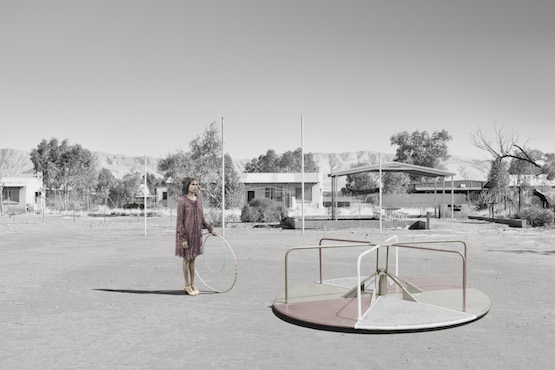 Image: Michael Cook, MOTHER - Merry- go-round. Inkjet print on cotton rag, 120 x 180 cm. Edition of 4. Courtesy THIS IS NO FANTASY + dianne tanzer gallery, Melbourne and Andrew Baker Art Dealer.
How does it feel to be showing at Art Basel HK, a mega center of commercialism in the art world and is this your first show in Asia?
I'm a self taught photographer who had my first exhibition in 2010 so to be showing at Art Basel Hong Kong is very exciting. I set goals about where I want to be and what I'd like to do each five years, and showing internationally at a fair of this calibre is a significant part of that journey. Having successfully shown in London, and Hong Kong previously, I'm looking forward to seeing how this new body of work is received by international collectors.
What else have you got coming up in 2016?
I am attending Revealed at Fremantle Arts Centre in April to run a two-day master class for Western Australian Indigenous artists. A lot of younger artists are interested in learning more about contemporary photography, but don't have the opportunity when they may be based in remote communities. I am hoping to share my experience with them, and for more opportunities to connect with artists living outside the cities.
I am currently developing new projects to show in 2017 focusing on identity, and will be visiting Musée Océanographique de Monaco to see the Australie/Australia: Defending the Oceans at the Heart of Aboriginal and Torres Strait Island Art. It includes four images from Civilised (2012-15), and will be showing until 30 September 2016. —[O]