News | Artists
Artists Help Lift US Voter Turnout to 100 Year High
The election result was undecided late Wednesday US time, though Joe Biden appeared to be leading.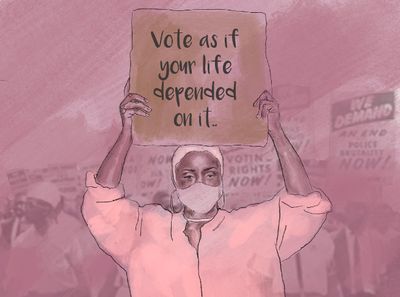 Aliyah Sidqe for When We All Vote.
Voter turnout in the closely fought United States presidential race is predicted to surpass all presidential elections since 1900, before women had the right to vote, according to The Washington Post. The result was achieved in the face of attempts to delegitimise mail-in and early voting, and a national resurgence of the pandemic.
In the weeks before the election, artists stepped up to help turn out the vote on social media and through organised campaigns.
Led by the nonprofit Vote.org, Planyourvote.org saw some 75 artists, including Christine Sun Kim, Guerrilla Girls, Jenny Holzer and Sam Taylor-Johnson, create images encouraging and empowering people to vote.
Sam Taylor-Johnson for Planyourvote.org
Thirteen artists—Aliyah Sidqe, Beau Stanton, Buff Monster, David Flores, Greg Mike, Hueman, Kayla Mahaffey, Kai, Mojo, Peter Tunney, Reggie "RAL86" Le Flore, Shepard Fairey, and Queen Andrea—also created works for a collaboration between nonpartisan voting organisation When We All Vote, which was established by Michelle Obama, and creative agency Goldman Global Arts.
Late Wednesday night in the United States the election result was not yet decided, though Democratic Party candidate Joe Biden appeared to be in the lead.
Kayla Mahaffey for When We All Vote.
Whoever loses the election will be memorialised in Nina Katchadourian's Monument to the Unelected (2008–ongoing), a collection of failed election campaign billboards exhibited simultaneously in galleries, on private lawns, and outside other venues such as the Roots Community Health Center in Oakland. An edition of the work is currently showing at Pace Gallery, New York, until 12 December 2020.
'Monument to the Unelected has never had the kind of activity around it that it has this election cycle,' Katchadourian told Artnet News. 'I think it indicates how tense this election is, and how much people have had elections on their mind, as well as the question around the peaceful transition of power following an election.'
The threat of civil unrest is also being felt by galleries. Hauser & Wirth boarded up the windows of its Manhattan gallery on Tuesday. —[O]