News | Artists
JR's High Jumper Seen as Bad Omen During Art Basel Hong Kong
Meant to evoke the freedom of flight, the work has been likened to a giant corpse. It's the latest in a growing list of 'unlucky' mega sculptures in the city.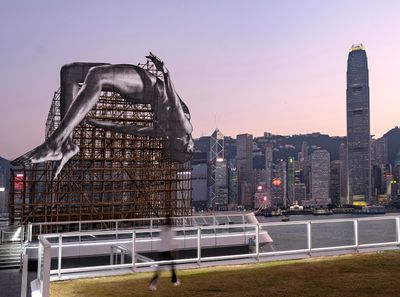 JR, GIANTS: Rising Up (2023). Courtesy the artist and Harbour City Estates Limited.
JR's GIANTS: Rising Up (2023) stand's 12 metres tall and just as wide on the Ocean Terminal Deck of Harbour City mall in Kowloon.
The super-sized image of an olympic high-jumper in mid-air extends the artist's 'GIANTS' series, which saw three supersized portraits of athletes in motion displayed around Rio de Janeiro during the 2016 Olympics.
Distinguishing Rising Up is the use of bamboo scaffolding endemic to Hong Kong. JR described the work as 'an invitation to take off, to achieve more.'
Others have seen it not as an inspiration but a bad omen. Feng shui master Po Sin said the work gave the impression of a person who fell from a building and was 'pierced through by the bamboo', according to a report by Artnet News.
On Twitter, one commenter said, 'I don't need to be a feng shui master to potentially tell you [it] might be [a] bad omen... I mean it looks like a giant corpse lol.'
JR, GIANTS: Rising Up (2023). Courtesy the artist and Harbour City Estates Limited.
Rising Up is not the first monumental artwork that locals have deemed unlucky during Art Basel Hong Kong.
The giant Kaws' inflatable Kaws:Holiday was laid down flat on its back in Victoria Harbour with its eyes X-ed out in March 2019.
'Call me superstitious, but placing a "floating dead body" in the middle of Victoria Harbour, the sight is unbearable,' said another feng shui practitioner, Steve Lee, at the time.
In 2013, Florentijn Hofman's six-storey-tall inflatable rubber duck Spreading Joy Around the World capsized and deflated in stormy weather.
Projecting their anxieties on the duck's demise, Hong Kongers blamed everything from lung disease caused by the Pearl River Delta's air pollution to avian flu and cigarette butts thrown by mainland Chinese tourists.
JR missed the unveiling of Rising Up due to filming in New York, followed by an appearance at Guy Oseary's Oscars party where he photographed celebrities including Penélope Cruz, Billie Eilish, and Chris Rock.
The artist is currently visiting Brazil ahead of his first São Paulo solo-show, o papel da mão at Galeria Nara Roesler, which opens on 25 March.
Rising Up will remain in place through 23 April, barring any interventions by feng shui experts. —[O]