News | Exhibitions
Kuala Lumpur Galleries Collaborate to Combat Covid Slowdown
Five galleries in the Malaysian capital will share works in a novel format from 9–11 October.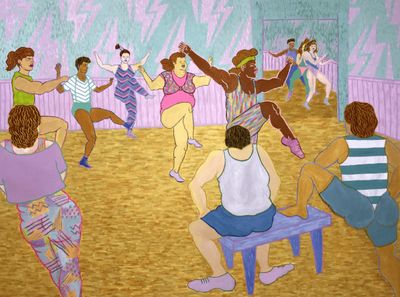 Jane Stephanny, Jazzercise (2018). Acrylic on canvas. 148 x 192.5 cm. Courtesy the artist and Suma Orientalis.
Galleries in Kuala Lumpur have found a new way to support one another as the country rebounds from Covid-19 closures. They've established a gallery weekend entitled Right Here! Right Now! that will see each gallery exhibit different works by the same five young artists. To see all the works by any one artist, you need to visit all five galleries, an experience the organisers have likened to a scavenger hunt.
The participating artists, each of whom is under 35, are: CC Kua from The Back Room KL, Syahbandi Samat from Artemis Art, Joshua Kane Gomes from Richard Koh Fine Art, Jane Stephanny from Suma Orientalis, and Haafiz Shahimi from Core Design Gallery.
Among the works being exhibited is Stephanny's exuberant acrylic on canvas painting Jazzercise (2018), pictured top. Organisers of Right Here! Right Now!, say it will provide a similar 'burst of energy in a time of diam diam,' Malay for 'stillness'.
The collaborative exhibition, which will be distributed across Kuala Lumpur and the satellite city of Petaling Jaya, was conceived following Malaysia's Movement Control Order, which forced galleries to close from 18 March.
'All the galleries had to totally shut and were only allowed to reopen in July with strict social distancing, mask requirements and contact tracing,' said Richard Koh, founder of Richard Koh Fine Art and one of the event's creators.
Koh said impacts of the pandemic have been mixed, with some artists enjoying sold-out shows and working 'more feverishly' than ever, while others were selling and producing less.
The return of contemporary arts events to Kuala Lumpur has likewise been hit or miss. The 14th edition of Malaysia's biggest art fair, Art Expo Malaysia (AEM), was supposed to take place in October this year but has been postponed until 7–10 October 2021. However, CIMB bank is reportedly bringing together events under the banner of 'Artober' this October, and Gallery Weekend Kuala Lumpur is still scheduled for 26 November–6 December, 2020.
'I am not sure what lies ahead in the coming months,' Koh said. 'My guess is we will feel the real impact of the pandemic.' —[O]