News | Market
Man Ray's 'Le Violon d'Ingres' Could Become the Priciest Photo of All Time
If the work sells for its estimate, it will fetch more than any photograph previously purchased at auction.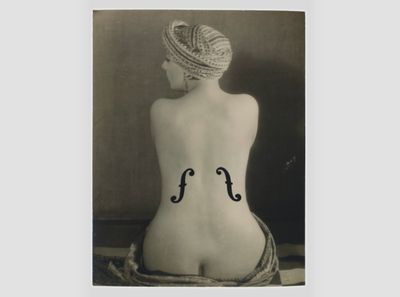 Man Ray, Le Violon d'Ingres (1924). Photograph. Courtesy Christie's.
Christie's New York will bring Man Ray's Le Violon d'Ingres (1924) to auction in May as part of a sale entitled The Surrealist World of Rosalind Gersten Jacobs & Melvin Jacobs.
'While reproduced countless times and having seeped into the popular consciousness, the artist held onto this work, the original, until 1962 when the Jacobs became its custodian,' said Darius Himes, Christie's International Head of Photographs.
Ray's image—a literal objectification—shows the back of his lover, model Kiki de Montparnasse, superimposed with violin cut-outs he added by painting onto a print of her photograph before shooting the print itself.
The work's title is a colloquialism that means 'hobby' in French, an allusion to neoclassical painter Jean-Auguste-Dominique Ingres, who played the violin in his spare time. Ray drew inspiration for his photograph's composition from Ingres' painting The Valpinçon Bather (1808).
Le Violon d'Ingres carries an estimate of US $5 million to $7 million, double the artist's existing record for a photograph at auction, which was set with the sale of Noire et Blanche (1926) for $3 million in 2017. If Le Violon d'Ingres reaches its low estimate, it will become the most expensive photo ever purchased at auction, surpassing Andreas Gursky's Rhein II, which sold in 2011 for $4.3 million.
Fashion buyer and retail executive Rosalind Gersten Jacobs was first introduced to Surrealism in 1954. According to her daughter, Peggy Jacobs Bader, both she and husband Melvin Jacobs 'had close friendships with a number of extraordinary surrealist artists, most notably Man Ray, Marcel Duchamp, and Bill and Noma Copley.'
The Jacobs' collection also includes six works by René Magritte, two works gifted to Rosalind by William N. Copley and Noma Copley, and Marcel Duchamp's Feuille de vigne femelle (female vine leaf) (1951), a cast of female genitalia that Rosalind bought from Man Ray. At a party held by the Jacobs, Duchamp's work was mistaken for an ashtray, an error he later said improved the work.
Altogether, Christie's expects the auction to bring in over $20 million.
Highlights from the Jacobs' collection will tour London, Paris, and Hong Kong before returning to New York for the auction in May. —[O]