News | Artists
Dana Schutz Quietly Joins David Zwirner Amid BLM Reckoning
Critic Aruna D'Souza called out Schutz by name in her defence of the decision to postpone a major Philip Guston show.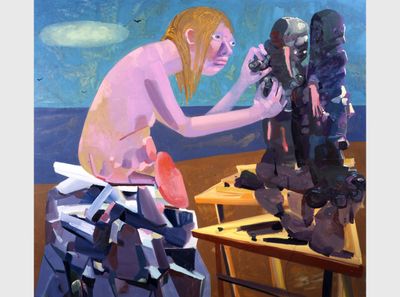 Dana Schutz, New Legs (2003). Oil on canvas. 152.4 x 167.6 cm. Courtesy the artist; Petzel, New York; Thomas Dane, London; Contemporary Fine Arts, Berlin.
David Zwirner gallery now represents Dana Schutz according to her previous New York gallery, Petzel, and Thomas Dane Gallery, which shows her work in London. David Zwirner did not announce the news or respond to requests for comment.
Born in Michigan in 1976, Schutz is known for the joyful Sneeze paintings that kickstarted her career, playful grotesques of self-cannibalism, and political works depicting former Ukranian President Viktor Yuschenko and others. She was included in Whitechapel Gallery's blockbuster portrait show Radical Figures this year, but the first page of Google search results still remembers her name for the controversial decision to depict 14-year-old African American Emmit Till in her painting Open Casket (2016), included in the 2017 Whitney Biennial.
After Till was abducted, tortured and murdered by racists in Mississippi in 1955, his mother insisted the casket remain open as evidence of the atrocity. Schutz's decision to likewise draw attention to racial violence was met with accusations that she was capitalising on Black suffering.
'It is not acceptable for a white person to transmute Black suffering into profit and fun,' wrote artist and writer Hannah Black in an open letter calling for the work to be removed and destroyed. (Artist Coco Fusco was among those who argued the painting should be shown.)
One possible reason for David Zwirner not to formally announce that it's working with Schutz is that the art world is already embroiled in another debate about white artists' right to create work that deals with racism against African Americans. Four museums — The National Gallery of Art in Washington D.C., the Tate Modern in London, the Museum of Fine Arts, Boston, and the Museum of Fine Arts, Houston — were criticised last week for postponing a major retrospective of Philip Guston works until 2024 out of concern that the public might take offence to his depictions of cartoonish Klansmen.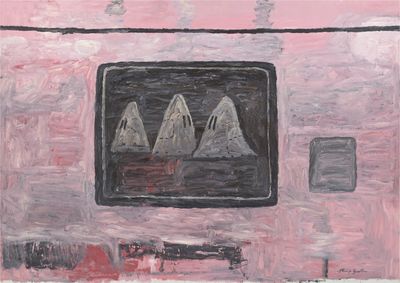 Philip Guston, Blackboard (1969). Oil on canvas. 201.93 × 284.48 cm. Private Collection © The Estate of Philip Guston.
Darby English, a professor of art history at the University of Chicago, described the postponement as 'cowardly and patronizing, an insult to art and the public alike', while Musa Mayer, Guston's daughter and the head of the Guston Foundation, lamented the decision, saying her father, 'dared to hold up a mirror to white America, exposing the banality of evil and the systemic racism we are still struggling to confront today.'
Critic Aruna D'Souza called out Schutz by name when she stood up for the decision to postpone the show, tweeting '4 white curators [and] 12 out of 14 non-Black contributors (one of whom is Dana Schutz), may not be the best people to frame [Guston's] work at this moment. Yes we may need a Guston show, but not ANY Guston show.'
In a letter to the Times of London, Tate director Maria Balshaw and Tate Modern director Frances Morris wrote that 'KKK imagery remains deeply offensive and painful, and "ownership" of representation has never been more contested. For the US institutions, their very credibility among Black and minority ethnic audiences is at stake.'
Galleries and institutions in the United States have ostensibly accepted that right now the costs of perceived insensitivity are too high for them to bear, even if they believe the artists haven't done anything wrong. There may be something poetic about that — white artists having work removed or shows being postponed or cancelled without just cause, just as so many African American men and women have been stopped, searched, cuffed and killed without cause — but it's a dark poetry, redolent of the same prejudice that the Black Lives Matter (BLM) movement seeks to end.
Rather than excluding white artists from the discourse, one answer is to include more artists and art professionals of colour. For their part, David Zwirner recently hired two African American women as directors: Ebony L. Haynes, who will lead a new gallery space operated by an all-black staff, and Kyla McMillan. —[O]