News | Market
Oh FIAC! Cancelled, Postponed and Online Art Fairs
The definitive list of digital, in-person, delayed and on-schedule art fairs heading into 2021.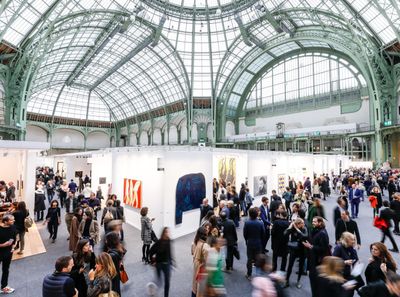 FIAC Paris, 2019. Photo: Charles Roussel.
London's much-anticipated Frieze Week will take place 5–16 October minus the marquee events it's named after. Frieze London and Frieze Masters were cancelled back in July, joining the ranks of major art fairs scheduled for the fall, including FIAC in Paris, that have been nixed or bumped deep into 2021. Melbourne Art Fair has even cancelled its 2021 event, postponing until February 2022.
Despite the long list of art calendar cancellations and postponements, there are some alluring events going ahead online in 2020 — including Sydney Contemporary Presents 2020, Frieze Viewing Room, and TEFAF Online. There's also a new online-only fair by digital art specialists Daata, and the 'Viral Edition' of London's Art Car Boot Fair arranged after their first online event reportedly crashed due to excess site traffic.
A few in-person art fairs are also going ahead in 2020, including Asia Now in Paris, and Shanghai's ART021 and West Bund Art Fair. Art Basel has also laid out plans for its Hong Kong fair to return in March 2021, where it will share the Hong Kong Exhibition Centre with rival art fair Art Central for the first time.
Dates for major art fairs scheduled to take place during late 2020 and early 2021 are listed below in alphabetical order. This list will be updated as new information becomes available.
ARCOmadrid (Spain)
Scheduled: 26 February–1 March, 2021
Now: 7–11 July, 2021
Art021 (Shanghai, China)
Scheduled: 12–15 November, 2020
Now: As scheduled
Art Basel in Hong Kong (China)
Scheduled: 25–27 March, 2021
Now: As scheduled
Art Car Boot Fair (London, United Kingdom)
Scheduled: 20 September, 2020
Now: Cancelled, replaced by Viral Edition, 4 October, 2020
Art Cologne (Germany)
Scheduled: 23–26 April, 2020
Now: 18–22, November, 2020
Art Dubai (United Arab Emirates)
Scheduled: 25–28 March, 2020
Now: 17–20 March, 2021
Art Fair Tokyo (Japan)
Scheduled: 20–22 March, 2020
Now: 18–21 March, 2021
Art Jakarta (Indonesia)
Scheduled: 28–30 August, 2020
Now: 27–29 August, 2021
Art Taipei (Taiwan)
Scheduled: 23–26 October, 2020
Now: As scheduled
ART X Lagos (Nigeria)
Scheduled: 6–15 November, 2020
Now: Online, 2–9 December, 2020
Asia Now (Paris, France)
Scheduled: 21–24 October, 2020
Now: As scheduled
Daata Art Fair (Online)
Scheduled: 6–25 October, 2020
Now: As scheduled
Dallas Art Fair (United States)
Scheduled: 1–4 October, 2020
Now: 15–18 April, 2021
FIAC (Paris, France)
Scheduled: 22–25 October, 2020
Now: 21–24 October, 2021
Frieze London (United Kingdom)
Scheduled: 7–11 October, 2020
Now: Cancelled. Replaced by Frieze Viewing Room, 9–16 October
Frieze Masters (United Kingdom)
Scheduled: 7–11 October, 2020
Now: Cancelled. Replaced by Frieze Viewing Room, 9–16 October
KIAF ART SEOUL (Korea)
Scheduled: 25–27 September, 2020
Now: Cancelled. Replaced by Online Viewing Room, 23 September–18 October, 2020
Melbourne Art Fair (Australia)
Scheduled: 4–7 February, 2021
Now: 17–20 February, 2022
Sydney Contemporary (Australia)
Scheduled: 9–13 September, 2020
Now: Cancelled. Replaced by Sydney Contemporary Presents 2020, 1–31 October
Taipei Dangdai (Taiwan)
Scheduled: 15–17 January, 2021
Now: 21–23 May, 2021
TEFAF New York Fall (United States)
Scheduled: 30 October–4 November, 2020
Cancelled. Replaced by TEFAF Online, 1–4 November, 2020
West Bund Art & Design (Shanghai, China)
Scheduled: 11–15 November, 2020
Now: As scheduled. —[O]