News | Crime
Vandals Target documenta fifteen as Intimidation Escalates
Artistic directors ruangrupa and Palestinian collective The Question of Funding have been accused of anti-semitism and subject to threatening graffiti.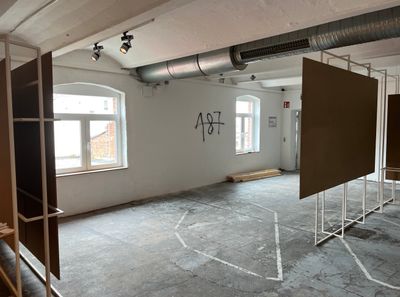 Graffiti at WH22. Courtesy documenta fifteen.
Ruangrupa invoked the lumbung, Indonesian for a communal rice barn, as the foundation of the 15th edition of documenta, the art exhibition that takes place in Kassel, Germany every five years. What ought to be a locus of collaboration has instead become mired in conflict.
On the night of 27 May, exhibition venue WH22 was broken into and graffitied with phrases including '187'—the California Penal Code for murder—and 'PERALTA', an allusion to Spanish far-right political figure Isabel Medina Peralta. Peralta was refused entry at Frankfurt Airport earlier this year after security found a swastika flag and a copy of Mein Kampf in her luggage.
documenta fifteen filed a criminal complaint over the break-in and said they would increase security for the event.
The graffiti was ostensibly aimed at Palestinian collective The Question of Funding, who will exhibit at WH22 when documenta fifteen opens on 18 June.
'We consider the vandalist acts as a politically motivated threat at The Question of Funding's and Party Office's venue and as an attack on all of us, lumbung members and artists,' said ruangrupa and the artistic team of documenta fifteen in a statement.
'We are wishing for a working atmosphere where acts of violence towards the artists' persons, venues, and artworks cannot be tolerated,' they said.
Members of The Question of Funding declined to comment on the vandalism.
Accusations of antisemitism were levelled against The Question of Funding, ruangrupa, and documenta fifteen itself in January by a blog called Alliance against Anti-Semitism Kassel.
The blogger said signatories of the Nothing Can Be Changed Until Faced petition were promoters of 'hatred of Israel'. The petition responds to a resolution passed by the German parliament that condemns Palestinian solidarity movement Boycott, Divestment, Sanctions (BDS) as antisemitic.
ruangrupa said leading German newspapers 'uncritically echoed' the blogger's accusations.
The group arranged a forum called 'We need to Talk! Art — Freedom — Solidarity' to address the conflict, but cancelled it because the accusations had rendered 'a free and productive discussion impossible.'
'To be clear: no antisemitic statements of any kind have been made in the context of documenta fifteen,' ruangrupa continued. 'We strongly reject these accusations and refuse to accept bad-faith attempts to delegitimise artists and preventively censor them on the basis of their ethnic heritage and presumed political positions.'
In April, stickers were found outside another documenta exhibition venue that read 'Freedom not Islam! No compromise with barbarism! Fight Islam consistently!' and 'Solidarity with Israel'.
Graffiti at WH22. Courtesy documenta fifteen.
In response to last weekend's vandalism, South African artist Candice Breitz posted a statement that said 'artists are highly alarmed for their safety in this environment'. Breitz said the post, which has been shared 148 times, was written by a documenta insider who chose to remain anonymous 'due to likely repercussions'.
'With the exception of a relatively small number of voices, the German press and most Germans are happy to tolerate and tacitly support this kind of thing, because pandering to the Israeli regime is considered good politics here, no matter what kind of racist and hateful actions accompany such pandering', Breitz said.
'This is how certain Germans—far too many of them—express their Holocaust guilt,' she added.
Berlin-based critic Federica Bueti told Ocula Magazine what happened last weekend in Kassel is not an isolated case.
'You realise that there is a bigger problem that the region of Hesse and Germany at large does not seem to address adequately—namely, its neo-nazi presence and extremist groups.'
'The campaign against Palestinians has reached unprecedented levels in Germany and Austria,' she said. 'An article published on die Welt recently, targeted artist Jumana Manna, accusing her, and the artists supporting BDS, of opportunism, of taking public-funded prizes and keeping Israel artists out.'
Kassel's Lord Mayor, Christian Geselle, spoke out against attacks on artists in the city.
'Having discussions about documenta fifteen is one thing, but intimidating artists by committing crimes goes far beyond the pale and damages the image of the city of Kassel as a place of artistic freedom and host to artists from all over the world.' —[O]