News | Galleries
VOLTA Cancels Miami Art Fair
Organisers blamed the late cancellation on the city's protracted battle with Covid-19.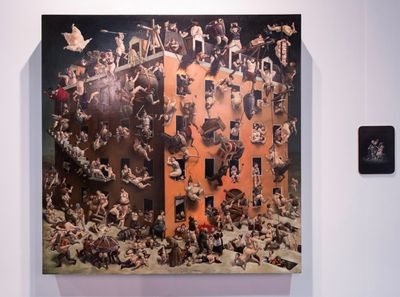 CONNERSMITH at VOLTA NY 2015 Photo: © Charles Roussel & Ocula.
VOLTA has cancelled what would have been their first Miami fair little more than a month before it was scheduled to take place.
VOLTA director Kamiar Maleki confirmed the cancellation in a statement published on their website.
'We pride ourselves on our international reach, especially in our stateside events, and the uncertainty of when and whether our loyal exhibitors would be able to travel was too serious to overlook,' Maleki said.
'There were and are still too many covid caused obstacles for us to produce the standard that [we] are [accustomed] to for our debut VOLTA Miami edition and therefore are cancelling our 2021 premiere this December,' he said.
At least one in four residents of Miami-Dade County have contracted Covid-19, and The New York Times describes the risk to unvaccinated visitors as 'very high'.
In addition to uncertainty about who could travel for the fair—a challenge shared by other Miami fairs Art Basel in Miami Beach, NADA, and Untitled Art—VOLTA has struggled to secure a venue.
They initially planned to set up at Mana Contemporary, but the venue reportedly lost its contract to host events in the spring, and remains closed to the public. VOLTA then planned to build a tent opposite NADA, a solution Maleki described as 'even better than what we had before', but by then he said many of VOLTA's target galleries had already been accepted into other fairs.
VOLTA debuted in Basel in 2005 as an alternative to Art Basel. Three years later they launched a New York fair as an alternative to the Armory Show. At this stage, VOLTA plans to go ahead with the launch of their Miami fair in 2022. —[O]