News | Galleries
West Bund Art & Design 2022: Preview 7 Exceptional Booths
See standout works being shown by Almine Rech, Esther Schipper, A Lighthouse called Kanata, Stephen Friedman Gallery, Lehmann Maupin, Ota Fine Arts, and Sadie Coles HQ.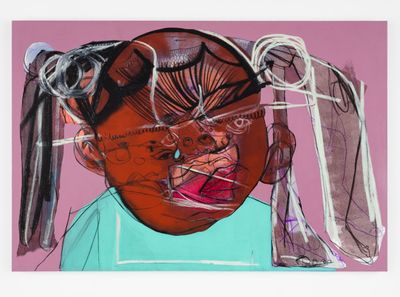 Genesis Tramaine, Thank God for Breath (2022). Acrylic, oil pastel, oil stick, and the Holy Spirit on canvas. 122 x 183 cm. © Genesis Tramaine. Courtesy the artist and Almine Rech. Photo: Charles Roussel.
Over 100 galleries will exhibit at China's leading contemporary art fair from 10–13 November, taking on the twin challenges of a strict Covid-zero policy and economic headwinds that strengthened after President Xi Jinping locked up an unprecedented third term. Seven of the best shared what they'll be showing at the fair.
Almine Rech, Founder of Almine Rech, Paris
This year, our traditional solo presentation at West Bund Art & Design will be dedicated to Genesis Tramaine, an expressionist devotional painter who creates abstract portraits of men and women who transcend gender, race, and social structures.
At the same time, we have orchestrated a special salon in which more artists will be displayed in China for the first time, and visitors will be able to learn more about the spirit of our gallery.
Sojourner Truth Parsons, Soft Water 1 (2022). Acrylic on canvas. 208 x 188 x 5 cm. Courtesy Esther Schipper.
Esther Schipper, Founder of Esther Schipper, Berlin
The work of Sojourner Truth Parsons, a young Canadian artist who joined the gallery this spring, has an emotionally-charged, dreamlike quality. With their silhouetted figures and abstract objects, the graphic clarity of Parsons' scenes gives us clues but shrouds all in mysterious darkness that seems to tell a story.
Thomas Demand, Canopy (2020). C-Print/Diasec. 180 x 144 cm. Courtesy the artist and Esther Schipper.
Canopy, a work by Thomas Demand, whose major retrospective, The Stutter of History, was on view at the UCCA Edge in Shanghai this summer, depicts the façade of a residential building with a single lowered yellow sun blind.
A particular highlight of our booth will be works from Simon Fujiwara's Who the Bær project, presented at the gallery this spring and in an upcoming exhibition at Prada Tokyo. Intelligent, poignant, and playful, Fujiwara's works address contemporary questions about identity and the role of social media.
Sueharu Fukami, Kan (The Gates) (2022). Porcelain with celadon glaze, granite base. 186 x 61 x 46 cm. Courtesy A Lighthouse called Kanata.
Wahei Aoyama, Founder of A Lighthouse called Kanata, Tokyo
We plan to mark the debut of Japan's leading ceramic artist Sueharu Fukami's latest, and perhaps final, vertical sculpture, entitled Kan (The Gates) (2022). This is the first time that this piece has ever been released to the general public, and it is a tour de force in beauty and technique.
We will also be exhibiting the latest stainless steel sculpture of Satoru Ozaki entitled Now and Here IX (2022), new paintings by Kentaro Sato and Kiyo Hasegawa, and the latest work in glass by Niyoko Ikuta.
Caroline Walker, Baby Layla (2022). Oil on linen. 75 x 60cm. © Caroline Walker. Courtesy the artist and Stephen Friedman Gallery, London. Photo: Peter Mallet.
Stephen Friedman, Founder of Stephen Friedman Gallery, London
For this year's West Bund Art & Design we will focus on paintings, exploring how each artist interprets the medium, from the direct observations of Sarah Ball and Caroline Walker, to the fictional scenes created by Mamma Andersson and Anne Rothenstein.
Yinka Shonibare CBA (RA) will present a new work produced for the fair, which reimagines a classical sculpture with uniquely designed Dutch wax batik patterns.
Nicholas Hlobo, Itywina (2019). Ribbon and leather on canvas. 47.24 x 35.43 inches. Courtesy the artist and Lehmann Maupin, New York/Hong Kong/Seoul/London.
Tiffany Xu, Director at Lehmann Maupin, New York
We are thrilled to return to West Bund with a solo presentation by South African artist Nicholas Hlobo, who engages themes of self-discovery and invention, exploring the intersections of his race, gender, and identity—specifically, his identity as a Black gay man—within the context of his South African heritage.
On each canvas, the artist renders semi-anthropomorphic forms through acrylic, leather, rubber, and ribbon, synthesising the historically gendered mediums to create amalgamated forms that feel at once familiar, alien, and ancient.
Highlights from our booth also include signature works by Billy Childish, whose solo exhibition will be on view concurrently in New York; Arcmanoro Niles, tied to his solo exhibition at Lehmann Maupin London; and Lari Pittman, whose retrospective is on view at Museo Jumex in Mexico City.
Yayoi Kusama, I WANT TO FILL MY LIFE WITH LOVE, THE WORLD IS FULL OF TERRORS AND WARS (2010). Acrylic on canvas. 162 x 162 cm. © Yayoi Kusama. Courtesy the artist and Ota Fine Arts.
Ota Hidenori, Founder of Ota Fine Arts, Tokyo
The ethos of my art fair booth has always been quite simple: to highlight the regional character, originality and commonality of East Asian artists. As a gallery situated in Asia and working solely with Asian artists, I often find that the works that attract or move people are works in which they find something of themselves, something that relates to their personal histories, cultural value and sense of aesthetic.
Nobuaki Takekawa, The Fish Was Cooked Well (2022). Acrylic on canvas. 112 x 145.5 cm. Courtesy the artist and Ota Fine Arts.
We are keeping quite an open booth with a pumpkin sculpture by Japanese artist Yayoi Kusama anchoring the booth.
Other new works by Ay Tjoe Christine, Maria Farrar, Tang Dixin, Tomoko Kashiki, Hilmi Johandi, Guo-Liang Tan, and Nobuaki Takekawa will also be presented.
Alvaro Barrington, Banana fall on you Powis right (2022). © Alvaro Barrington. Courtesy Sadie Coles HQ, London. Photo: Katie Morrison.
Sadie Coles, Founder of Sadie Coles HQ, London
This year, we have two new Caribbean paintings by Alvaro Barrington, first shown this year as part of the artist's project for the Notting Hill Carnival 2022.
We are also bringing a group of new sculptures by Yu Ji from her renowned 'Flesh in Stone' series. Yu Ji recently participated in the Whitney Triennial in New York and several international museums have acquired works from the series.
Alex Da Corte, The Open Window (2018). © Alex Da Corte. Courtesy Sadie Coles HQ, London. Photo: Katie Morrison.
Also on view will be a 2018 video work, The Open Window, by Alex Da Corte whose work is currently the subject of the major solo exhibition Mr. Remember at the Louisiana Museum of Modern Art in Denmark.
In addition, we will present works by artists including Uri Aran, Jonathan Lyndon Chase, Gabriel Kuri, Jim Lambie, Laura Owens, Elizabeth Peyton, Borna Sammak, Wilhelm Sasnal, and Katja Seib. —[O]