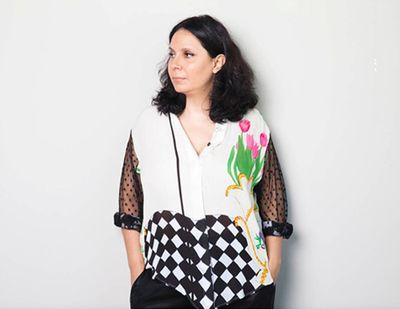 Christine Tohmé. Photo: Tarek Moukaddem, 2015.
This year marks the 25th anniversary of Ashkal Alwan – The Lebanese Association for Plastic Arts. Since then, the Association has been central in shaping the cultural and artistic landscape of Beirut, fostering and supporting the work of local and regional artists, and facilitating and organising important artistic productions and exhibitions throughout its years in operation. Directed by powerhouse curator Christine Tohmé since its creation, Ashkal Alwan is now an indispensable institution to hundreds of artists, writers, curators, musicians, and other cultural or literary practitioners and researchers.
In 2002, Ashkal Alwan launched its first Home Works Forum, a periodic, multidisciplinary event that includes symposia, exhibitions and dance and music performances that takes place every two to three years. In its beginnings, Home Works was akin to a laboratory where new theories and artistic expressions were posited, challenged or exchanged. It was also an opportunity to bring together talents from the Middle East who were not yet part of the circuits and platforms of international biennials and exhibitions. Home Works quickly grew into an international affair—a point of encounter gathering important thinkers and practitioners in contemporary art such as Walid Raad/The Atlas Group, The Otolith Group, Michael Rakowitz, Franco 'Bifo' Berardi, Catherine David, and Jacques Rancière. In a city where spaces to stage interesting exhibitions and conferences were scarce, Home Works made use of Beirut's theatres, cinemas, galleries, and bars to hold its events. By doing so, it decentralised Home Works' various events and consequently diversified and enlarged its audience—attracting the internationally mobile audience of contemporary art, while also developing famously tough and critically engaged spectators.
Exhibition view: What Hope Looks Like After Hope (On Constructive Alienation), Ashkal Alwan, Beirut (7–10 December 2015). Curated by Bassam El Baroni for Home Works Forum 7. Courtesy Ashkal Alwan. Photo: Bilal Jawiche.
Previous editions of Home Works Forum have centred on issues such as representation, sound and citizenry, and the crisis of art education in the region, to name a few. Over the years, curators have also been invited to curate touchstone exhibitions, including Bassam El Baroni, who organised one of the two exhibitions staged for Home Works 7 in 2015, titled What Hope Looks Like After Hope (On Constructive Alienation); and Tarek Abou El Fetouh, whose exhibition for Home Works 6 in 2013 focused on the re-enactment of three pivotal exhibitions that took place at transitional moments in history—the first Alexandria Biennial in 1955; the First Arab Art Biennial in Baghdad in 1974; and the exhibition China/Avant-Garde in Beijing in 1989—and featured artists like Ho Tzu Nyen, Cao Fei, and Seo Min Jeong.
Exhibition view: Home Works 6, curated by Tarek Abou El Fetouh, Ashkal Alwan, Beirut (17 May–10 June 2013). Courtesy Ashkal Alwan.
Before it settled in its current location in Jisr El Wati in 2011, and before the opening of other non-profit institutions like the Beirut Art Center in 2009 or the renovation and subsequent reopening of the Sursock Museum under new direction in 2015, Ashkal Alwan operated out of small office spaces in the neighbourhood of Ain El Mreisseh. Tohmé would often hold meetings in cafés in the vicinity of the central and bustling district of Hamra. The deceptively informal aspect of the organisation at the time changed when Ashkal Alwan moved into a 2,000m² warehouse in Jisr El Wati, an industrial neighbourhood located at the edge of Beirut's limits. The sprawling space includes two auditoria, presentation spaces, a spacious library, editing suites, a coffee shop, and artist studios. It also rents out its spaces for photoshoots, workshops, conferences, and other events by local or international organisations, providing income that enables it to cover some of the costs of its activities.
This new location also enabled the establishment of the Home Workspace Program in 2011, an annual ten-month long, tuition-free educational platform for a group of 10 to 15 artists, whom Ashkal Alwan calls fellows, with a group of artists, writers, and researchers invited every year for short-term residencies in parallel. The programme is overseen by a curricular committee, as well as resident and visiting professors composed of artists, collectives, writers, scholars, and others—notable participants include Iman Issa, Raqs Media Collective, Sandra Noeth, Phil Collins, and What, How, & for Whom/WHW. The advisory curriculum committee is currently composed of Tohmé, along with artists Natascha Sadr Haghighian, Iman Issa, Joe Namy, Walid Raad, and curator Zeynep Öz.
Ashkal Alwan's Home Workspace. Courtesy Ashkal Alwan.
For its anniversary, Ashkal Alwan has already launched a new online platform entitled aashra (ten in Arabic), which features a periodic rotation of ten films and videos from the organisation's audiovisual archive. The first run included videos by Lina Majdalanie, Marwa Arsanios, Roy Dib, and Akram Zaatari. Ashkal Alwan's online digital archive has been developed over three years, and will consist of performances, recordings of previous editions of Home Works Forum, Home Workspace Program lectures, and numerous seminars and talks, which will undoubtedly be a crucial reference for researchers, students, and other members of the public interested in contemporary art production in the region. The importance placed on an increased online, open-access presence speaks to the current needs of every art institution today to appeal to more audiences and move beyond physical spaces; but also, as Tohmé asserts, this need constitutes 'a response to the conditions of displacement' that artists, researchers, and other cultural workers are currently experiencing in Beirut and abroad.
In this conversation, Christine Tohmé talks about the events that Ashkal Alwan curated as part of its three-month 25th anniversary programme, which included an exhibition that featured works by 39 artists who have participated in the organisation's development over the years (25th Anniversary Exhibition, 14–18 December 2018).
Exhibition view: 25th Anniversary Exhibition, Ashkal Alwan, Beirut (14–18 December 2018). Designed by architect Maroun Lahoud at the Home Workspace. Courtesy Ashkal Alwan. Photo: Chantale Fahmi.
RB

Could you talk through the programme for Ashkal Alwan's 25th anniversary?

CTTo mark 25 years since our first public event at the Sanayeh Garden in 1993, Ashkal Alwan programmed three months of events during which we launched various online platforms—including a new website for Ashkal Alwan to celebrate the wealth of material, discourses, and artworks that have been formed and produced throughout the years.

Over the span of its 25 years, Ashkal Alwan has been accumulating a large and diverse audiovisual archive containing magnetic and digital tapes, DVDs, and digital files. This material is largely comprised of films and performances, recordings of previous editions of Home Works Forum, Home Workspace Program lectures, and numerous seminars and talks; an invaluable resource for any scholar or researcher with an interest in the history of contemporary art practices in the region and beyond. This archival material has, for long, been vulnerable to damage and misuse. Efforts to consolidate and digitise the material began effectively three years ago, and we are happy to culminate our efforts this year with the launch of an easy-to-navigate online platform that gives the public access to terabytes of digital recordings.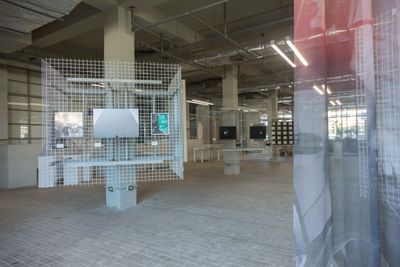 Exhibition view:
25th Anniversary Exhibition
, Ashkal Alwan, Beirut (14–18 December 2018). Designed by architect Maroun Lahoud at the Home Workspace. Courtesy Ashkal Alwan. Photo: Chantale Fahmi.
We also planned a series of public programmes and activities, which will also continue to activate this archival material in the new year, and invited artists, researchers, and curators to engage with our collection through their own practice. These included Joe Namy's public talk and listening session entitled In Defense of Loud Music, which reflects and expands on his commission Automobile, a variable channel sound performance for cars with powered sound systems, that the artist developed on the occasion of the launch of Home Workspace Program in 2011.
RB

You also launched a streaming platform, aashra, right?

CTYes. The streaming platform, called aashra, which is Arabic for ten, offers viewers material that is often out of circulation. We launched the platform with a selection of ten of our productions, covering a period stretching all the way back to the year 2000—a conversation between the artist and her mother produced in the context of 'Most Probably I Will Be Performing This Dream Tonight', a two-day programme organised by Ashkal Alwan in 2006, and Akram Zaatari's Red Chewing-Gum (2000), a video letter between two men and one of the organisation's first productions. This selection will be changed periodically to share more material from our archive, some of which has been produced by Ashkal Alwan and others chosen specifically for their artistic, historical, and political relevance.

Akram Zaatari, Red Chewing-Gum (2000) (still). Produced by Ashkal Alwan. Courtesy the artist.
RB

You also staged an exhibition between 14 and 18 December, titled 25th Anniversary Exhibition, that culminated in an auction. It featured artists like Walid Raad, Akram Zaatari, Etel Adnan, and Inci Eviner, among many others. Can you tell us more about this show?

CTThe commemorative exhibition included over 35 artists that have been close to us over the years, ranging from collaborators who wholeheartedly supported—and grew alongside—our association since the 1990s to recent alumni from our study programme (Home Workspace Program). Thanks to the generosity of those artists, we will be able to hold our first fundraising auctions to raise resources to allow the continuation of Ashkal Alwan's activities in the coming years, keeping them free of charge and accessible.

During the summer of 2018, we started a conversation, both internally and with key external parties, around the exhibition and auction form. We wanted for this moment to be both historic and historical; the artist list needed to be inclusive while remaining significant. In many cases, particular works were inevitably selected for their unmistakable connection to Ashkal Alwan's history. Among these were Walid Sadek's Gentlemen, half-a-man wriggles in our clothes, first presented at the Sanayeh Garden Project in 1995, Tony Chakar's All That Is Solid Melts into Air, first presented at the Corniche Project in 1999, Khalil Rabah's Tattoo, presented at the first Home Works Forum in 2002, and Saba Innab's Untitled (Map), developed during her year as a fellow at Ashkal Alwan's Home Workspace Program between 2011 and 2012, to name a few. Other artists offered more recent work, or went as far as donating work that was never presented before.

Tony Chakar, All That Is Solid Melts into Air (2000). Acrylic and other materials on canvas. 150 x 100 cm. Courtesy the artist.
RB

Ever since its inception in 1993, Ashkal Alwan has operated during periods of political and economic instability in Lebanon and the wider region, such as when Lebanon's former prime minister, Rafic Hariri, was killed in a huge car-bomb blast in early 2005 and the Israeli bombardment and siege in the summer of 2006.
What are some of the challenges you are facing today, after 25 years, with regard to your activities? Do you find yourself restrained in thinking about future projects?
CTNot really. I never allow material realities to restrict my imagination; we have had to respond to many critical moments in the past, and have still been able to pull through time and time again. If anything, times of crisis push us out of our comfort zone, and allow us to reflect and work together in collective and critical ways.
Exhibition view: 25th Anniversary Exhibition, Ashkal Alwan, Beirut (14–18 December 2018). Designed by architect Maroun Lahoud at the Home Workspace. Courtesy Ashkal Alwan. Photo: Chantale Fahmi.
RB

Although Beirut has always been an unpredictable terrain to work in, do you think that it is possible to foresee or apprehend some of the difficulties ahead? If so, what are they for you and is it even possible for you to draw any contingency plans?

CTOur resilience and growth is not due to speculation or shrewd investment, but rather to our insistence on building and preserving a safe community. We have long been committed to alternative modes of cultivating friendships and networks of solidarity. But what do you do when the artists, cultural practitioners, thinkers, and activists that compose your community are either leaving or being driven out of Beirut? My sense is that fragmentation is among the most significant challenges we will be facing in the coming years. Our response has to be manifold; one way to think through this is to, for example, consider engaging in the production of digital platforms, as opposed to only physical, locally implanted spaces.

Exhibition view: 25th Anniversary Exhibition, Ashkal Alwan, Beirut (14–18 December 2018). Designed by architect Maroun Lahoud at the Home Workspace. Courtesy Ashkal Alwan. Photo: Chantale Fahmi.
RB

You launched the Home Workspace Program in 2011 and it has since undergone a lot of changes regarding its programme, resident artists, and curriculum. For its third edition, resident professors Jalal Toufic and Anton Vidokle opened registration for people to participate either in the full year, or in individual chapters, workshops, and seminars.
How do you see Home Workspace evolving in the future? In what ways do you think this programme has contributed to local art and knowledge production?
CTThe Home Workspace Program started out as response to prevailing shortcomings in critical arts and humanities studies in the region, and has sought over the years to continue to be attentive to the shifts in the educational offering available for young artists. Since the programme's first year in 2011, we have collaborated with many institutions and collectives who initiated similar programmes, such as MASS Alexandria's studio space and study programme, RAW Material Company's residency programme in Dakar, and What, How & for Whom/WHW's projects in Zagreb, not to mention developments in existing local academic institutions in terms of arts education. The programme needs to grow and evolve together with existing platforms, not against them, and continue to be supported by a network of committed collaborators and remain free of charge.
Ashkal Alwan's Home Workspace. Courtesy Ashkal Alwan.
RB

In a lecture delivered at Ashkal Alwan on 25 October by Francis McKee from the Centre for Contemporary Arts in Glasgow, McKee talked about the role of contemporary art institutions after surviving difficult periods and/or disasters, both man-made or natural, referring to the fires that CCA Glasgow experienced in 2014 and 2018.
Is Ashkal Alwan also re-evaluating or re-thinking its role given the difficult periods it has faced within the context of Lebanon? If so, what are the possible directions that you are dreaming up?
CTCCA's reopening is an inspiring story of resilience; of a community coming together after a moment of crisis, to continue the work of an institution that has been critical to the development of artistic practices and discourses in Scotland. We asked Francis to present this talk and share the type of questions an institution has to ask itself at moments like these. It's always been in the nature of Ashkal Alwan to continually ask questions about its role, position and modes of working. For instance, our focus on online platforms could be read as a direct response to the conditions of displacement I mentioned before. It's important to rethink community practices, and provide new frameworks and infrastructures to ensure the continuation of our work.
Ashkal Alwan's public library. Courtesy Ashkal Alwan.
RB

The Pink Factory, a new programme focused on younger generations, was launched last September; how does this new initiative fit into Ashkal Alwan's overall programming?

CTWe established Art at the Pink Factory, a drawing and painting school, in September 2018 to promote early artistic expression among youths through art education. Classes will be offered throughout the year to students of all ages, and are designed in the form of interactive workshops. Students will be encouraged to build on their unique visions and skill sets as they learn the basic elements of art-making. Our hope is to inspire creativity in a vast, open and fun-loving space imbued with a local history of art and education. —[O]