Glenn Ligon. Photo: Paul Sipuya.
Glenn Ligon is one of the most celebrated American artists of his generation. He is credited alongside Thelma Golden, director and chief curator of the Studio Museum in Harlem, with coining the term 'post-blackness', and is probably best known for his text-based paintings, though he has also worked in neon, video, and photography, and is also a successful writer and curator. Ligon achieved a particular kind of renown when Black Like Me #2 (1992) was selected to hang in Barack and Michelle Obama's private quarters at the White House in 2009. This black oil and gesso on canvas picture takes its title from John Howard Griffin's 1961 memoir of the same name, in which Griffin, who was white, records his travels in the American South disguised as a black man. The work consists of a quotation from the memoir that is written over and over again ('All traces of the Griffin I had been were wiped from existence'). In 2011, the Whitney Museum of American Art held Ligon's first comprehensive mid-career retrospective, AMERICA (10 March–5 June 2011). The exhibition, which also travelled nationally, included such text-based paintings within the roughly 100 works on show, which also presented a range of other pieces across different media, including silkscreen prints, drawings and sculptural installations.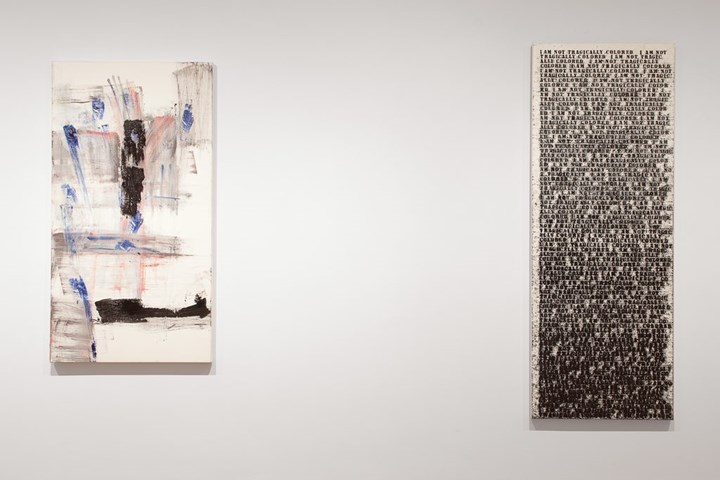 Exhibition view: Blue Black, West Gallery, Pulitzer Arts Foundation, St Louis, Missouri (9 June—7 October 2017). Courtesy Pulitzer Arts Foundation. Photo © Alise O'Brien Photography.
Blue Black is Ligon's latest project at the Pulitzer Arts Foundation in St Louis, Missouri (9 June–7 October 2017): a group exhibition that he curated, and which includes three of his own works alongside 51 by other artists. It takes as its starting point Ellsworth Kelly's remarkable twenty-eight-feet-tall 'painted wall sculpture' of the same name, which was commissioned by the Pulitzer in 2001 and has been permanently installed in its spectacular Tadao Ando building ever since. For the show, Ligon has assembled a remarkable collection of artists, including Joan Miró, Kerry James Marshall, Joan Mitchell, Mary Heilmann, Susan Rothenberg and Carrie Mae Weems. Their works accompany Kelly's Blue Black, weaving webs of meaning around the painted wall sculpture that are as stimulating as they are complex.
To begin with, Ligon found that the Kelly reminded him of Louis Armstrong's recording of '(What Did I Do to be so) Black and Blue?' and decided, as he explains in his introductory essay to the show, to explore 'what the lyrics of a melancholy show tune about racial equality had to do with Kelly's rigorous and elegant paintings...' That space has proven to be full of possibilities, for this is a rich and multifaceted exhibition with a whole range of interpretations of how the colours blue and black might be understood. For example, Armstrong's recording is cited at the beginning of Ralph Ellison's 1952 Invisible Man, which itself forms the subject of Tim Rollins and K.O.S.'s Invisible Man (after Ralph Ellison) (2015). This painting hangs in the first room of Blue Black, alongside portrait paintings by Jack Whitten, Carrie Mae Weems, Lynette Yiadom-Boakye and—perhaps most significantly in this context—by Kerry James Marshall, whose Untitled (policeman) (2015) shows a black police officer sitting on the bonnet of his car. This is a perplexing enough painting wherever you hang it, given current arguments around the policing of America's African-American communities; but as the Pulitzer is less than half an hours drive from Ferguson, the scene of protests after the 2014 police killing of the unarmed teenager Michael Brown, it is given a significant extra political charge.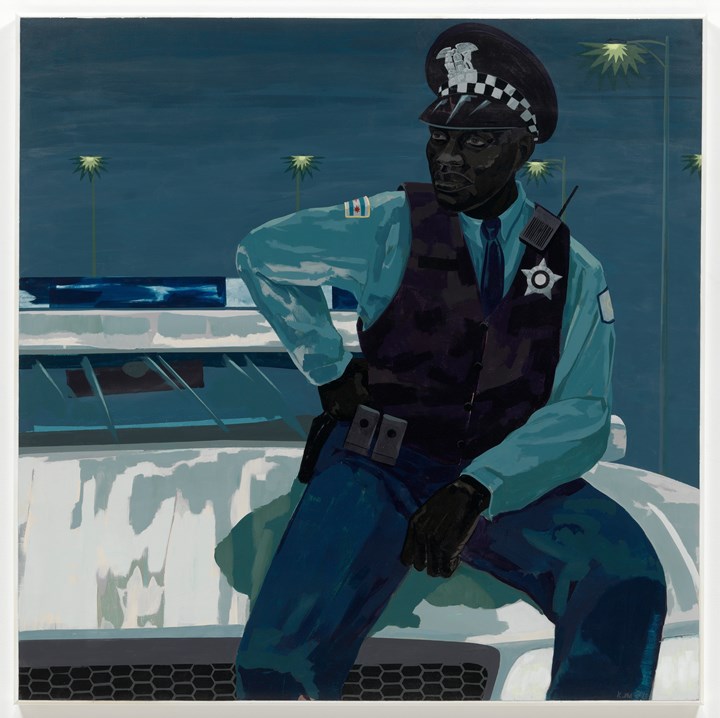 Kerry James Marshall, Untitled (policeman) (2015). Synthetic polymer paint on PVC panel with plexi frame. 152.4 x 152.4 cm. Courtesy The Museum of Modern Art, New York.
Still, it would understate the sophistication of Ligon's show to suggest that this is simply a political exhibition. Not only does Ellsworth Kelly—an artist who is almost exclusively discussed in formal terms—provide its starting point, he concludes it as well, with a beautiful little painting, Black Blue (1959), which was painted more than 40 years before the Pulitzer's wall sculpture that provided Ligon with his original inspiration.
The following conversation took place at the Pulitzer Arts Foundation on 8 June 2017.
RA

Can you explain how this show Blue Black came about?

GLI did the first visit here probably two years ago, with the understanding that I would be doing a solo show using the whole space. When I got here I realised how the Kelly is such an iconic piece in the building. I had only seen it in pictures but when you get to the space you realise, 'Oh, the Kelly is here. Every show has to respond to it.'

So I said to Cara [Starke, Director of the Pulitzer], 'There's a whole show you could do around those two colours, black and blue,' and started naming artists. But I assumed that somebody had done that already. After all, the building's had ten years of programming. But Cara said, 'No, nobody's done that,' and I thought to myself, 'Well, maybe that's more interesting for me.'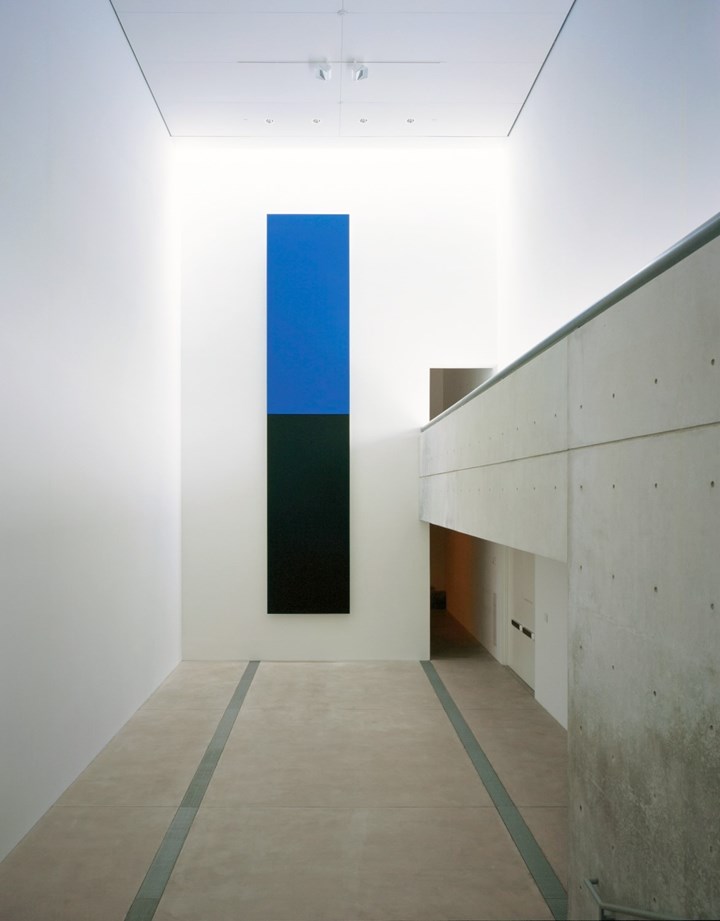 Ellsworth Kelly, Blue Black (2000). Painted aluminium panels. 336 x 70 x 2 1/8 inches. Courtesy Pulitzer Arts Foundation. Photo: Robert Pettus.
RA

The timing is fascinating, isn't it? You first conceived the show when Barack Obama was president. We now find ourselves in Trump's America. How different has that made the meaning of the show?

GLI don't know. It's probably not for me to answer. I know it didn't really change any curatorial decisions. But one thing that Trump's presidency made me much more aware of was the importance of the first gallery where there's Kerry James Marshall, Lynette Yiadom-Boakye, Tim Rollins and K.O.S., Carrie Mae Weems, and Jack Whitten. I always knew it would be interesting to have a kind of visual conversation between the works in that gallery. When you walk in that's the beginning of the show, and you have all these works that are looking at each other and looking at you. That conversation gets read very differently in Trump's presidency than it might be if Hillary [Clinton] was president or Barack [Obama] was still president. You can think of that in terms of a certain kind of politics: the first conversation in the show contrasted with the lack of conversations that we seem to have in this country nowadays. So yes, Trump's presidency has amplified certain things in the show.
RA

I presume that Black Like Me #2 isn't in the White House any more.

GLNo. I don't know what the procedures are but I'm sure the minute Trump became president they started putting the bubble wrap over it. But that piece was in the personal quarters anyway, so it was always going to go no matter who became president.
RA

That gives us the opportunity to talk about post-blackness a little bit, a term coined by yourself and Thelma Golden when you were working on the 2001 exhibition Freestyle for The Studio Museum in Harlem, which Golden explained included artists who were 'adamant about not being labelled 'black' artists, though their work was steeped, in fact deeply interested, in redefining complex notions of blackness.' Barack Obama occupies a key position within those post-blackness debates, doesn't he?

GLExcept those debates predated him. So maybe he's come to symbolise something within those debates.
RA

If Obama didn't exist as a symbolic figure of post-blackness, it would be necessary to invent him?

GLRight. What comes after post-black seems to be white supremacy. That term was a way of describing how I thought about an artist like Mark Bradford at the beginning of his career. He was doing abstract paintings, and he is clearly interested in the history of abstraction, but the materials he was using were hair-curling papers from his mom's black beauty salon. So the material has a specificity and it's used in a way that puts a kind of content into abstraction in an interesting way. For me, it was a jokey way to describe that to Thelma Golden. But as people have taken it up seriously it has become a useful way to think about how artists of colour have infused abstraction with this specificity. That's what I guess I'm most interested in.
RA

And that specificity provides the foundation for this show?

GLIn some ways, yeah.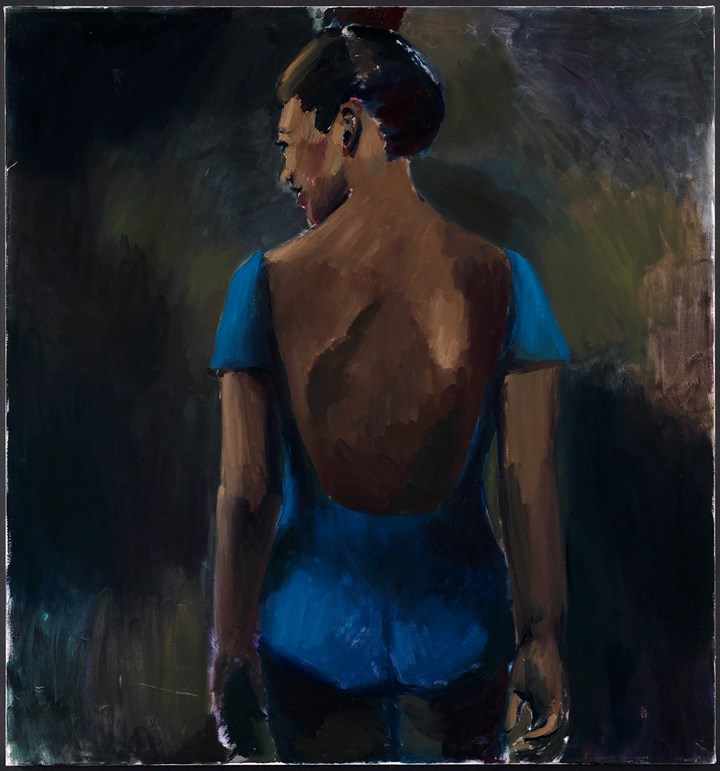 Lynette Yiadom-Boakye, Messages from Elsewhere (2013). Oil on Canvas. 149.9 cm x 139.7 cm. Private Collection. Chicago. © Lynette Yiadom-Boakye. Courtesy the artist; Jack Shainman Gallery, New York; Corvi-Mora, London.
RA

In the past you've spoken about colour being able to exceed what an artist intends for it. Does that mean that artists don't always know what they're doing?

GLThere's a story about somebody asking Miles Davis how he composes something, and he says, 'I start with what I know and go to what I don't know,' and I think artists often do that. Why is Ellsworth Kelly still using black and blue in 2000? He used the same colours right there in that painting from 1959. It's because it's always going to be surprising; there is always something new to be found in it. If you know what it is beforehand, then why bother doing it?

I think what's interesting about the Kelly is that he's a master of distilling things. The discussion around his paintings is formalist but they're very emotional in some ways. The painting here is so perfectly situated and it's so monumental that I walked in and I was like 'Wow!' I've seen big artworks before that I've just thought 'Mmm. Big ...' You know? But I think of Kelly as an emotional artist and I know other curators I've talked to who have agreed that that's their experience of the work too. I'm curious about that.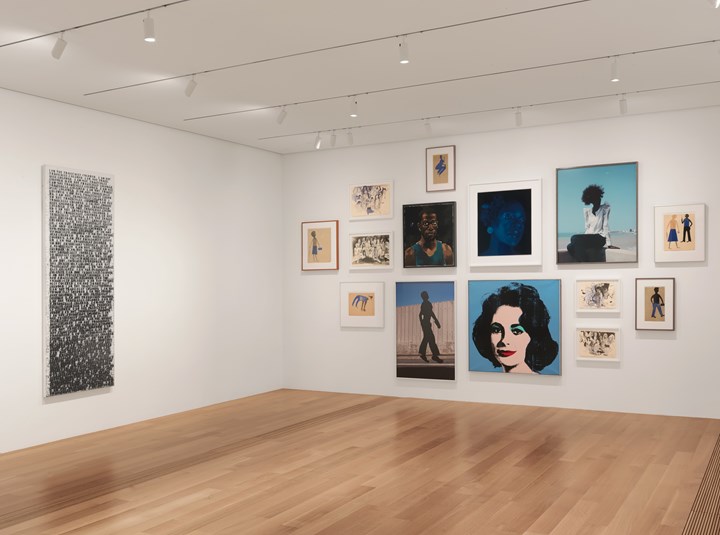 Exhibition view: Blue Black, West Gallery, Pulitzer Arts Foundation, St Louis, Missouri (9 June–7 October 2017). Courtesy Pulitzer Arts Foundation. Photo © Alise O'Brien Photography.
RA

I'm intrigued by how you've hung Warhol's Liz #4 (1963), on a salon-style wall alongside works by Bill Traylor, the self-taught artist who was born into slavery in 1853, Cecily Brown's watercolours based on the cover of the Jimi Hendrix album Electric Ladyland, photographs by Viviane Sassen, another Yiadom-Boakye portrait and Lyle Ashton Harris's remarkable self-portrait as Billie Holiday.

GLYes. Liz is white-white-white but I never really thought about that until she was hanging on that wall. That's so interesting, because nobody really talks about Liz's whiteness in discussions of Warhol. But put it on a wall that has all these different kinds of representations on it and it becomes so glaring. It's so much a part of what Warhol was interested in. But I didn't want it to be just a white woman surrounded by black figures. That's not what it's about. It's really about portraiture and different ways of looking. I want there to be moments of surprise and I want certain kinds of conversations to happen.
Andy Warhol, Liz #4 (1963). Synthetic polymer paint silkscreened on canvas. 101.6 x 1 01.6 cm. Private Collection. © 2017 The Andy Warhol Foundation for the Visual Arts, Inc. / Artists Rights Society (ARS), New York.
RA

Setting up conversations between different works is partly what curating is about, isn't it?

GLIt's interesting to think about one's taste as well. I realise, for instance, that I don't really get sculpture, so that's why there's so little of it in this show. That's my failing. There are also certain artists that I don't know if I've totally gotten their work conceptually. So doing a show like this is an opportunity to think more about their work. I use it in a sneaky way of my own: I need to think about it some more so put in in the show.
RA

What is the difference between painting as an art practice, and curating exhibitions or writing essays as art practice?

GLWell, in the end there is no difference. In some ways I'm very conservative because I separate these things out and make hierarchies out of them. I probably do that because writing is as hard as making art for me, and there's only so much time so I feel like I have to choose. But if I think about my process, being in the studio making work, writing, or curating the show, they all take equal amounts of energy and time so they are kind of equivalent. —[O]