Feature
An Atlas of Mirrors: the 5th Singapore Biennale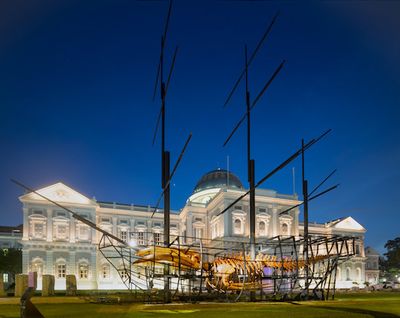 David Chan, The Great East Indiaman (2016). Image courtesy of Singapore Art Museum.
After a three-year hiatus, the fifth Singapore Biennale opened on 27 October 2016 at the Singapore Art Museum (SAM), which has acted as the sole organiser of the event since 2013. Titled An Atlas of Mirrors, the Biennale is curated by writer, professor, independent curator and former director of SAM, Dr. Susie Lingham, with the assistance of nine curators: Andrea Fam, Suman Gopinath, Louis Ho, Michael Lee, Nur Hanim Khairuddin, Tan Siuli, Joyce Toh, John Tung and Xiang Liping. 58 artworks and projects by more than 60 artists from across Southeast, East and South Asia are installed at seven venues across the city, though the exhibition is mostly concentrated at SAM.
The Biennale draws heavily on the diverse geographical, cultural and economic histories of the region which, situated at the crossroads of Indian and Chinese maritime trading routes, was occupied by European powers starting in the 16th century. Taking this history into account, the Biennale's title is subject to straightforward interpretation. Atlases are both a product of and tool for colonialism and categorisation, as well as navigating unfamiliar territory, while mirrors are an overt symbol of introspection and reflection. This curatorial focus is especially fitting in the context of Singapore: a young city-state with a dense multicultural population juggling its heterogeneity.
Singapore was colonised by Britain in the 19th century, occupied by the Japanese during the World War II, unsuccessfully merged with Malaysia in the 1960s, and became an independent city-state in 1965—each period making its mark in a complex national identity. Today, more than 5.6 million residents, students and migrant workers with origins in China, Malaysia, India, Europe and elsewhere live in Singapore, which in recent years, has become a strictly-governed global financial hub with a vast and widening wealth gap.
Harumi Yukutake, Paracosmos, 2016. Image courtesy of Singapore Art Museum.
Literal instances of mirrors are frequent throughout the exhibition. Harumi Yukutake's Paracosmos (2016), a sprawling installation of round, hand-cut mirrors clads the walls throughout a central stairway of SAM from floor to ceiling, fragmenting the reflections of the stairway and its inhabitants. In a central room upstairs, Deng Guoyuan has created Noah's Garden II (2016), a site-specific labyrinthine installation of mirrors and LED lights.
Adorned with artificial neon flora and tropical-looking fake rocks, the environment is reminiscent of a Kusama Infinity Room or a Lee Bul mirror installation with a major difference: the walls of Guoyuan's installation move. The slowly rotating glass creates kaleidoscopic views of one's own reflection, which are swapped for the image of other visitors in the installation as the mirrors turn.
Downstairs, Hong Kong-based artist duo MAP Office engraved 100 mirrors with the coordinates of small islands, from Bermuda to Cape Verde, as an homage to the overlooked histories of nations, in particular those surrounded by sea and thus vulnerable to outsiders. The denoted islands, the artists note, 'present a global laboratory of major human action and experimentation, ranging from utopian communities, a fiscal paradise, military spheres, clandestine migrations, ecosystems, and exclusive leisure.' In the middle of the room is a small topographical approximation of Singapore which doubles as a seating structure, complete with an artificial palm tree offering 'shade' from the gallery's artificial lights. Extended research materials compiled by the artists is available in the room for browsing.
Deng Guoyuan, Noah's Garden II, 2016. Image courtesy of Singapore Art Museum.
In a darkened room upstairs, Indonesian artist Titarubi's installation History Repeats Itself (2016) considers global reference points from a more historical perspective. Three scaled-down models of wooden ships recall the ominous shapes of approaching European boats during the early centuries of Southeast Asian colonisation. Aboard Titarubi's boats are life-sized, faceless figures cloaked in robes made of gold-plated nutmeg—an exotic luxury once worth its weight in gold in Europe. (The room is lightly perfumed with the scent of the spice.) The edges of the ships are charred, recalling the burning of Indonesian ships at the hands of the Dutch East India Company: Dutch traders notoriously set alight local vessels in an attempt to gain control over the spice trade.
Titarubi, History Repeats Itself, 2016. Image courtesy of Singapore Art Museum.
With a specific and regional focus, the Biennale also offers a chance to see Southeast Asian craftwork. Of Laotian Hmong ethnicity, husband-and-wife artist duo Phasso Lao and Tcheu Siong's textiles are a fine example of work from outside the preconceived 'global contemporary art aesthetic'. Several of Lao's smaller works hang in a room alongside two of Siong's larger, colourful pieces. While varied in style and scale, both artists' cotton fabric appliqué works include symbolic motifs of spirits and ancestors rendered in simplified, graphic lines: Lao's works are portraits of villagers and family members, and Siong's depict the 'shadows' or 'souls' of her dreams which Lao, the village shaman, interprets.
Phasao Lao and Tcheu Siong, History, 2013-2015, Spirit of Sky and Earth 3 & 4. 2016, Tree Spirit, 2012. Image courtesy of Singapore Art Museum.
Employing the language of craft in a different way is Malaysian-born and Sweden-based artist Chia Chuyia, who staged a five-week long durational performance outside of SAM at 8Q (the museum's secondary space). While onlookers watched, Chia knit a body-length garment out of leeks. Of ethnic Teochew Chinese background, the leek holds special importance to Chia and the Chinese diaspora, as it is traditionally eaten during Chinese Lunar New Year. Staged behind a glass window open to the street and public, the performance intended, borrowing Chia's words, to 'produce a suit to protect the body from an unknown future'—a gesture that considers the value of working with nature rather than trying to fight or outpace it.
Chia Chuyia, Knitting the Future, 2015-2016. Image courtesy of Singapore Art Museum.
An environmental interest is also echoed with Chou Shih Hsiung's Good Boy, Bad Boy (2016): two large-scale, rectangular perspex containers filled with wet, viscous engine oil hanging on the walls like paintings presented in SAM. Both inspired by and critical of his connection to the petroleum industry (Chou's family has a longstanding oil supply business), the artist appropriated an unconventional and destructive material for the familiar form of a monochromatic painting—entities both associated with modernism and modernity's progress. On a more humble scale is Kentaro Hiroki's Rubbish (2016), consisting of hyperreal colour pencil drawings of trash such as food wrappers, which lie crumpled on the floor both at SAM and SAM at 8Q. In an ironic subversion of perceived value, the works' worth dramatically shifts as visitors come to understand them as aura-endowed copies, rather than the actual objects that they emulate.
Kentaro Hiroki, Rubbish, 2016. Image courtesy of Singapore Art Museum.
Similarly, Hiroki's Rubbish brings the city into the gallery—a reminder of the context within which this Biennale is staged, Singapore, which takes central focus in various works. Inside SAM at 8Q, for instance, If you can dream a better world you can make a better world or perhaps travel between them (2016) by Singaporean artist Melissa Tan presents an assembly of laser-and hand-cut paper and metal sculptures created from 'data points' mapped throughout the city. The artist engineered the notched paper and metal into music boxes, which plays a gentle soundtrack composed of sounds from the street when wound.
Upstairs, Kolkata-based artist Rathin Barman presents Home, and a Home (2016), based on research into the living conditions of Bangladeshi migrant workers in Singapore. Made of weathered steel bars, the installation is constructed to resemble the frames of the small Chinese-style shophouses and heritage buildings that are often used as dormitories for the workers.
Rathin Barman, Home, and a Home, 2016. Image courtesy of Singapore Art Museum.
Public and offsite artworks in the biennale are also specific to the context and history of Singapore, including David Chan's The Great East Indiaman (2016). Installed on the National Museum's lawn, the work is a wood, steel and concrete sculpture in the shape of a whale and a ship: a nod to the museum's beginnings as a Natural History Museum and the skeleton of an Indian fin whale that once drew in visitors.
Lim Soo Ngee's enormous sculpture of a pointing hand, Inscription of the Island (2016), installed on SAM's front lawn has become one of the most widely circulated images of the exhibition. According to the artist, the sculpture is an imagined fragment of an enormous figurative statue that once guided ships towards a mythical civilisation. In Lim's imagination, when the sculpture one day collapsed, this broken-off hand was used by the islanders as a sundial. Subtle in its execution, the alternative history Lim alludes to is one in which native inhabitants invited, rather than resisted, outsiders with their own agendas.
Lim Soo Ngee, Inscription of an Island, 2016. Image courtesy of Singapore Art Museum.
An Atlas of Mirrors is a significant step both for SAM and the development of the arts landscape in Singapore. The expansive (and more generously funded) National Gallery Singapore opened in 2015, and boasts the largest collection of modern art in Singapore and Southeast Asia; it stages curated exhibitions of regional art, such as the ongoing show Between Declarations and Dreams: Art of Southeast Asia since the 19th Century, which explores how Southeast Asian artists addressed modernity and foreign influence.
Arts festivals and organisations abound, and commercial galleries and university art programs in the city are increasingly populated. Yet, despite the vibrancy of its institutions and the welcome return of the Biennale, Singapore's art ecosystem is not without setbacks: there have been reported instances of supposed state censorship at previous iterations of the Biennale and the city's largest art fair, Art Stage Singapore. While providing ample cultural funding, the government also keeps a close eye on the actions and discourse of the cultural workforce. In 2016, Reporters without Borders ranked Singapore only 154th out of 180 countries listed for Press Freedom.
Was the 2016 Singapore Biennale a victim of its restrictive context? It seems more likely that self-censorship was an issue, given the interpretation of the biennale's theme, which at times felt like a simplified concept that could have been further abstracted beyond literal manifestations. (Actual navigational instruments and mirrors were ubiquitous throughout the exhibition.) Yet as a saving grace, An Atlas of Mirrors is unique and refreshing in its localised focus. Rather than present an amalgamation of international artists as is commonplace in biennales, its curatorial team chose to only include regional artists. While both approaches have their virtues, the Singapore Biennale used this edition to expose the local community to a wide sampling of regional contemporary art, celebrating regional idiosyncrasies while also reflecting on their relevance to a multiplicity of local identities. —[O]
---
An Atlas of Mirrors runs from 27 October 2016 to 27 February 2017.