On 1 October, 1916—just five months after an armed insurrection in Ireland against British rule known as the Easter Rising (which paved the way for the establishment of Sinn Féin, the Irish War of Independence, and the Irish Free State)—Irish time was brought in line with Greenwich Mean Time by British parliamentary decree. This resulted in an erasure of 25 minutes and 21 seconds from the Irish clock—the very amount of time that John Waid has blanked out on a wall clock presented at the Limerick Art Gallery, one of the six venues included as part of curator Koyo Kouoh's edition of Ireland's biennial exhibition, EVA International, Still (the) Barbarians. The clock is named after the amount of time that has been lost since the 1916 Time (Ireland) Act was introduced: 909,125 minutes. It is presented alongside the artist's original proposal: to sound the Angelus Bell, which rings at 6pm daily on Ireland's national television network, RTÉ, 25 minutes and 21 seconds later than normal. (The proposal was rejected.)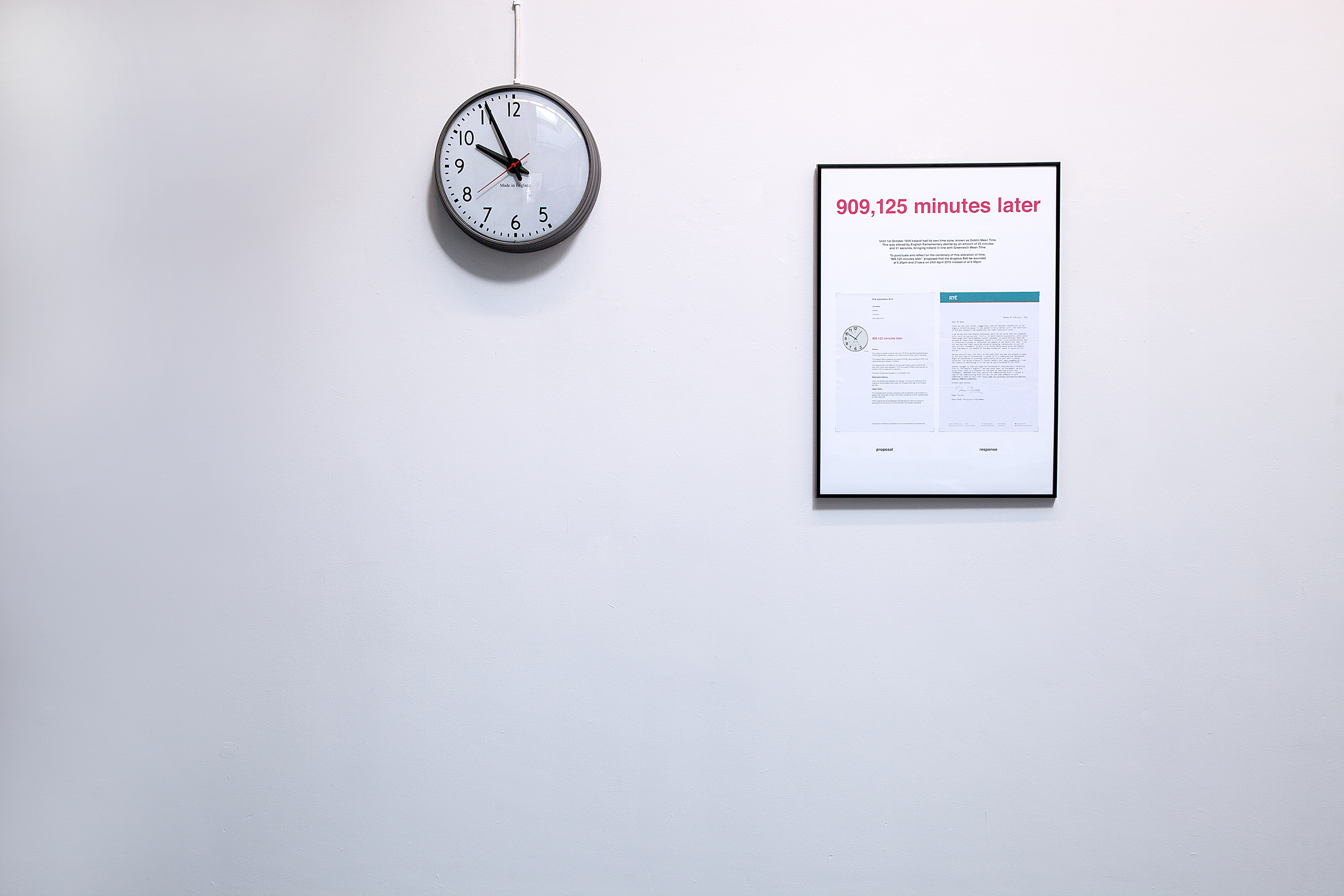 John Waid, 909,125 Minutes Later, 2016. Performance documentation. Dimensions variable. Exhibition view at EVA International – Ireland's Biennial 2016. Photo: Miriam O'Connor. Courtesy the artist and EVA International.
Appropriately, 909,125 minutes shared a gallery with Tiffany Chung's sprawling cartography, an archaeology project for future remembrance (2013), which commemorates Thu Thiem: a district in Ho Chi Minh City that has been massively redeveloped—a process of urbanisation that recalls the same displacing acts as those carried out in Vietnam's colonial history. The installation includes hand-drawn maps, and a section of tiled floor presented as a relic. Along the walls, text excerpts describe colonial and nation-building attitudes throughout history, with particular emphasis on notions of erasure and cultivation. One quotation from Canadian author Tania Murray Li's 2007 book The Will to Improve is particularly resonant when thinking about how colonisers have impacted the people and lands they occupy. The line reads: 'Cultivating land and making it productive, in all these cases, is linked to cultivating people; that is, making them civilized and bringing them in line with a particular notion about orderly conduct.' Referring back to John Waid's work, the English synchronisation of Irish time with its own is arguably symbolic of Britain's subjugation of Ireland; colonialism 101, so to speak.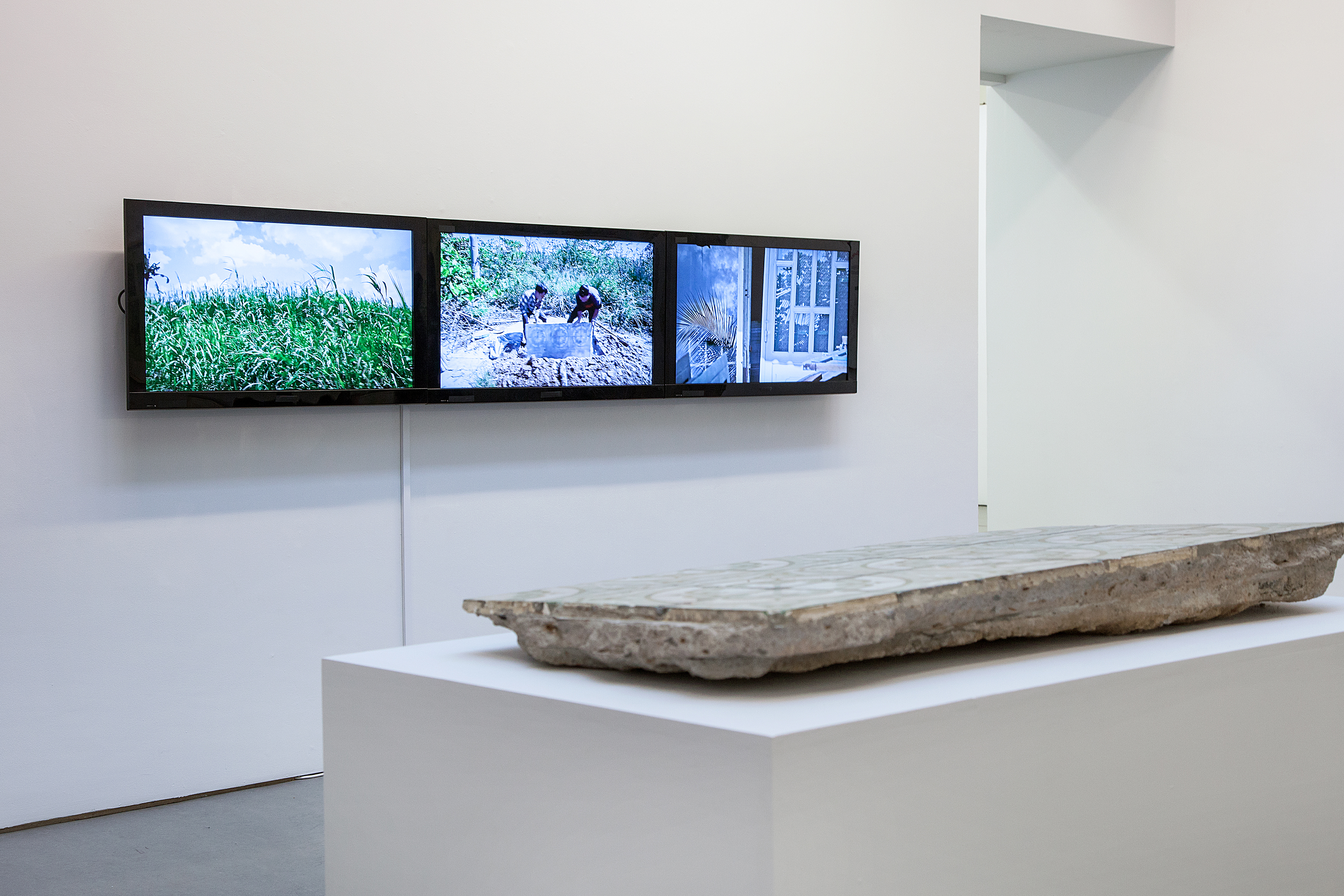 Tifanny Chung, An archeology project for future remembrance, 2011-present. Four-channel video installation, 42 min 12 sec. Exhibition view at EVA International – Ireland's Biennial 2016. Photo: Miriam O' Connor. Courtesy the artist, Galerie Quynh and EVA International.
The two works offer a succinct starting point for Kouoh's conceptualisation of a particularly important EVA International, now in its 37th edition, and staged during the centenary of the 1916 Easter Rebellion. The biennial features some 50 artists from all over the world, including Pio Abad, Eric Baudelaire, Leung Chi Wo, Michael Joo, Catarina Simão, and Naeem Mohaiemen, and Kemang Wa Lehulere. In the curator's words, the exhibition aims to draw 'a concentric artistic and political cartography, mapping the conflations and confines of the global post-colonial typology with Ireland'—the first of the British colonies—'as its central starting point'. The intention is to probe 'the psychological and political effects a system designed to humiliate and alienate can have on peoples' souls'. Aptly, the biennial's title comes from a poem by the eminent poet of the Greek diaspora, Constantine P. Cavafy, in which the barbarians become nothing more than a spectre that haunts an inactive populace 'assembled in the forum', paralysed by fear (and perhaps longing) for the barbarians to arrive (they never do). The poem's moral is surprisingly simple: the 'other' is nothing short of a projection that offers a distraction—or an avoidance—from inept politics.
In many ways, the 'other' is the main theme of this exhibition, yet Kouoh does not take a straightforward or binary approach to the subject. Throughout, racism—that violent process of othering—is highlighted 'as a foundational and enduring system for exclusion and exploitation', in order to create a 'framework on which to build contemporary fictions and future utopias of togetherness'. Exemplary of this is one of the first works to open the exhibition at the disused Cleeve's Condensed Milk Factory: Parts 1 and 2 of Larry Achiampong and David Blandy's film series, Finding Fanon. The series is a moving odyssey—one in which Blandy and Achiampong appear first in real life and then as avatars in Grand Theft Auto 5, dressed in tweed as if to recall the pairing that occurred in Frantz Fanon's seminal dissection of colonial affects, The Wretched of the Earth, for which Jean Paul Sartre wrote the foreword. In the films, Achiampong and Blandy, two sides of the racial coin, search for the lost plays of Fanon while negotiating both Fanon's legacy—namely, his prescient warnings on how colonisation impacts not only its victims, but also its perpetrators—and their own personal histories.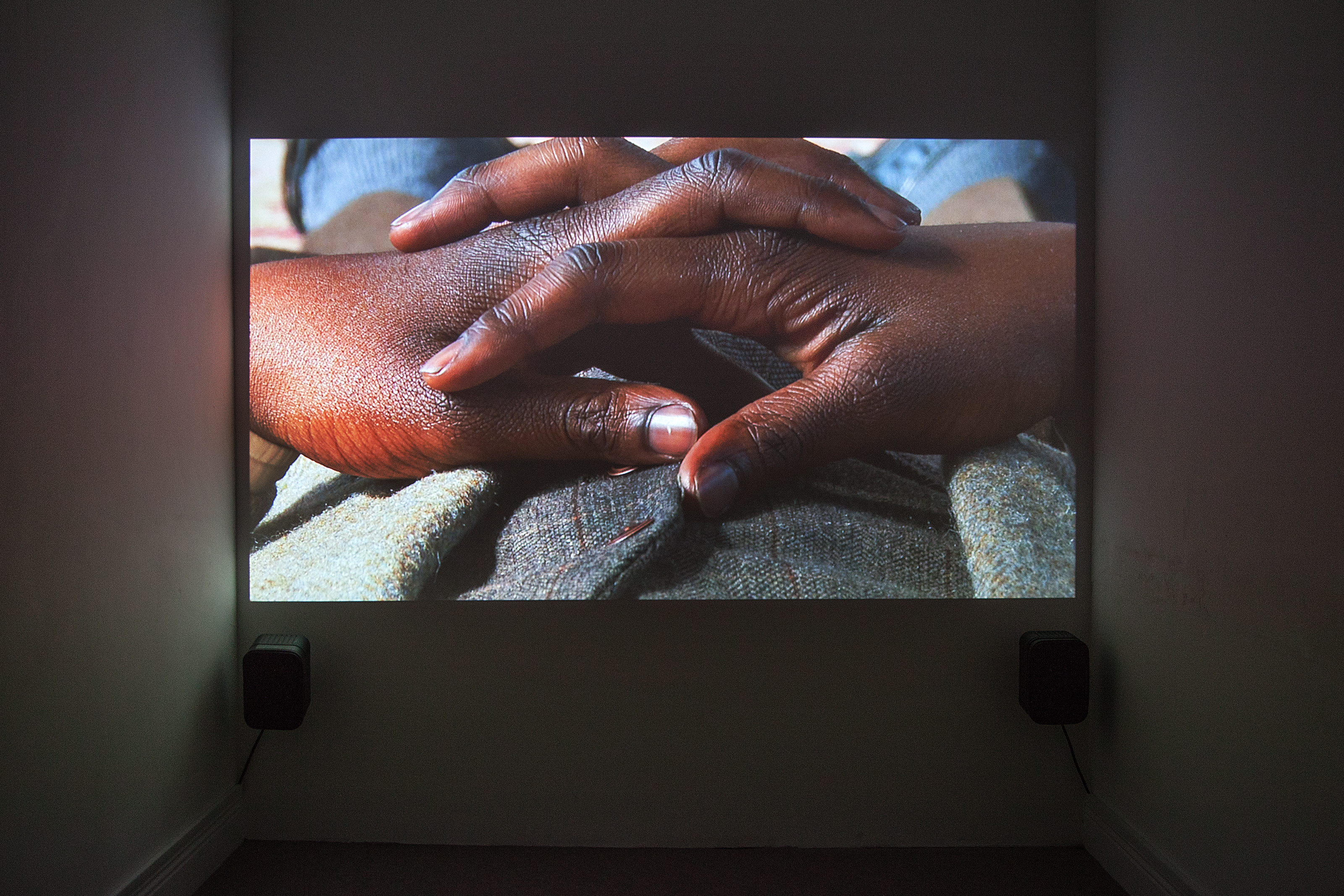 Larry Achiampong and David Blandy, Finding Fanon 1, 2015. UHD digital video, 15 min, 22 sec. Exhibition view at EVA International – Ireland's Biennial 2016. Photo Miriam O'Connor. Courtesy the artists and EVA International.
The Finding Fanon films feel like crucial conceptual points in this exhibition. In Part 2, the narrator makes a statement that we often forget in these essentialising times: 'that the history of racism is not just a physical violence but also an economical, cultural, emotional, and mental complex'. In this, Blandy and Achiampong present a film predicated on an urgent need to revisit a story that, as the narrator notes, 'does not want to be told', since it is nearly impossible to 'make someone relive the past if it is the last place they want to recall'. That story is the history of empire, and its impact on us all, regardless of whose side we might historically find ourselves—the colonised, or the coloniser. The stance the work takes is simple: if we do not face the history of imperialism together, as Fanon and Sartre both warned, we are doomed to the same violent divisions and reductions that were perpetrated by the colonisers in the first place.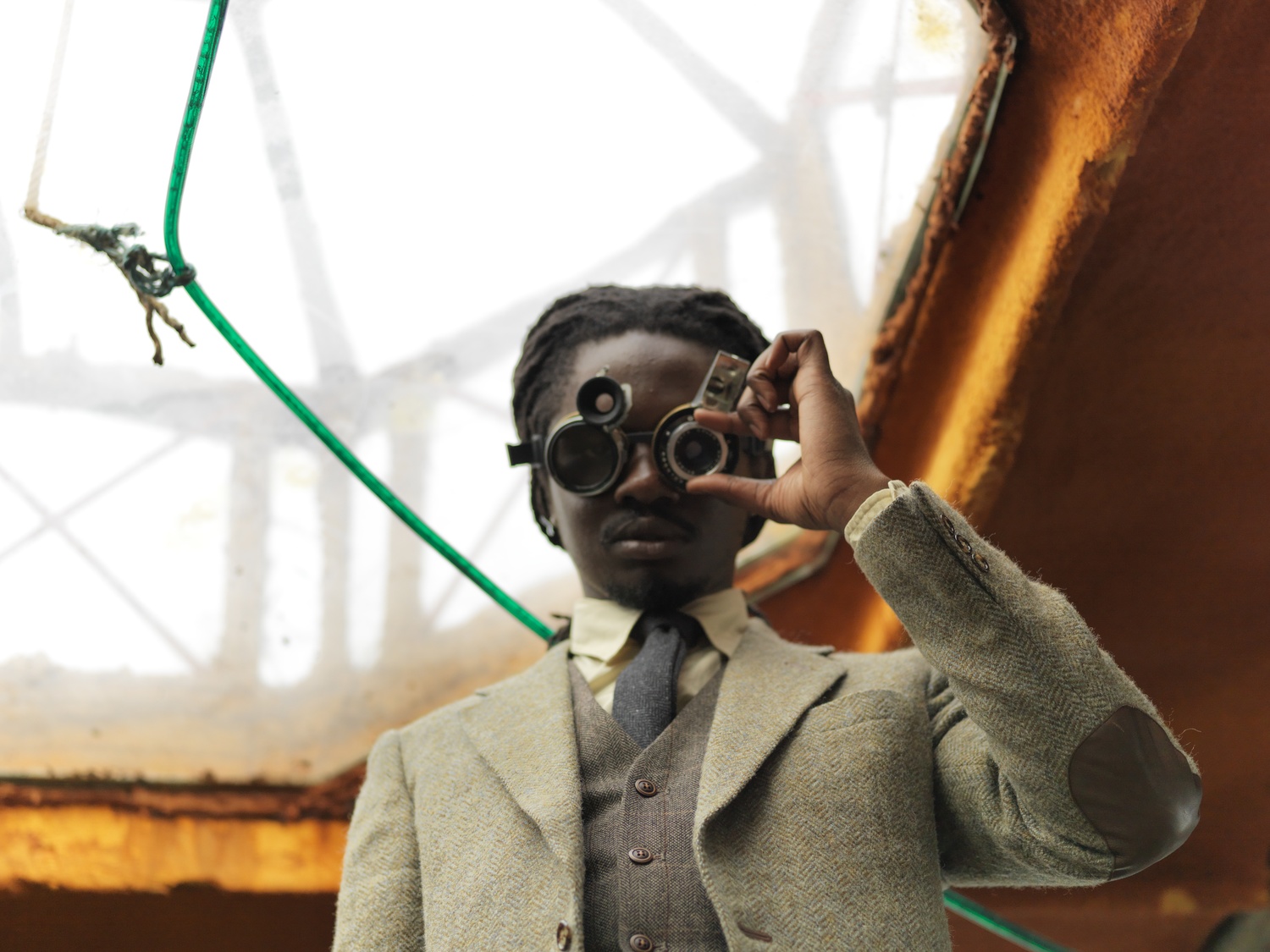 Larry Achiampong and David Blandy, Finding Fanon 1, 2015. UHD digital video, 15 min, 22 sec. Exhibition view at EVA International – Ireland's Biennial 2016. Photo Miriam O'Connor. Courtesy the artists and EVA International.
Of course, in Finding Fanon, the issue has everything to do with the way our histories are remembered and told. Africa is offered as a case in point: as the narrator states, a continent with a history reduced to the 400 years that encapsulate 'the largest holocaust known to man': the African slave trade. The point in the work, as with Still (the) Barbarians as a whole, is that we must look further and deeper if we are to truly transcend the legacies of the last 500 years of western imperialism for the better.


Larry Achiompong and David Blandy, Finding Fanon 2, 2015. UHD digital video, 9 min, 13 sec. Exhibition view at EVA International – Ireland's Biennial 2016. Photo Miriam O'Connor. Courtesy the artists and EVA International.
This brings us back to Ireland, and the most radical message Kouoh is making by identifying Ireland as the first British colony: that the postcolonial condition is not a neat and binary history out of which there are clear winners and losers. In the case of Alan Phelan's research into the life of an Irish nationalist named Roger Casement, for instance, realised in a sign reading 'Leopoldville' (the Belgian colonial name for Kinshasa) and a video interview presented at Cleeves, we learn of an activist who was a devoted supporter of the Irish Volunteers and their cause. Casement was executed in 1916 after the Easter Rising, after years of humanitarian service in the Congo as part of the British Colonial Service in Africa (Casement was even knighted for his work.) Phelan's Leopoldville (2016) sign mimics the Cadbury's chocolate logo—a nod to the funding John Cadbury offered to Casement in order to study the atrocities committed in the Congo by the Belgian King Leopold II.


Alan Phelan, Leopoldville, 2016
. Acrylic sign and lightbox, approx. 200 wide × 120 high × 50 deep cm. Photo Miriam O'Connor
. Courtesy of the artist and EVA International.
In the body of Casement, we see the absurdity of taking sides, and the reality behind Ireland's own postcolonial position as both a colony and a participant in the colonial experiments of the Imperial age. In truth, the dividing lines—and borders—are never as clearly defined as we think. Indeed, when the map of the world became nothing more than an index of exploitation, as illustrated in a series of textile maps by Mona Vatamanu and Florin Tudor: Le monde et les choses (2014), which shows the world partitioned according its resources, or its industries, and Le monde et la dette (2016), which colour coded according to sovereign debt, so the body was also rendered complex, contradictory, exploited, and exploitative.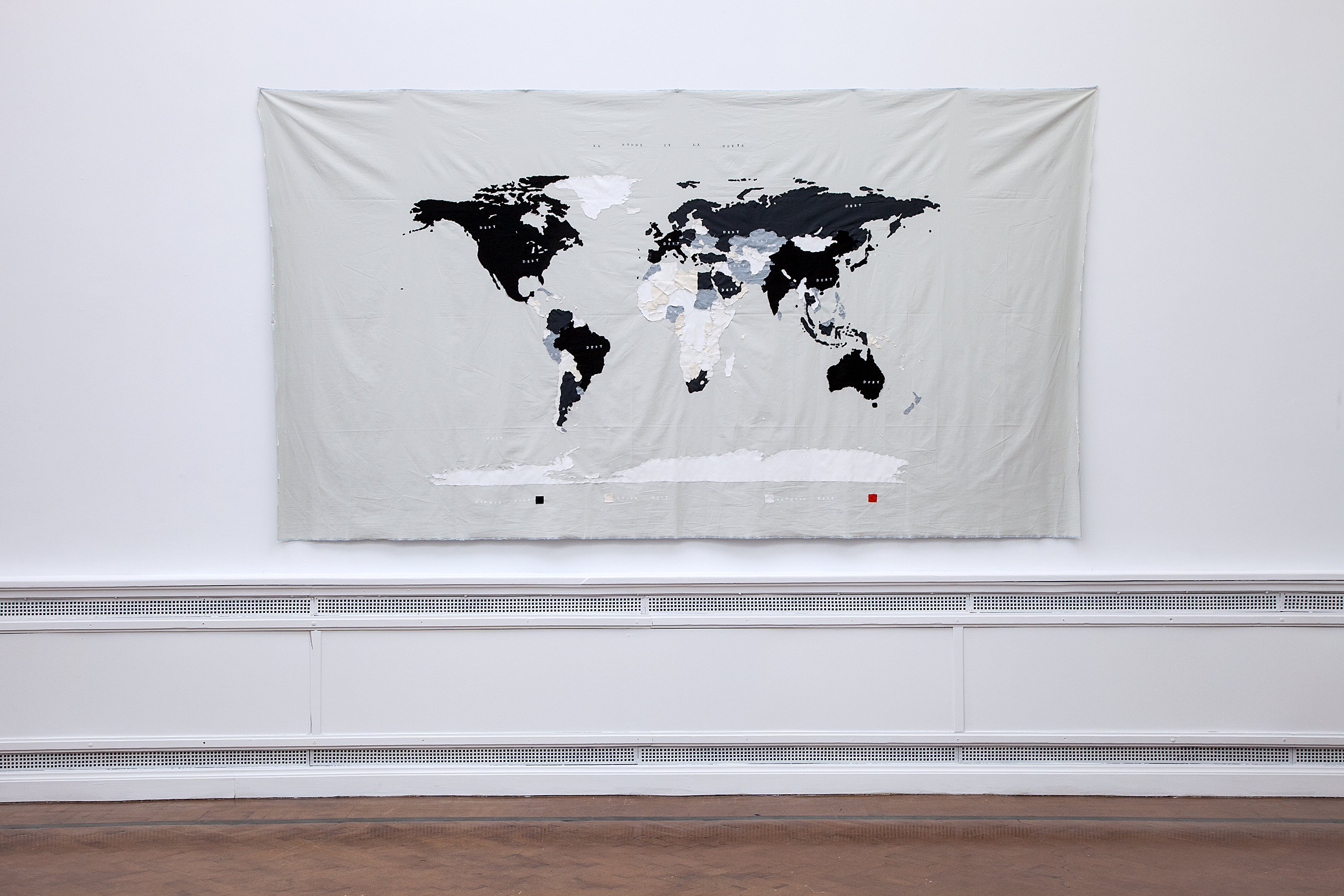 Mona Vatamanu and Florin Tudor, Le monde et la dette, 2016. Textile, 300 x 150 cm. Exhibition view at EVA International – Ireland's Biennial 2016. Photo: Miriam O'Connor. Courtesy the artists, D+T Project and EVA International.
To this end, one of the clearest messages that comes out of this biennial is the need for new languages to emerge; languages that might account for all that is lost in translation when cultures come into contact with—or are indeed become absorbed or dominated by—one another. In Kader Attia's eighteen-channel video installation Oxymorons (2015), this challenge comes to the fore, as a series of interviews explore the way that culture clashes occur when foreign ideas are grafted on to local traditions. Organised into various themes, from 'trance' to 'genocide', conflicting perceptions around various psychological conditions are presented on a horizontal plane, as various experts from different fields offer their insights into how certain notions are perceived and how their perceptions have been impacted by the experience of colonisation or migration, or indeed the pressures to fit into a western frame so insidious that it exists like a spectre that haunts every place the imperial west has touched, including the western world itself, colonised as it has become by its own political and economic systems.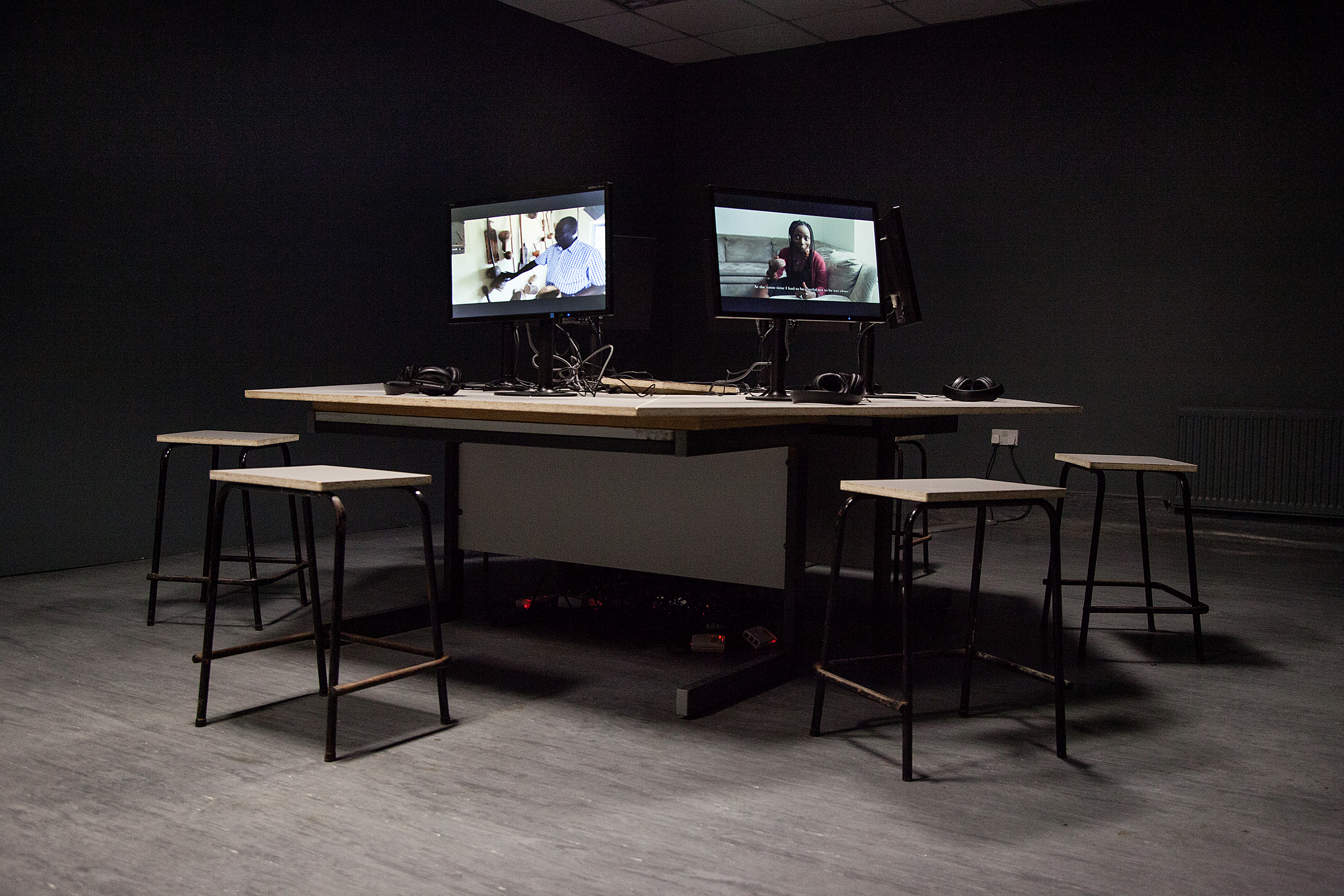 Kader Attia, Reason's Oxymoron. Six channel video installation. Dimensions variable. Exhibition view at EVA International – Ireland's Biennial 2016. Photo: Miriam O'Connor. Courtesy the artist, EVA International and Galerie Nagel Draxler.
It is at this moment we come full circle to Finding Fanon, and Achiampong and Blandy's exploration of Fanon's legacy, and the intention of this biennial overall. As we witness the rise of extreme politics—and politicians—in the 21st century, the urgency to open up sites in which cross-cultural dialogues on the effects of colonisation might occur has never been greater. Greater still is the need for all of us to find and create new ways of perceiving the legacies that at once unite and divide us. —[O]