Insight
52 ARTISTS 52 ACTIONS: Small Acts of Disobedience

In Collaboration with Artspace Sydney
This essay appears in 52 Artists 52 Actions: Small Acts of Disobedience, co-published by Artspace Sydney and Thames & Hudson Australia in 2019. It is now exclusively published online with Ocula in collaboration with Artspace Sydney. The publication is available to purchase from here.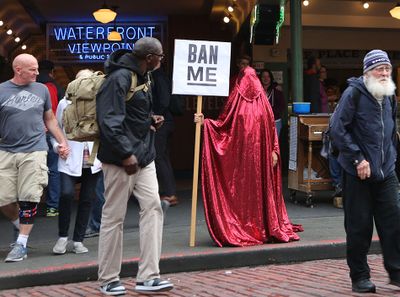 Anida Yoeu Ali, The Day After, 9 November 2016 (2016). Performance, Seattle. Instagram post for 52 ARTISTS 52 ACTIONS (12 July 2018). Courtesy the artist and Artspace, Sydney.
The world has seen dramatic change over the past decade; from the proliferation of nuclear weapons and the growing threat of climate change, to the rapid rise of gentrification, severe economic inequality and the decay of democratic transparency. Brexit, Trump and the rise of the alt-right in many countries indicate that a ubiquitous leaning towards conservatism, nationalism and populism is growing. At the same time, communities worldwide have bonded together to protest for social and political change, challenging old structures of power in a new media world.
Instigated and curated by Artspace, Sydney, 52 ARTISTS 52 ACTIONS was developed as a framework to respond to these current conditions and important concerns locally and globally. Highlighting artistic practice across Asia, and taking place simultaneously online and off, it is the first project of its kind staged in the region to date. Invited artists represent a wide spectrum of ethnicities and cultural backgrounds across South Asia, East Asia, Southeast Asia, West Asia and the Pacific – everywhere from Bangladesh to Korea, Cambodia to Turkey and the breadth of Australian communities.
52 ARTISTS 52 ACTIONS began with a yearlong online component running from January 2018 to January 2019 and, as the title suggests, engaged 52 artists and collectives to stage actions in unique, physical locations throughout the region and share them with global audiences on Instagram and online.
@52artists52actions
52artists52actions.com
Bhenji Ra, selected video still, Instagram post for 52 ARTISTS 52 ACTIONS (14 May 2018). Courtesy the artist and Artspace, Sydney.
Each week for a year, a different artist drove the project, generating a continuously unfolding archive of creative responses to political and social issues central to each unique context. An action could be anything and everything used to express, communicate and build awareness and the 52 participants created a wide variety from performances and protests to collaborative workshops and experimental art-making. They had total freedom in what they chose to address and create as their action, and each had a unique approach – from the idea of an action to methods of adapting their practice to the Instagram format.
Collected in these pages are the actions imagined, developed and executed throughout the year. It is a document of the initial stage of the project – which has since evolved into an accompanying exhibition at Artspace, Sydney – but also serves as a standalone encyclopaedia of collective artistic action and expands on key issues in the region addressed by the participating artists.
With a growing distrust in traditional forms of media, now more than ever people are looking for other ways to engage with, and express ideas through, new media formats. In recent years, social media has become a generative force that allows for exchange between producer and consumer, a network of communications and a dematerialised archive that creates new ontological models for reading art.
Enkhjargal Ganbat, Mirror (2018). Performance with ink and milk. Instagram post for 52 ARTISTS 52 ACTIONS (24 May 2018). Courtesy the artist and Artspace, Sydney. Video and photos: Gantulga Jargalnasan.
In the digital space of internet cultures and subcultures, new voices are challenging traditional notions about who has the right and permission to speak and be heard. By occupying space on Instagram – a platform more frequently recognised as a repository for throwaway images of avocado toast, hipster coffee and selfies – 52 ARTISTS 52 ACTIONS deliberately operates within a social media system to subvert its intent and use it as a platform to amplify the voices of artists. With 52 artists and collectives from 30 countries, many of the artists captioned and hashtagged in their native languages to decentralise the project further, and invite audiences from across Asia to engage and interact with the project. By representing an array of voices from disparate contexts, 52 ARTISTS 52 ACTIONS itself is a form of political action that interrupts the hierarchies of information and knowledge exchange.
A key factor for 52 ARTISTS 52 ACTIONS is that Instagram allows artists to immediately respond to social issues as they occur. For example, Hera Büküktasçiyan interrupted her action to reflect on the anniversary of the murder of Armenian journalist and advocate for Turkish–Armenian reconciliation Hrant Dink in front of his office in 2007. The day that acclaimed theoretical physicist Stephen Hawking passed away, Heman Chong dedicated a post to him, detailing his joy at the theft of a second-hand copy of Hawking's A Brief History of Time from the artist's pop-up library. Abdul Halik Azeez's action documented the streets of Colombo. Midway through his week, political protests erupted across the city, so the artist incorporated coverage of these and gave context to the debate. The ability for artists to completely alter their original idea is part of the organic and cumulative nature of the project and allows artists total freedom to push the boundaries of their practice to experiment and form new ideas.
Echo Morgan, Be the inside of the Vase and Break the Vase (2012). Performance documentation, Dyson Gallery, London. Instagram post for 52 ARTISTS 52 ACTIONS (13 June 2018). Courtesy the artist and Artspace, Sydney. Photos: Jamie Baker.
It is not only the multiplicity of artists' voices and practices that are relevant to 52 ARTISTS 52 ACTIONS but the role of and relationship to their audience. The subjectivity of audiences is more flexible and open-ended because of the project's reach beyond anything that a bricks-and-mortar gallery can offer. The project creates alternative communities and types of 'publics' to extend how audiences perceive their role in contemporary art. As an expanded exhibition space, 52 ARTISTS 52 ACTIONS operates within the changing nature of spectatorship, turning the medium back onto the audience and allowing them to be active participants rather than passive spectators.
Instagram offers the ability to engage directly with audiences and have them reciprocate. The role of the audience is a fundamental component as they are invited to respond directly to an artist's practice through liking, commenting or re-posting, creating a temporary community and conversation around specific issues. As museums and galleries develop new strategies for audience engagement, 52 ARTISTS 52 ACTIONS is a gesture towards a democratic exchange between artist and audience that is mediated through the online platform.
Kyungah Ham, Mona Lisa and the others from the North (2015). Instagram post for 52 ARTISTS 52 ACTIONS (9 February 2018). Courtesy the artist, Kukje Gallery, Seoul and Artspace Sydney.
Importantly, along with their online iterations, actions also often took place in real time and space, relying on the artist's physical presence for fruition. ChimPom traversed Tokyo's red-light district, drawing attention to the city's rapid redevelopment ahead of the 2020 Olympics. Tita Salina and Irwan Ahmett walked along the coastline of North Jakarta for ten days to trace the impacts of rising sea levels on local communities. Ashmina Ranjit worked with numerous collaborators and the local community in Kathmandu to stage a week-long series of collective actions, workshops, discussions, poetry readings and performances that she refers to as 'artivism': where art and activism collide. Hit Man Gurung returned to his birthplace after nineteen years; Yuk King Tan hiked the peaks of Kowloon; Enkhjargal Ganbat performed outdoors in central Mongolia; while Shivanjani Lal conducted daily gestures of salutation to offer her respect to a country from which she is now displaced. Rosanna Raymond invited audiences into her studio to share the intimate comings and goings 'where art and life converge'.
This living, cumulative archive of social and political artistic practice across Asia is a unique example of how art can create global reach to speak directly to audiences about urgent concerns as they arise. 52 ARTISTS 52 ACTIONS sets out to address the social, cultural and political implications of working in Asia, mapping the region and its diaspora to frame it as endlessly evolving with subcultures and subjectivities that defy traditional or rigid narratives from Orientalism to the Global South. This is done through highlighting intersectional practices, giving voice to marginalised artists and communities, and exploring the role of activism and protest in the present and future globalised world. 52 ARTISTS 52 ACTIONS is an open and experimental platform for the creation of new work around critical contemporary issues, and an experiment in exhibition making that ultimately aims to present art as action that has the power to raise awareness and invoke change.—[O]