News | Artists
Alicia Frankovich Stages Performance in Wildfire-Orange Cube
The artist recreated scenes that played out during Australia's catastrophic bushfires last summer.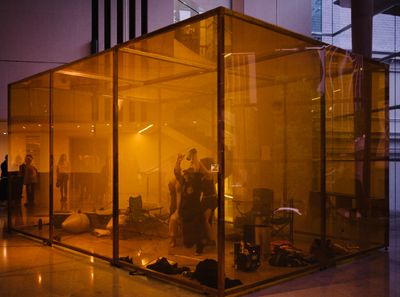 Alicia Frankovich, AQI2020 (2020), Auckland Art Gallery Toi o Tāmaki, 2020. Supported by the Contemporary Benefactors of Auckland Art Gallery.
Skies over Auckland, New Zealand, turned orange in January as a 5.5 million square kilometre expanse of smoke from wildfires in Australia blew across the Tasman Sea. New Zealand-born artist Alicia Frankovich was in Canberra at the time, and the experience inspired a new performance work, AQI2020 (2020), now showing at Auckland Art Gallery Toi o Tāmaki.
During the worst of last year's bushfire season, air pollution in Canberra reached 7,700 on the Air Quality Index (AQI), surpassing 'hazardous' levels 250 times over. Even inside the artist's apartment, pollution levels exceeded the maximum measured by her home air purifier.
'At its worst point, we were sleeping with P2 masks on,' Frankovich told Ocula Magazine.
The artist, whose previous performance pieces include The Work (2019) at Art Gallery of New South Wales, Sydney, and Atlas of the Living World (2017) at the Stedelijk Museum, Amsterdam, is currently living under lockdown in Melbourne, Australia.
For AQI2020, she choreographed movements based on experiences, anecdotes and images from the fires to be peformed by two alternating teams of six inside a large, smoke-filled orange perspex box in the Gallery's North Atrium.
Photo: Kirsty Blake.
Among the inspirations for the work was the above snapshot, shared on Twitter, that shows people taking refuge on a beach after fleeing a caravan park in Batesman Bay, New South Wales. Camping chairs and an inflatable dinghy are among the props used in the performance.
Photos of koalas being saved by firefighters also went viral at the time, emblematic of wildlife's vulnerability to climate disaster.
'There are actually three parts of the choreography that derive from koalas – they were devastated in these fires,' Frankovich said. 'Millions of other animals and insects and millions of hectares of bush were burned.'
The choreography also includes firefighters 'clutching hoses and supporting fellow workers physically, beach evacuation scenes, the slapping out of fires, the refusal [by firefighters] of the Prime Minister's handshake, watching screen updates, changes of dress, morphing images of despair, boat pyramid banter, climbing aboard the navy evacuation boat, waves, and so on,' she said.
Auckland Art Gallery Director Kirsten Paisley said the work introduced climate change as 'a key theme in the Gallery's forward programme.'
AQI2020 will be performed daily 11.30am–3.30pm at Auckland Art Gallery Toi o Tāmaki from Wednesday 21 October–Sunday 8 November, 2020. An evening performance is also scheduled from 5–9pm on 6 November.
'This is a tough and sad work,' Frankovich said. 'It's confronting, and it is dystopic, but we need to face our situation with the systems and behaviours that have worsened our environmental condition. We need to act.' —[O]