News | Climate change
Author Ben Okri Tells Art World 'Don't Talk Yourselves Down' About Climate Change
This and other takeaways from last week's ​​Gallery Climate Coalition conference in London.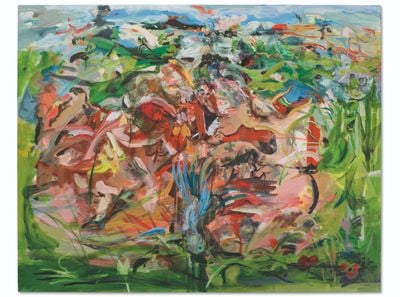 Cecily Brown, There'll be bluebirds (2019). Oil on UV-curable pigment on linen. 134.5 x 169.5cm. Courtesy Christie's.
Artists, curators, critics, and climate experts were among the speakers at the Decarbonising the Art World conference held at the Barbican in London last week. The event was organised by the Gallery Climate Coalition (GCC), a charity launched in 2020 to develop a meaningful art world response to the climate crisis.
Frieze Board Director Victoria Siddall, who is a co-founding member and trustee of GCC, stated the importance of analysing our current emissions.
'Once you know where the emissions come from it becomes much easier to do something about it,' she said.
To that end, the GCC provides galleries and other art world entities with a carbon calculator that allows them to better understand the emissions generated by energy use, travel, deliveries, packaging, and printing. Carbon audits by Frieze London, Thomas Dane Gallery, and art dealer Kate MacGarry have been published to the GCC website.
MacGarry said conducting a carbon audit has changed her behaviour. She now takes trains instead of planes wherever possible, and refuses to attend fairs where flying is the only option. She also talked her gallery's landlord into installing solar panels.
The GCC also partnered with Christie's on an auction series to benefit ClientEarth. The series includes works by Antony Gormley, Rashid Johnson, and the Cecily Brown painting There'll be bluebirds (2019), donated by the artist and Thomas Dane Gallery, which sold for £3.5 million on 15 October. Next in the series is Xie Nanxing's f o r a d a c a s a #3 (2020), which will be sold at Christie's Hong Kong on 1 December.
Xie Nanxing, f o r a d a c a s a #3 (2020). Oil on canvas 250 x 150 cm. © Xie Nanxing. Courtesy the artist and Thomas Dane Gallery. Photo: Yang Hao.
​​Heath Lowndes, Managing Director of GCC, introduced the organisation's 42-page Decarbonisation Action Plan at the conference. The plan offers strategies for achieving the GCC's goal of reducing carbon emissions by 50% and establishing zero-waste operations by 2030.
Lowndes said the art world was 'a relatively small part of the problem in comparison to fossil fuels and construction industries,' but that 'the cultural influence of art goes far beyond the parameters of the industry'.
In his closing remarks for the conference, Booker Prize-winning author Ben Okri challenged art professionals not to underestimate their contribution.
'You are the art world, and you consider yourself a small part of the bigger problem, but you are an extremely important part,' he said. 'The power of what you do is symbolically greater than your percentage in the industry. That's because you deal with vision. You deal with image. You deal with how people see. You deal with how people clarify their perception of the world through what they see and experience as art.'
'I think the art world is potentially extremely powerful for the possibilities of climate change, and actually should be one of the leaders, so don't talk yourselves down,' he said. —[O]