Feature | Exhibitions
Frieze 2021 Lowdown: Exhibitions to See in London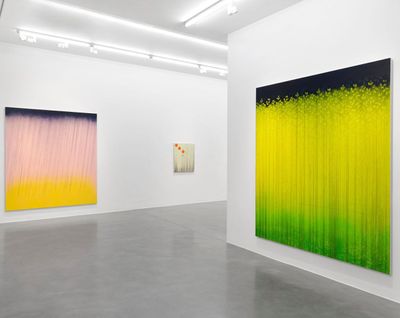 Exhibition view: Rachel Howard, You Have a New Memory, Simon Lee Gallery, London (1 October–14 November 2021). Courtesy the artist and Simon Lee Gallery.
Returning to Regent's Park, Frieze London (13–17 October 2021) is one of the most anticipated art events in the U.K. this autumn, along with the return of 1-54 Contemporary African Art Fair at Somerset House (14–17 October 2021). We compile a definitive guide of must-see exhibitions taking place alongside the fairs.
Rachel Howard: You Have a New Memory
Simon Lee Gallery, 12 Berkeley Street, W1J 8DT
1 October–14 November 2021
Atomised, poured, smeared, scuffed, layered, and sprayed, Rachel Howard's paintings are made from an intensively physical process. Howard's first exhibition at Simon Lee Gallery features large-scale canvases in which recollections and painted illusions are wrapped in a haze of uncertainty.
In Howard's work, colour is used to represent the instability and absurdity of life.
The Connor Brothers, A Load of Fuss (2021). Courtesy Maddox Gallery.
The Connor Brothers: A Load of Fuss About Fuck All
Maddox Gallery, W1J 7JE; W1S 2QE; W2 5RU
15 October–3 November 2021
Spread across all three of Maddox Gallery's locations in Central London, this exhibition is the largest retrospective of artist duo James Golding and Mike Snelle to date, featuring three chapters of their collaborative practice.
The exhibition, named after their hand-painted paperback of the same title, combines fact and fiction, featuring a cabinet of curiosities, pin-up girls from the iconic 'Pulp Fiction' series, adaptations of Old Masters, and colourful 'regression paintings', inspired by their experiences of art therapy undertaken during lockdown.
Bosco Sodi, Untitled (2021). Courtesy Studio Bosco, Sodi, and KÖNIG London.
Bosco Sodi: Totality
König Galerie, 259 Old Marylebone Road, NW1 5RA
13 October–13 November 2021
Bosco Sodi's textured paintings are made up of layers of paint mixed by hand over days, leaving them to dry until their surfaces begin to crack.
In an alchemic process, the paintings' pure pigments in black, gold, white, and grey blend and change over time, combined with glue and natural fibres. The exhibition will also include nine clay planets, alluding to the gravitational field of the works.
Derek Boshier, K Pop: King of Mask Singers (2020). © Derek Boshier. Courtesy Gazelli Art House.
Derek Boshier: Icarus and K Pop
Gazelli Art House, 39 Dover Sreet, W1S 4NN
7 October–14 November 2021
Derek Boshier blends Greek mythology with South Korean entertainment in two new series, including acrylic paintings on canvas and black and white drawings on paper. 'Change occurs when you place one thing besides another,' the British Pop artist reflects.
Contemporary culture falls under playful critique in this exhibition, with cartoon-like images featuring besides pencil drawings of 19th-century paintings.
Beverly Pepper. Courtesy Fondazione Progetti Beverly Pepper.
Making It: Women and Abstract Sculpture
Waddington Custot, 11–12 Cork Street, W1S 3LT
1 October–13 November 2021
Making It features female sculptors practicing in the 1960s and 70s, known for their unconventional methods such as folding metal and hand knitted rope and fusing gold leaf with linen.
The exhibition will include works by Olga de Amaral, Lynda Benglis, and Françoise Grossen, among others. They expanded the boundaries of sculpture, defied gender stereotypes, and preserved the materiality of the artwork amid shifting registers towards language.
Exhibition view: Liza Lou, Desire Lines, Lehmann Maupin, London (16 September–6 November 2021). Courtesy Lehmann Maupin.
Liza Lou: Desire Lines
Lehmann Maupin, 1 Cromwell Place, SW7 2LD
16 September–6 November 2021
Liza Lou is known for her hand-woven beaded sculptures replicating objects and environments, connecting art, craft, and gender-specific labour.
Desire Lines refers to the instinctual movement of animals and humans through space. In Lou's beaded grid paintings, unplanned paths emerge in found landscapes—tidal waves and lost highways made from rows of coloured beads, painted cloths, and splashes of oil paint.
Courtesy Theaster Gates. Photo: Chris Strong.
Theaster Gates: A Clay Sermon
Whitechapel Gallery, 77–82 Whitechapel High Street, E1 7QX
29 September 2021–9 January 2022
Theaster Gates is a sculptor and installation artist known for his ceramic works and cultural and communal interventions in Black spaces. As the artist has stated in Ocula Magazine, 'Labour remains my protest. Art and action, my only weapons.'
A Clay Sermon gathers two decades of Gates' sculptures to explore the significance of clay and its material, spiritual, and colonial legacies. The exhibition will feature works from hand-thrown pots to large-scale 'Afro-Mingei' sculptures, combining elements from Japanese and American culture.
Exhibition view: Pamela Rosenkrantz, House of Meme, Kunsthaus, Bregenz (17 April–4 July 2021). Courtesy Sprüth Magers, London. Photo: Markus Tretter.
Pamela Rosenkranz: Healer
Sprüth Magers, 7A Grafton Street, W1S 4EL
8 October–20 November 2021
Pamela Rosenkranz is a Swiss multimedia artist who places commonplace objects like branded water bottles and office chairs in liquids and light to create sculptures and installations that reflect on consumption and human existence.
For Healer, a robotic snake will greet viewers Sprüth Magers, its movement influenced by electromagnetic fields, including viewers' mobile phones.
Thomas Scheibitz, gp 312 (2021). Vinyl and pigment marker on rag paper. 160 x 108 cm. © Thomas Scheibitz / VG Bild-Kunst. Courtesy Sprüth Magers, London.
Thomas Scheibitz: Black Swan
Sprüth Magers, 7A Grafton Street, W1S 4EL
8 October–20 November 2021
Thomas Scheibitz is a German conceptual painter and sculptor whose work looks for new relationships between abstraction and figuration. The exhibition's title is a term used to describe singular events that, although unpredictable, were plausible in hindsight. The artist uses this term to allude to events of the past year, as well as the act of painting itself.
The painter's first show at Sprüth Magers will feature new paintings, sculptures, and large works on rag paper drawn from personal archives and art historical references.
Hannah Collins, Flaming Forest (2021). Pigment print on paper. 240 × 400 cm. © Hannah Collins. Courtesy Maureen Paley, London.
Hannah Collins: El Tiempo del Fuego
Maureen Paley, 60 Three Colts Lane, E2 6GQ
15 September–24 October 2021
British artist and filmmaker Hannah Collins left for the Colombian Amazon rainforest after her cancer recovery in 2011. There, she worked within a Cofan tribe to gain a better understanding of processes of healing through plants.
Memories gathered from the forest are retrieved in El Tiempo del Fuego, featuring black and white photographs and stills. The artist, who is known for her large-scale photographs that she began taking in the 1980s, was nominated for the Turner Prize in 1993.
Thomas Eggerer, Stranded (2021). Oil, resin and beeswax on linen. 180.3 x 175.3 cm. © Thomas Eggerer. Courtesy Maureen Paley, London.
Thomas Eggerer: Stranded
Maureen Paley, Studio M, Rochelle School, E2 7FA
12 October–18 December 2021
Paintings in Stranded show three figures holding flags and signs, directing their protest towards an imaginary audience. Through his fragmentary paintings, Eggerer questions 'the economy of what is visible and knowable versus that which is opaque'.
Who are the subjects? Where are they located? What can the viewer know without topical knowledge about the painting? Such are the questions that Eggerer raises.
Cao Yuxi, Shan Shui Paintings By AI/人工智能山水图 (2020). Courtesy 180 Studios, London.
LUX: New Wave of Contemporary Art
180 Studios, 180 The Strand, WC2R 1EA
13 October–18 December 2021
Lux, Latin for 'light', references the hope it embodies. Featuring 13 large-scale installations from 12 new-media artists, the exhibition incorporates new audio-visual technology to engage the senses through interactive and immersive experiences.
Works on display include a large-scale installation by Es Devlin, a critical examination of materiality and the Black psyche by Julianknxx, and a kinetic media sculpture by media architecture studio iart.
James Prapaithong, The Moon Is Beautiful, Isn't it? (2021). Oil on canvas. 200 x 150 cm. Courtesy Workplace Gallery.
James Prapaithong: A Year Ago Today
WORKPLACE Gallery, Reliance Wharf, 2–10 Hertford Road, N1 5ET
18 September–7 November 2021
James Prapaithong's large-scale paintings replicate the ratio of the cinema screen to showcase partial landscapes that explore memory, isolation, and longing.
Familiar yet distant and devoid of occupants, Prapaithong's paintings capture the fallibility of recollection and human experiences of desire and longing, as reflected through the symbol of the moon. The exhibition also presents a series of smaller, more intimate canvases.
Lubaina Himid, A Fashionable Marriage: The Art Critic (1986). Watercolour and pencil on paper, collage. 74.5 x 55 cm. © Lubaina Himid. Courtesy of the artist, Hollybush Gardens, London and Gagosian. Photo: Andy Keate.
Social Works II
Gagosian, 20 Grosvenor Hill, W1K 3QD
7 October–18 December 2021
The second iteration of an exhibition that debuted in New York, Social Works II is curated by Gagosian's newest director Antwaun Sargent and presents works by artists from the African diaspora.
Featured works include abstract canvases by Manuel Mathieu, mixed-media collages by Lubaina Himid, and Isaac Julien's video inquiry into the life of Frederick Douglass.
Exhibition view: Ibrahim Mahama, Lazarus, White Cube Bermondsey (15 September–7 November 2021). © the artist. Courtesy White Cube London. Photo: Todd-White Art Photography.
Ibrahim Mahama: Lazarus
White Cube, 144–152 Bermondsey, London SE1 3TQ
15 September–7 November 2021
Ibrahim Mahama's large-scale installations gather materials from natural environments, stitched together and draped over urban structures, reflecting the Ghanaian artist's interest in commodities, migration, and economic exchange.
Lazarus departs from an abandoned building in Tamale, North Ghana, where the artist lives and works. Featuring installations, sculpture, collage, and film, Ghana's layered political past emerges through Mahama's restoration.
Sarah Sze, Imprint (2021). Oil paint, acrylic paint, acrylic polymers, ink, aluminium, diabond and wood. 289.56 x 193.04 x 7.62 cm. © Sarah Sze. Courtesy the artist and Victoria Miro.
Sarah Sze
Victoria Miro, 16 Wharf Road, N1 7RW
12 October–6 November 2021
Sarah Sze's detailed sculptures and installations use common materials and found objects assembled into intricate landscapes to inquire into technology and information dissemination.
More recently, the mix-media artist has returned to painting. As the artist has explained in Ocula Magazine, her palette 'draws from this elaborate spectrum of colour that we now have available to us and that we're reading all the time when we're juxtaposing the screen and nature, in a complete flow of unedited information.'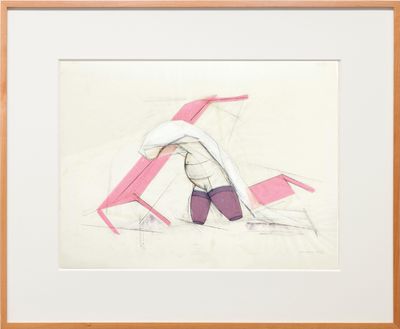 Renate Bertlmann,
Untitled
(1974). Pencil, crayon, tracing paper, and tissue paper.
Courtesy Richard Saltoun Gallery.
On Hannah Arendt: The Crisis in Culture
Richard Saltoun Gallery, 41 Dover Street, W1S 4NS
28 September–13 November 2021
Drawing from political theorist Hannah Arendt's essay 'The Crisis in Culture' (1961), this exhibition explores the dilution of the artwork in consumer society.
The Crisis in Culture features over 30 drawings by Renate Bertlmann, seven soft sculptures dedicated to the exiled and persecuted by Annette Messager, and an installation questioning the environmental ethics of plastic by Pamela Rosenkranz.
Elizabeth Neel, Stranger's End (2021). Acrylic on canvas. 193 x 234.8 x 3.8 cm. Courtesy Pilar Corrias.
Elizabeth Neel: Limb after Limb
Pilar Corrias, 2 Savile Row, W1S 3PA
16 September–23 October 2021
Made while in isolation on her family's farm in Vermont, Elizabeth Neel's new works draw from the rawness of the natural environment and the psychological disruption of the pandemic.
Formerly conceived for a deconsecrated church, the artist's richly textured and emotive large-scale paintings reflect the externalisation of physical and psychological experiences through abstraction. A short documentary about the artist will preview alongside the exhibition.
Shahzia Sikander, Title TBC (2021). 194 x 129 cm. Courtesy the artist and Pilar Corrias, London.
Shahzia Sikander
Pilar Corrias, 54 Eastcastle Street, W1W 8EF
12 October–13 November 2021
Shahzia Sikander is a Pakistani-American artist known for integrating Indo-Persian manuscripts and painting traditions into contemporary art practice.
Sikander's work spans painting, drawing, animation, and mosaic, inquiring into narratives around femininity, race, and migration. The exhibition will include large-scale paintings and an animation film made from drawings by the artist.
Onya McCausland, Saltburn (2021). Courtesy Karsten Schubert.
Onya McCausland: 51º43 33.56 N 3º07 58.63 W
Karsten Schubert, 46 Lexington Street, W1F 0LP
17 September–14 October 2021
Onya McCausland's 2014 project with the U.K. Government's Coal Authority retrieved natural ochres from wastewater destined for landfill, which was then used to create oil colour and emulsion paint.
For the first time, the painter's monochrome practice will feature paintings made from Six Bells and Saltburn—two shades derived from mining sites in Wales and North Yorkshire, their colours defined by the geographical specificity of the mines.
Linder, Insuperable Love (2018). Enamel on folio page. 29 cm x 23.5 cm. Courtesy Unit London.
Song of Songs
Unit London, 3 Hanover Square, W1S 1HD
7 October–6 November 2021
Curated by Rachel Thomas, Song of Songs borrows its title from a painting by British surrealist artist, oculist, and writer Ithell Colquhoun (1906–1988).
Featuring paintings, performance, installation, embroidery, and sculpture, the group exhibition includes 12 paintings by Colquhoun to prompt a conversation around the evolution of spirituality in abstract painting.
Exhibition view: Peter Burr, DIRTSCRAPER, ICA Virginia Commonwealth University, Richmond (2019). © Peter Burr. Courtesy Gazelli Art House, London.
Peter Burr: DIRTSCRAPER
Gazelli Art House, Gazell.io Project Space, 39 Dover Street, W1S 4NN
7 October–13 November 2021
DIRTSCRAPER is a computational artwork constructed by artificial intelligences, its structure emulating 'a collective body that has been subjected to the inner workings of a gridded simulation'.
Throughout the 90-minute multi-channel installation, protagonists within this system reveal their experiences living within its 'decaying arcology'.
Phoebe Collings-James, A Scratch! A Scratch! (2021). Courtesy the artist and Camden Art Centre. Photo: Luke Walker.
Phoebe Collings-James: A Scratch! A Scratch!
Camden Art Centre, Arkwright Road, NW3 6DG
10 September–23 December 2021
For her first solo exhibition in the U.K., sculptor and performance artist Phoebe Collings-James presents a new group of sculptures that reflect experiences of loss and desire.
A Scratch! A Scratch! borrows its title from William Shakespeare's Romeo and Juliet (1597), specifically the scene in which Romeo's friend Mercutio is slain, hinting at the crossfire in friendship and in lust.
Malala Andrialavidrazana, Figures 1852, River Systems of the World (2018). © Malala Andrialavidrazana. Courtesy the artist, AFRONOVA, Alessandro Casciaro, Dominique Fiat, 50 Golborne.
We Are History
Somerset House, Strand, WC2R 1LA
16 October 2021–6 February 2022
We Are History looks into the relationship between climate change and colonial legacies across a range of perspectives from South America, Africa, and the Caribbean.
Artists including Alberta Whittle and Otobong Nkanga explore the challenges facing nature and the climate crisis, tracing the tensions through history, raising recurring issues from damming rivers to the disposal of hazardous waste.
SERAFINE1369, from darkness into darkness (2021). Courtesy Tate Britain.
SERAFINE1369: darkness into darkness
Tate Britain, Millbank, SW1P 4RG
24 September 2021–3 January 2022
London-based artist and dancer SERAFINE1369 will show three video installations as a part of the 'Art Now' series for emerging talent in British art at Tate Britain.
In each video, the artist transforms into different mythological archetypes, reflecting on 'what it means to be or feel haunted, host to multiple entities'.
Helen Marten, Two Regimes of Madness (Professor Lichen) (2021). Nylon paint on fabric, aluminium, ash frame, steel, maple, fabric. 300 x 240 cm. Courtesy Sadie Coles HQ London. Photo: Robert Glowacki.
Helen Marten: Sparrows On the Stone
Sadie Coles HQ, 62 Kingly Street, W1B 5QN
4 September–30 October 2021
Turner Prize-winning artist Helen Marten's first major solo show since 2016 follows her debut novel The Boiled in Between (2020). Twelve silk-screened paintings with sculptural appendages fill the gallery space connected by a system of walls and cables, uniting the circuit into a whole.
Sparrows On the Stone (S.O.S) will also include 14 drawings on paper, which act as scenographies directing Marten's composition.
Nunzio, Mercurio (1990). Lead and combustion on wood. 128 x 119 x 3 cm. Courtesy Mazzoleni.
BURRI, KOUNELLIS, NUNZIO: Ethic of the artwork
Mazzoleni, 27 Albemarle Street, W1S 4HZ
5 October–November 2021
BURRI, KOUNELLIS, NUNZIO brings together three generations of Italian masters, who prioritised the poetic resonance of the artwork, preserved in material and in form.
Curated by Bruno Corà, the exhibition features works by Alberto Burri, Jannis Kounellis, and Nunzio, tracing the progression of painting in the 1950s and 60s in Italy as well as contemporary sculptures by Nunzio.
Xiao Hanqiu, Pink and Olive Green Passing Through Ginger (2021). Oil on canvas. 40 x 80 cm. Courtesy the artist and Tabula Rasa Gallery, London.
Xiao Hanqiu: Honey, Bee
Tabula Rasa Gallery, Unit 1, 99 East Road, N1 6AQ
10 September–23 October 2021
For Xiao Hanqiu's third solo show at the gallery, the Beijing-born painter and poet will preview works from her new painting series 'Honey, Bee', which reflects a return to girlhood and the streets of East London, where the artist lived for many years.
The exhibition will be accompanied by a new collection of poems by Xiao published by Tabula Rasa Books in October.
Sonic Ray from Richard Wilson's Slice of Reality (2021). Courtesy of Artangel. Photograph: Ibrahim Serra-Mohammed and Ascension Films.
Jem Finer: SONIC RAY
Art Angel, River Thames, Trinity Buoy Wharf, E14 0JW
30 September–21 November 2021
Jem Finer's project Sonic Ray encodes the music for Longplayer—the musician's self-extending composition designed to continue playing for 1,000 years—into a beam of light that will shine across the Thames, reaching Richard Wilson's millennial sculpture Slice of Reality.
Postponed due to the pandemic, the event marks the 20th anniversary since Longplayer was begun.
Chuquimamani-Condori and Joshua Chuquimia Crampton, Amaru's Tongue: Daughter (2021). Courtesy Auto Italia.
Amaru's Tongue: Daughter
Auto Italia, Online
23 September–5 December 2021
In their new film commission, artist Chuquimamani-Condori and her brother Joshua Chuquimia Crampton, who are members of the Pakaxa Aymara nation, enact a ceremony for their herbalist grandmother, Flora, to explore family rituals around death.
The exhibition imagines Indigenous abolitionist histories as interwoven with those of the Black radical tradition, conceiving of an imaginary 'abolition geography'.
Exhibition view: The Hour Forever, Dellasposa Gallery, London (7 September–31 October 2021). Courtesy Dellasposa Gallery.
The Hour Forever
Dellasposa Gallery, 2a Bathurst St, Tyburnia, W2 2SD
7 September–31 October 2021
Bringing together artists including Henri Matisse, Robert Motherwell, Pablo Picasso, Jonas Wood, and David Shrigley, among others, this exhibition reflects on the transformations that occur along the passage of time.
In many works on view, which span sculpture, painting, printmaking and more, nature is used as a metaphor for inevitable change. —[O]