News | NFTs
Christie's Launches Dedicated NFT Platform 'Christie's 3.0'
Others in the art world are continuing to invest in NFTs, with Pace Verso announcing five new artists for their third season.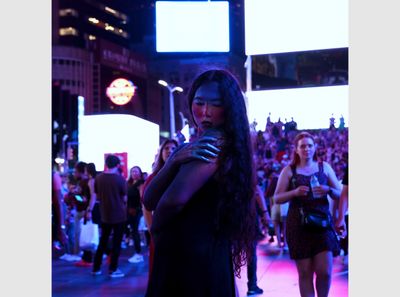 Diana Sinclair, Doomsday (Still) (2022). NFT. Courtesy the artist and Christie's.
Christie's today announced a new platform that will allow NFT sales to be made directly on the blockchain. Christie's 3.0 was developed with Web3 companies Manifold, Chainalysis, and Spatial.
Christie's Director of Digital Art Sales Nicole Sales Giles said she was delighted to offer NFTs 'in the way they are meant to be transacted, on-chain.'
'By incorporating regulatory tools, such as anti-money laundering and sales tax, we have built an inclusive solution where both veteran and new NFT collectors can feel secure in transacting with Christie's 3.0,' she said.
Christie's 3.0 will debut with an auction of works by 18-year-old artist Diana Sinclair. Sinclair, who was listed by Fortune as one of the 50 most influential people in the NFT space, collaborated with Whitney Houston's Estate on an NFT drop that raised US $1 million.
Bidding on nine of Sinclair's works will open from 28 September to 11 October, with price estimates ranging from 4 to 8 ETH (US $5,280–10,560).
In a statement, Christie's said the new platform demonstrates 'the auction house's commitment to both artists and collectors in the Web3 space'. 
Loie Hollowell, Split orbs in teal, purple, and fuchsia (2022). Oil, acrylic medium, and high-density foam on linen over panel. 121.9 x 91.4 x 9.5 cm. Courtesy Pace Gallery.
Pace Verso Announces New NFT Artists
Pace Gallery also demonstrated its ongoing commitment to NFTs with the announcement of Pace Verso's third season of NFTs.
Launching on October 10, it will feature the first-ever NFTs from abstract artist Loie Hollowell, MacArthur Foundation 'Genius' Tara Donovan, Japan-based experience makers teamLab, Rain Room (2012) creators Random International, and Chinese sculptor Sui Jianguo.
Pace Verso's new season of NFTs will coincide with the launch of their new Ethereum-backed sales platform built by Mojito, who helped launch Sotheby's Metaverse in 2021.
Ethereum recently completed its Merge, which should lower the environmental and financial costs of making transactions on the network. Pace Verso launched in 2021 and has featured works by Jeff Koons, Glenn Kaino, Lucas Samaras, Zhang Huan, John Gerrard, DRIFT, and others. —[O]