News | Galleries
Claudia Comte, Climate Crisis Comedienne, Joins OMR
Comte will show work with OMR at Art Basel and on the facade of Basel's Globus department store next week.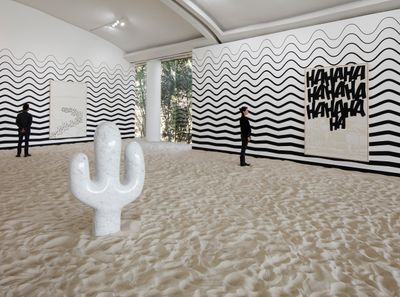 Installation view of An Impending Disaster (collaborations) by Claudia Comte at LagoAlgo. Courtesy OMR. Photo: Ramiro Chaves.
Mexico's OMR gallery today announced their representation of Swiss artist Claudia Comte.
OMR previously presented Comte's work at Mexico City art fair Zona Maco in February, and as part of the group exhibition Desert Flood curated by Jérôme Sans and Cristobal Riestra at OMR's cultural hub LagoAlgo.
Comte's LagoAlgo installation, An Impending Disaster (collaborations) (2023), consists of a sandy room containing marble cacti, paintings of comic book laughter over climate catastrophes, and wavy wall paintings suggestive of rising sea levels.
Claudia Comte. Courtesy the artist. Photo: Gunnar Meier.
OMR will present more of Comte's works dealing with environmental decline at Art Basel next week. Her spray-painted mural Smoke (greyscale) (2023), which suggests thick clouds created by polluting industries, will provide a backdrop for other works in OMR's booth.
Comte will also transform the facade of Basel's Globus department store during Art Basel with her installation Waves, Cacti and Sunsets (2023). The work, commissioned by Globus Public Art Project in collaboration with Fondation Beyeler, will show from 10 June to 8 October 2023. —[O]