News | Galleries
Mexico City's Galería Hilario Galguera Expands to Madrid
The new gallery's inaugural show is a survey of Peter Buggenhout works assembled from dust, blood, intestines, inflatables, and plastics, among other things.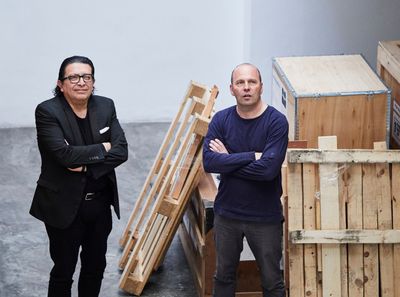 Hilario Galguera (left) and Peter Buggenhout during the installation of the exhibition The Blind Leading the Blind at Galería Hilario Galguera, Mexico City, in 2017. © Galería Hilario Galguera.
Galería Hilario Galguera will open a permanent new space in Madrid on 6 September.
The move builds on a number of initiatives and exhibitions the gallery has organised in Europe since it was founded in Mexico City in 2006.
'Madrid — like Athens, Rome, and Constantinople — have all, at moments, been the centre of artistic and political ideologies,' said Hilario Galguera, founder and director of the eponymous gallery. 'This, along with the many cultural and architectural links that Spain has with Mexico, helped us decide on Madrid for our second gallery space.'
The new gallery is located on Calle del Dr. Fourquet in an art district that includes the Museo Nacional Centro de Arte Reina Sofía and the Museo Nacional del Prado.
The Madrid gallery began its activities in May with a performance by Enrique Ježik, who was born in Argentina, but has lived and worked in Mexico since 1990. Its first official exhibition is a solo show by Belgian artist Peter Buggenhout entitled A Dog with Eyes for the Blind.
Buggenhout's works include assemblages made from abject materials including dust, blood, intestines, and the transparent PET used in water bottles.
Buggenhout likens these works to the human condition: 'we reconstruct with the shrapnel that comes to us, hoping it all makes sense in a way. The true nature of our world is brutal.'
Peter Buggenhout, I am the Tablet #6 (2021). Marble, plastic, iron, wood, glass deco, silver tape, aluminium, cardboard, epoxy, synthetic plaster, textile, PET. 262 x 268 x 47 cm. © Peter Buggenhout. Photograph: Dirk Pauwels. Courtesy: Galería Hilario Galguera.
Galería Hilario Galguera is also reviving its project space El Cuarto de Máquinas (The Machine Room), which was founded in Berlin in 2010. It will reopen this month in Mexico City on the corner of Bucareli and Chapultepec Avenue. The building it inhabits was previously a cantina called La Rambla, a place where writers, artists, politicians, and journalists would often meet.
Galugera described the new El Cuarto de Máquinas as 'a space for experimentation and collaboration with many different artists, curators, and writers.'
Galería Hilario Galguera was founded by Galguera and Rosa María Ortega as a space for the discussion and promotion of contemporary Mexican and international art. It opened with a solo show by Damien Hirst entitled The Death of God. Towards a better understanding of life without God aboard the Ship of Fools (2006).
In addition to Hirst and Buggenhout, international artists who have been crucial to the gallery's development include France's Daniel Buren and Greece's Jannis Kounellis.
'The link to Mexico is also what has defined our programme in many ways,' Galguera said. For instance, 'Damien Hirst has found a culture that both understands and encourages his ideas that celebrate life and death' while 'Daniel Buren was influenced by the Mexican muralists.'
Similarly, the current exhibition at Galeria Hilario Galguera in Mexico City, Horizons, shows work that Belgian artist Stijn Cole created as a result of travels through Mexico earlier this year. —[O]