News | Institutions
M+ Museum Closes as Hong Kong Pursues Zero Covid Policy
The closure followed the identification of just one untraceable case infected with the Omicron variant.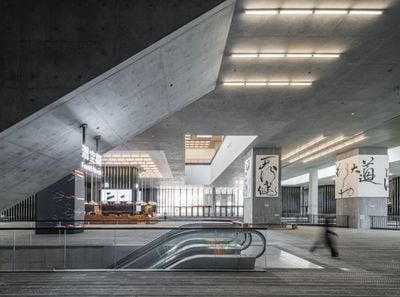 M+, Hong Kong. Photo: Kevin Mak © Kevin Mak. Courtesy of Herzog & de Meuron.
M+ museum in Hong Kong shut its doors on Wednesday and will remain closed through 20 January as Hong Kong clamps down on a new cluster of Covid-19 cases.
The museum is one of 56 locations named in a notice that requires anyone who was there between 1pm and 5pm on 30 December to test for Covid-19.
Among other measures, flights from eight countries have also been cancelled for two weeks, karaoke lounges shut, and dining at restaurants after 6pm prohibited.
At a press conference on Wednesday 5 January, Hong Kong Chief Executive Carrie Lam said that the case was 'very alarming'.
'We believe we are on the verge of another outbreak,' she said. 'We know that once there is an outbreak of Omicron, there is no containing it.'
At time of reporting, Hong Kong's total covid cases to date stood at 12,832, of which 140 were confirmed as Omicron.
Exhibition view: Antony Gormley: Asian Field in West Gallery, M+ Hong Kong. Photo: Kevin Mak @Kevin Mak. Courtesy of M+, Hong Kong.
M+ has received around 10,000 visitors per day since it opened on 12 November last year.
The museum of visual culture is currently showing some 1,500 works across six thematic exhibitions. These include M+ Sigg Collection: From Revolution to Globalisation, which comprises works by Chinese artists from the 1970s through the 2000s donated by Swiss collector Uli Sigg, and Antony Gormley: Asian Field, a solo show by the British sculptor that features tens of thousands of clay figurines he created with over 300 inhabitants of a Guangdong village in 2003.
The West Kowloon Cultural District Authority said that people who had already registered to visit M+ during the closure period were invited to rebook. The museum apologised for the inconvenience. —[O]