News | Artists
Shiga Lieko and Takeuchi Kota Win Tokyo Contemporary Art Award 2021–2023

Tokyo Arts and Space | Sponsored Content
The JP ¥3 million prize is a catapult for mid-career Japanese artists.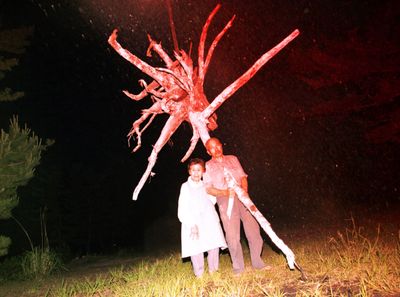 Shiga Lieko, Portrait of Cultivation (2019) from the Rasen Kaigan project. C-type print. Courtesy the artist and Tokyo Arts and Space.
Shiga Lieko and Takeuchi Kota have been announced the winners of the Tokyo Contemporary Art Award (TCAA) 2021–2023.
Each will receive two years of continuous support in the form of a JP ¥3 million (US $29,000) cash prize, the publication of a monograph about their work, additional funding to produce art abroad, and an exhibition at the Museum of Contemporary Art Tokyo.
Born in Aichi prefecture in 1980, Shiga graduated with a degree in Fine Art from London's Chelsea College of Art and Design in 2004. In 2008 she moved to Kitakama in northeast Japan where she assigned herself the role of village photographer. After Kitakama was devastated by a tsunami in 2011, Shiga remained, combing the beach for photographs that washed up on the shore and returning over 30,000 of them to the community.
Her own photos are underpinned by research that includes attending local rituals and interviewing portrait subjects. Sometimes she creates props to reveal hidden psychological truths — like a room-sized plaster cow skull she sat on the couch of a Brisbane woman who liked to collect bones from the desert.
'You can talk about photographs in terms of "shooting" — to "shoot" with a camera like you would shoot with a gun. However, for me, taking photos is not like shooting something: it's like being shot. I am shot, and the entire timeline of my existence is resurrected in the photograph,' she told Tokyo Art Beat.
Takeuchi Kota, captured image from Blind Bombing, Filmed by a Bat (2019–2020). Single-channel digital video with sound, 32min. Courtesy the artist and Tokyo Arts and Space.
Takeuchi was born in Hyogo prefecture in 1982 and graduated from Tokyo University of the Arts' Department of Intermedia Art in 2008. His practice is a forensic investigation of calamity and loss. He used aerial imagery to track the whereabouts of Balloon Bombs used during World War II, for instance, and played video of the destruction of a 19th-century movie theatre on its original screen which he relocated to a gallery, along with some of the original seats.
In 2011, Takeuchi made headlines when he took on a job at the Fukushima No. 1 nuclear power plant in the wake of the same earthquake that caused the tsunami that ravaged Kitakama. Disguised in a radiation suit that hid his identity, one of the workers pointed an accusatory finger at a live webcam inside the power plant for a full 20 minutes. Takeuchi neither confirms nor denies it was him, but he did exhibit the video in his work Pointing at Fukuichi Live Cam (2011). The artist quit the plant less than a month after the video protest, unhappy with the working environment.
Shiga and Takeuchi were chosen for the TCAA by a six-person committee that this year included: Sofía Hernández Chong Cuy, Director of Kunstinstitute Melly (formerly known as the With de With Centre for Contemporary Art); Takashi Mizuki, Executive Director and Chief Curator, Centre for Heritage, Arts and Textile (CHAT); and Washida Meruro, Director of the Towada Art Center.
The TCCA was established in 2018 by the Tokyo Metropolitan Government and Tokyo Arts and Space to help mid-career artists make new breakthroughs in their practice. The TCAA 2020-2022 was won by video artists Fujii Hikaru and Yamashiro Chikako, while the 2019–2021 prize was won by woodcut print artist Kazama Sachiko and project-based artist Shitamichi Motoyuki.
With their two year tenure as TCAA awardees coming to an end, Kazama Sachiko and Shitamichi Motoyuki's prize exhibition will be held at the Museum of Contemporary Art Tokyo starting 20 March 2021.
The award ceremony for Shiga and Takeuchi will also take place in March. —[O]