News | Artists
Sovereign Art Foundation Announces Shortlist for 2020 Prize
Nominees for the US $30,000 prize hail from 18 countries across Asia and the Pacific.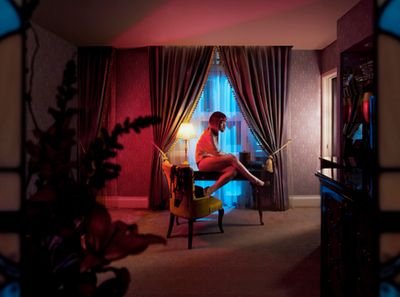 Sarah Choo Jing, Accelerated Intimacy (Brenda) (2018). Detail. Digital print. Courtesy the artist and The Sovereign Art Foundation.
The Sovereign Art Foundation (SAF) has announced the 31 artists shortlisted for the annual Sovereign Asian Art Prize, now in its 16th edition. Hong Kong is the most strongly represented territory with four nominated artists followed by South Korea and Indonesia, which have three nominees each.
The 31 shortlisted nominees were whittled down from over 600, the largest number in the prize's history, put forward by 88 art professionals.
In addition to the US $30,000 Grand Prize, two additional prizes will be awarded based on public voting. A US $1,000 Public Vote Prize will go to the most voted for artist, and the US $5,000 Vogue Hong Kong Women's Art Prize will go to the highest scoring female finalist. The winners of all three awards will be announced in May 2020.
A programme of events to support the prize has been planned for the same month, including an exhibition, an art forum and a live auction of nominated artists' works that will be conducted by Christie's.
Directors of The Sovereign Art Foundation told Ocula Magzine, that despite the spread of COVID-19, 'We are still planning to host the exhibition and auction in May'.
The public can view the artworks, register interest and vote for their favourite at SovereignArtFoundation.com.
'As would be expected, the growing number of submissions ensures a high calibre and wide range of work by the finalists, and I have no doubt that this exhibition will present a stimulating and revealing picture of art in Asia today,' said writer, curator, and museum director David Elliott, who chaired the five-person panel tasked with selecting the shortlist.
The other members of the panel, which will determine the winner of the grand prize, are: Arts Editor of Financial Times Jan Dalley; art historian, curator, writer and art strategy consultant Jiyoon Lee; artist and Professor at Central Academy of Fine Arts Miao Xiaochun; and contemporary Chinese artist Zhou Li.
Proceeds from the Christie's auction will be split evenly between the artists and SAF, who will use them to fund charitable programmes for disadvantaged children.
'We are surprised and a little outraged that in one of the richest cities in the world, one person in every five lives below the official government poverty line,' said Howard Bilton, Founder and Chairman of SAF.
'There is huge wealth disparity in Hong Kong and this gap needs to be narrowed,' he said.
Artists shortlisted for The Sovereign Asian Art Prize 2020
Alex Seton, Australia
Alexandr Ugay, Kazakhstan
Almagul Menlibayeva, Kazakhstan
Amritah Sen, India
Anniketyni Madian, Malaysia
Bui Cong Khanh, Vietnam
Chui Pui-chee, Hong Kong
Deden Hendan Durahman, Indonesia
Du Kun, China
Evgeny Boikov, Kyrgyzstan
Hee Jeong Jang, South Korea
Hyundoo Park, South Korea
Joyce Ho, Taiwan
Kanak Chanpa, Bangladesh
Katsumi Hayakawa, Japan
Lim Soo Sik, South Korea
Made Wiguna Valasara, Indonesia
MAP Office, Hong Kong
Nge Lay, Myanmar
Nicola Anthony, Singapore
Peggy Chan, Hong Kong
Rachel Cheung Wai-sze, Hong Kong
Rakib Ahmed, Bangladesh
Rushdi Anwar, Thailand
Saba Qizilbash, Pakistan
Sachin George Sebastian, India
Sarah Choo Jing, Singapore
Sokchanlina Lim, Cambodia
Tao Xinglin, China
Taufik Ermas, Indonesia
Thyitar, Myanmar —[O]