News | Artists
Who Won the $25,000 HOTA Photography Award 2022?
Established by Gold Coast's Home of the Arts in 2002, the prize is awarded annually to an Australian artist working in photography.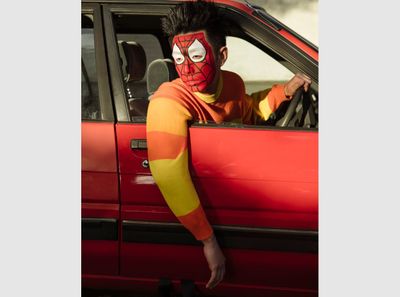 Jo Duck, Spiderman waits in a Corolla (2021). Photograph. Courtesy of the artist.
Artist wani toaishara, who stylises his name in lower case, was today announced the recipient of Home of the Arts' (HOTA's) Josephine Ulrick and Win Schubert Photography Award.
toaishara won with his photo do black boys go to heaven (2021), in which two African figures wearing matching green maxi dresses look unabashedly at the camera.
In a statement paired with the image, the artist writes: 'this is for the bodies painted spectacle long before they could even speak. For that child who was told that their strength was found in silence because speaking made them weak. For those bones so small that their gravestones outsized their casket. For all those tokens who've been called broken as they contemplate their suicide. We are worthy. Here. Still.'
wani toaishara, do black boys go to heaven (2021). Photograph. Courtesy of the artist.
'wani turns a simple portrait into an assertion of presence and visibility,' said Isobel Parker Philip, a Senior Curator at the Art Gallery of New South Wales and the presiding judge for this year's award. 'The two subjects ask us to see them as they are.'
Photography is a recent addition to toaishara's practice, which is grounded in performance and videography. He said some of the main themes of his practice are African indigeneity, futurisms, statelessness, and climate change.
toaishara told Ocula Magazine that winning the AU $25,000 HOTA prize will help him to sustain his practice in the wake of the pandemic.
'These last few years have been quite challenging so this award is a significant contribution,' he said.
Jemima Wyman, Flourish 10 (2020). Photograph. Courtesy of the artist and Sullivan and Strumpf, Sydney.
Parker Philip selected toaishara's artwork from a field of 40 finalists narrowed down from over 260 submissions. She described the finalists' works as 'urgent, emotive, and deeply thoughtful'.
toaishara's artwork will be acquired by HOTA with an additional AU $25,000 going towards acquiring works by other finalists. They include Aaron Chapman's Purple is Black Blooming (2020), Petrina Hicks' Hercules (2021), Katrin Koenning's untitled from between the river and the sea (2021), and Palawa artist Jemima Wyman's hand cut photo-collage of flowers, insects, birds and masked protestors Flourish 10 (2020).
Previous winners of the Josephine Ulrick and Win Schubert Photography Award include: Polly Borland, Shaun Gladwell, Justine Varga, Polixeni Papapetrou, and Darren Sylvester.
Works by this year's finalists and select finalists from previous years are currently on show in a 20th anniversary retrospective at HOTA's new $60.5 million gallery space. The exhibition continues until 8 January 2023. —[O]