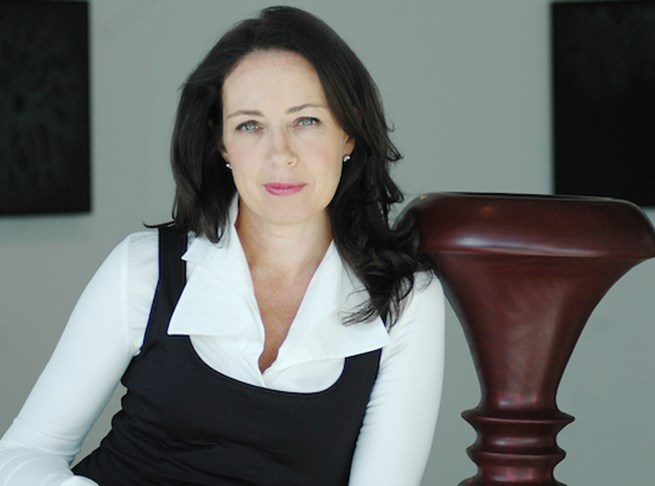 MARS (Melbourne Art Rooms) was established by gallerist Andy Dinan in Port Melbourne in 2004 and now, in its tenth year, is celebrating by opening a purpose-built gallery in Windsor. The new space will represent something of a rebirth for the well-established gallery with new artists and new projects. Ocula spoke with Andy about the decision to open a new purpose built gallery space, the state of the Australian art market and the upcoming Melbourne Art Fair.
You were a collector for many years before you opened the gallery. What first triggered your passion for contemporary art?
That's right. I bought my first piece of art as an RMIT University business /public relations student. I still have it – but stashed away. It's a watercolour from a Rotary fundraiser art show. Needless to say, collecting art is a learning experience.
A light bulb moment for me was the experience of working as a publicist for a special exhibition at the amazing Heide Museum of Modern Art, where the director at the time was Maudie Palmer. The exhibition was titled, Completing The Picture – Women of the Heidelberg. I was hooked, the exhibition captured my imagination and pulled at my heart as good art does. From there I started seriously looking, collecting, studying and also making sculpture. Sure, I'm not the world's best sculptor, but I really get the mechanics of making a great piece.
I started collecting art slowly but felt disheartened by the gallery scene. Brave or naive - I took the plunge and decided to open my own. Unperturbed that I had never hung a painting or organised an exhibition, (which you could call core business), I did know about running a successful PR company. So the upside was that I understood business, engaging with different audiences and knew what I liked. Ten years on, I can't imagine doing anything else with my life. "If nothing else, believe in art" has become my adopted middle-aged mantra.
You founded [MARS] in 2005 and now, in your 10th year, you are opening a state of the art, purpose built space over 3 levels in Melbourne's Windsor - exciting times and a big commitment to the future. Tell us about this decision?
I was looking for the next challenge. While [MARS'] former Port Melbourne abode was a beautiful space housed in an iconic building, I wanted to be geographically closer to my clients. Commissioning a purpose built space designed exactly to meet the needs of all stakeholders – myself, staff, clients, the artists we represent and gallery visitors –seemed a natural progression.
The new [MARS] Windsor digs is not only informed by our past ten years of trading, it will also enable the showing of more challenging new media like sound sculpture, video and light art. I'm really passionate about exploring these new realms – and that was another catalyst for the move.
What is the overall ethos of [MARS] gallery?
[MARS] is dedicated to exhibiting, promoting and building the careers of mid-career and emerging contemporary Australian artists. I'm also pretty keen to use my lifetime of learning and powers for good.
Given the recent downturn in the Australian economy, what are your observations about the state of the market for contemporary art in Australia at this time?
It is definitely a tough gig for most. In parallel with the downturn in the economy there has been an influx of – glamorous art fairs, artists open sales at studio shows, pop-ups in empty retail outlets and web sales. These competing forces collectively chip away at the traditional gallery model.
I'm a firm believer that tough times can be great times to think and do things differently. Instead of kowtowing to the temptation of recoiling in fear in the face of these new challenges for galleries, I started actively reassessing my own model about four years ago.
We worked collaboratively with each artist as the starting point, to formulate a career strategy in response to the question: what does the artist need and how can the talents of the [MARS] team and the [MARS] space help? For me the essence is great relationships – and constantly asking how my artists and I can work together to help each other and do what we love.
The new [MARS] space is brilliant, our marketing is smooth and our energy rate is high. The July 19th opening can't arrive soon enough.
Importantly, the business model is also structured to derive additional income streams from a long-held art rental strategy. Another key and growing area is our work on exciting and head-turning public art projects. One prime example is a 240 square metre installation by Matthew Harding that will be launched in August on the corner of Albert Street and Paisley Street in Footscray. Aptly titled, Centricity, Harding's amazing work which has been two years in planning and making, combines interactive light and steel abstraction. Centricity is a work that signals a great change in the way developers look at public art in such huge commercial developments.
So far our model seems to work and [MARS] has never been busier. That's not so much about walk-ins on the gallery floor - which stays about the same – it's large-scale projects that are proving a new source of growth and excitement. One upcoming example is a show being staged by [MARS] in July at the World Trade Centre. As the venue plays host to some 3,000 people a day - we are really proud to have been invited to administer and curate the entire event.
Also on the rise is our web traffic with flow-on global sales. The offer of more pop-ups in another interesting trend and a further opportunity to showcase [MARS] artists as was recently the case in Collins Street, Melbourne.
Bringing these projects to our door is a great team at MARS that's - agile, flexible, has specialist art knowledge and marketing nous. I'm also committed to best practice and transparency in the gallery process. A big part of that is sharing all info with the [MARS] team and our artists. It's an energy and freshness that is hopefully palpable when you walk in our front door.
Tells us about the new gallery?
Chris Manton of JAM Architects is the designer of the new space, which has been awarded a 7 star environmental rating. A main gallery at street level with towering 5-meter ceilings and a total glass facade is one of the defining elements that make the new [MARS] in Windsor, so exciting. It encapsulates the underlying idea of demystifying the art experience and opening the gallery to the viewing public.
Here are a few things to love:
A state of the art, Black Box space curated by Brie Trenerry will exhibit video works by the best local and international video artists. A bold new work by Simon Pericich will be the first to show here.
A special Light Room will exhibit light and neon art – kicked off by a Jason Sims installation.
The Drawing Room offers an alternate way of viewing works on paper and a dedicated space for this often neglected media. It will launch with works by Nick Mourtzakis, two-time winner of the Dobel prize.
There's a massive basement stock room facility for viewing works.
Particularly exciting is the new video-projection room to be curated by Brie Trennery. Can you tell us a bit about Brie and what she plans for this space?
Brie Trenerry is a local artist who has worked primarily with video for the past 12 years and has exhibited extensively both locally and internationally. She co-founded Moonlight Cinema, Adelaide and Kings ARI in Melbourne whilst working as a consultant for institutions and artists and as a lecturer at VCA, RMIT and VUT. Trenerry is currently undertaking a PhD in Screen Cultures at the RMIT School of Media and Communication. Brie outlines her vision for the MARS Video Black Box.
"My main concern for the first year of curating the MARS video black box is to exhibit artists working primarily with an expanded idea of the moving image; not those making video just as an adjunct to their primary practice or as a way of documenting a performance.
In Australia there seems to be a reticence in looking at alternate, expanded forms of video art, particularly in terms of funding bodies who often still separate screen based financial support -categorized as Film and TV, from fine art practice. Some works don't fit neatly into either category and cross the boundaries between art and film.
The artists I have invited to exhibit at MARS directly engage in all aspects of the production of their moving image work and understand the processes and possibilities of screen based practice. I think there's a misconception that video is somehow easier, or cheaper to make than other art forms however most artists who've worked in an expanded way with the medium have discovered that its akin to making a feature film, no matter how long the work is, albeit without a huge budget, and often with limited resources.
In terms of having a dedicated video black box in a commercial space, I think its important to have a vision that leads to real support for artists wanting to commit to video as their primary medium. Almost everyone has a large black flat object in their house which often sits idle- its your TV and you could be displaying a moving image work on it. In terms of investment, video is comparatively less expensive than other art forms but is increasingly being collected, more so overseas than in Australia however this is slowly changing. So MARS will be looking closely at strategies to encourage the collection of video art, in particular the work of artists committed to screen based media." - Brie Trenerry.
Your opening exhibition will be new works by Jud Wimhurst. What will he be showing?
One of Australia's most exciting talents, Jud Wimhurst is pushing sculpture in a refreshing and dynamic new direction in his new exhibition, safe/secure.
The body of work is a series of designer helmets, inspired by and paying homage to the various survival techniques humanity has developed in order to feel confident and optimistic. The inherent idea is that safety will ultimately prevail and that a future is certain - "from the security of a diamond ring on your finger to the distraction of television to the warmth of comfort food," says Wimhurst.
Wimhurst isn't one for short cuts. He makes the helmet sculptures and even the tools he uses, with his own hands - start to finish. Vintage/retro motorcycle helmets from the sixties and seventies era inspired two of the original helmet designs - from which silicone rubber, fibreglass and resin molds were made. The helmets are then made from scratch by taking casts from the mother molds and building up the layers of polyurethane resin, fibreglass and epoxy resin until a strong hollow shell is formed of the helmets. It's a process that's faithful to the way motorcycle helmets were originally made before manufacture turned to plastics. Testament to the integrity of Wimhurst's helmets is their ability to actually function successfully as a protective helmet at this particular stage of the process.
A variety of sculpting techniques and materials are then deployed to create the one-of-a-kind helmet pieces. The helmets may be dissected or added to depending on the chosen design. It's a journey that encompasses everything from: wood carving and traditional wood turning techniques on a lathe; traditional life casting techniques using dental alginate to take casts of body parts; sculpting elements out of clay and then finally utilising mold-making and resin casting techniques to produce the components in resin. The next stage involves attaching these components to the fibreglass helmet shells and spray painting and airbrushing by hand in nitrocellulose and acrylic lacquers to produce the finished helmet sculptures. The finishing touch is the addition of a urethane foam inner lining and a PETG plastic or polycarbonate visor - both integral characteristics of a good helmet.
Turning to the Melbourne Art Fair, which opens on 13th August, what will you be showing there?
Our stand at the Melbourne Art Fair is bigger than we've ever staged at an art fair to date and is custom designed to reflect the direction of the new [MARS] Windsor gallery. I have curated an exhibition of five [MARS] artists who represent a true 'taste' of the fresh and exciting talents of our stable; Daniel Agdag, Jud Wimhurst, Samuel Tupou, Tricky Walsh, Bill Sampson, and Jason Sims. Each of these artists is producing work that is unique, technically accomplished, beautifully implemented, intellectually challenging and of the now.
We have been working with the Melbourne Art Fair to create a unique space on our stand that mimics the Light Box in the Windsor gallery to exhibit Jason Sims' artworks.
What else is on the gallery programme in 2014?
[MARS'] exhibiting schedule for the rest of 2014 is equally exhilarating. We'll be showing major solo exhibitions from Daniel Agdag, Sophia Hewson, Bill Sampson, Saffron Newey, Tricky Walsh and Mia Salsjo in the main gallery. In the Black Box, watch out for Brie Trenerry who has also curated an amazing selection of video works from Simon Pericich, Stephen Haley, Erin Coates, Lida Tegg, Brendan Lee, Kieran Boland and Stephen Garrett. So there is a lot to look forward to! ― [O]