Julia Morison. Photo: John Chrisstoffels 
2015 marks the 40th anniversary of New Zealand artist Julia Morison's first exhibition.
Morison studied graphic design at Wellington Polytechnic in 1970-2 and painting at the University of Canterbury in 1973-5.
After showing a number of severely formalist paintings she took a break from exhibiting: from this came two very large, multi-part works: Vademecum (1986) and Golem (1987). In these Morison created for herself a system based on the number 10, and referencing the Sefirothic Tree of the Jewish Kabbalah.
Ten 'logos' and ten key materials ('transparency', gold, silver, ' irridescence', lead, mercury or mercuric-oxide, clay, ash, blood, excrement), in various combinations, continue to inform much of the artist's work.
Morison was awarded the University of Otago's Frances Hodgkins Fellowship in 1988, which resulted in the major 10-part work Decan.
During her year as the 1990 Moët & Chandon Fellow in France she created Amalgame, an installation of 55 icon-like 'books' (another 45 were made later). She lived in France until 1999 when she returned to Christchurch to teach at the University of Canterbury School of Fine Art.
Other major works include Quiddities (1989), 1,m0nochr0mes (1995), Material Evidence: 100 Headless Woman (with Martin Grant, 1997), no names for things no string for (2003), Gobsmack & Flabbergast (2005) and Gargantua's Petticoat (2006).
The Christchurch Art Gallery and Dunedin Public Art Gallery developed a loop around a loop, a large survey exhibition of her work in 2006-2007. After the Canterbury earthquakes in 2011, which caused damage to her studio, Morison was unable to continue painting and turned instead to sculpture, using found objects, quake-generated sediment (liquefaction), plaster, clay and other materials. She has also made public sculptures in Christchurch and in Dunedin.
The 20 works in her recent exhibition, Omnium Gatherum, at Bartley + Company Art, mark her return to painting.
PP

Omnium Gatherum reprises many aspects of your earlier painting. For example the voluptuous, bulbous forms which we've seen in Golem and Gobsmack and Flabbergast, inky splashes and sharp graphic qualities reminiscent of no names for things no string for, and the looping forms that characterised Gobsmack and Flabbergast and Gargantua's Petticoat. There's even an echo of the triangular forms in your early work Rhombus B4 (1982).
Since the Canterbury earthquakes, which made it difficult for you to paint, you've been exhibiting mostly sculptures. Is Omnium Gatherum a way of reconnecting with your painting practice?
JMThe earthquake did make it difficult to paint. Apart from the physical damage and upheaval, the concerns in the work I was in the process of making became totally irrelevant. I continued to work on the paintings for a deadline but I was struggling and distracted.
Just as a diversion, I began playing with stuff that I had previously collected in the studio and stuff that was thrown out into the streets. These took over to become the exhibition Meet me on the other side.
For the first time, I also became interested in public sculpture and the design of public spaces. Tree Houses for Swamp Dwellers is an architectural work that comprises ten units or rooms which can be relocated and reconfigured to activate the vacant sites that were opening up in the city. I also made Ouroborus or Wooorm for the Dunedin Botanical Garden which is a pliable stainless steel sculpture that doubles as a conversation seat or plaything.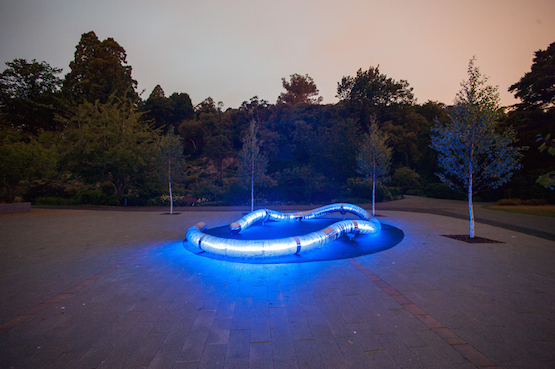 Julia Morison, Ouroborus/Wooorm, 2013. Laser cut stainless steel, LED fibre. Exhibition view, Botanical Gardens, Dunedin. Image: Max Bellamy, Dunedin Public Art Gallery
I also acquired a small electric kiln and am making Headcases: a series of ceramic heads. To date, 30 of the proposed 100 have been completed and exhibited.
Between Meet me on the other side and Omnium Gatherum is the suite 2000 grounds for error. This is a return to wall works but also very much three-dimensional. I was interested in 'the frame', 'framing', 'being framed' etc.
Like Meet me on the other side, these began with frames that I had collected as starting points. I was also musing on the fact that a new inner city re-design of Christchurch placed my studio/home which was formerly on the inside, now on the outside by way of a 'frame'. These works play with ideas of illusional space (within the frame) and real space (the frame and that outside the frame).
Omnium Gatherum was also initiated by thinking about the frame but a frame or framework intervening in the illusionary space. The frame is painted in, or sometimes merely suggested. I think you are right in that these works recall many of the earlier works. It wasn't a conscious decision to look back but I do tend to pick up threads of things again, rethink and rework them—hence the title a loop around a loop for the survey exhibition.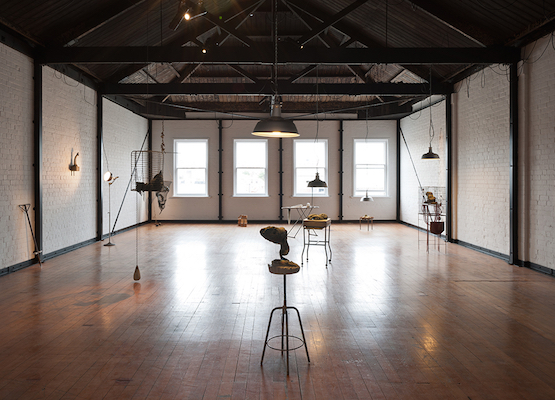 Julia Morison, Meet me on the other side, 2011. Mixed media. Exhibition view: Christchurch Art Gallery at Ng Building. Image: John Colley for CAG
PP

You've displayed the 20 paintings in Omnium Gatherum as if they were a giant, changeable Exquisite Corpse. You've long been interested in Surrealism: how has it informed your practice?

JMThe experiments of the surrealists offer tools that I have employed for generating works. They have been useful for going beyond what one can imagine by admitting a degree of chance. Each part [of Omnium Gatherum] begins with a strict adherence to a formal grid which promotes or restricts the image. I begin with nothing in mind or just the hint of an idea—I draw and see what happens—like doodles. Hopefully each piece is worked up to be visually coherent in itself but what interests me is how they connect, how one is read against another, how one affects another. When each can be either 'portrait' or 'landscape' with no right way up and presented, with the others, in no specific order or no specific direction, there are vastly different possible images that can be generated and even more interpretations.
PP

The majority of your work has been based on the Sefirothic Tree from the Jewish Kabbalah. Can you say why this construct appealed so strongly?

JMPersonally, I need to put some kind of order on experience for sake of sanity and negotiation. The Sefirothic structure, or Tree of Knowledge, is really a metaphorical file and folder system for all; a conceptual paradigm for understanding everything. Putting that at the core of my practice gives me the freedom to admit everything and anything, micro and macro, metaphysical and corporeal, as legitimate content. It also gives me an interface to compose works.
Julia Morison, Tree Houses for Swamp Dwellers, 2013. Mixed media. Exhibition view, Cnr Colombo & Gloucester Streets, Christchurch. Image courtesy the artist
PP

You've used a remarkable range of media in your work. For many years, starting with Vademecum, most of the less conventional materials were strictly tied to the Sefirothic structure.

JMApart from 'transparency' and 'irridescence', the materials that have become incorporated with my idiosyncratic use of the Sefirothic structure are matter, but they are also coupled with a formal symbol such as the triangle, circle, spiral etc. The works in Omnium Gatherum use none of these materials. They are made in conventional art materials yet each individual work can be posited with one of the sefirah by the meaning that the image generates. It this sense it is similar to the much earlier Decan.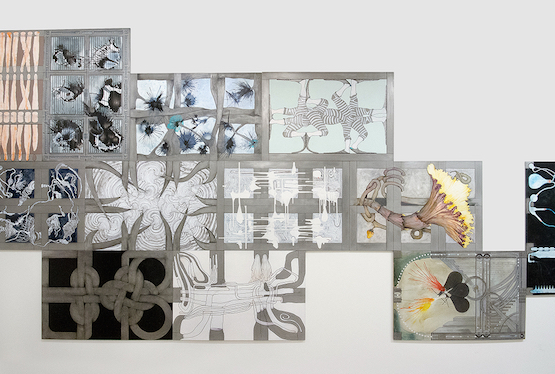 Julia Morison, Omnium Gatherum, 2015. Exhibition view, Bartley + Company Art, Wellington. Image: Jess O'Brien
PP

There is a marked interplay in Omnium Gatherum, as in other works, between abstraction and figuration. I've deliberately avoided the word 'tension' here but you've said that in earlier work there was a tension between the two. How has that been resolved?

JMAs painting students in the '70s we were introduced to the notion of schools of practice, ...isms, and we were encouraged to develop a singular style by experimentation within one genre in a linear and consistent fashion. I was interested in all modes of pictorial representation, abstract and figurative, and did tend to flip from one to another, not within individual works but certainly from suite to suite. The 'problem' in the work has been erased by simply choosing not to define myself by a particular mode of practice. Although many works are figurative, there is generally a strong formal component. I don't over-think this. I simply make things in response to different kinds of opportunities, and avoid limiting myself to one exclusive way of thinking. —[O]

This Ocula Conversation was commissioned in partnership with EyeContact.