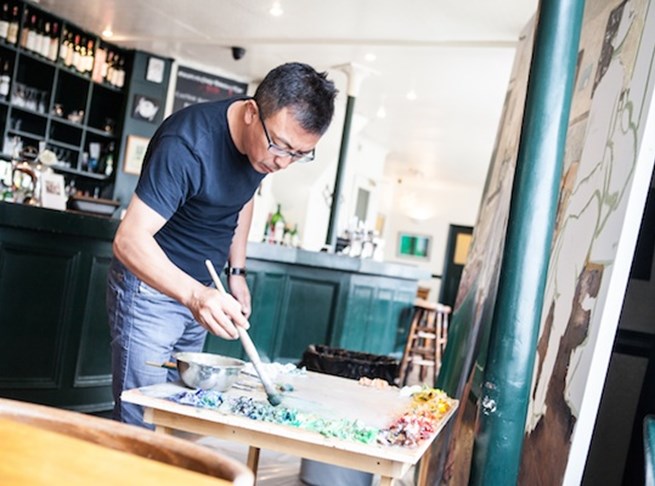 Liu Xiaodong. Courtesy Lisson Gallery.
For his first solo exhibition in the United Kingdom, Liu Xiaodong
was invited by the Lisson Gallery to produce a new body of work. The invitation resulted in the artist coming to London and spending six weeks in the city, a time in which he sought out his painting subjects through exploration and interaction, gradually discovering the places and the people he would depict in his work and documenting the process of getting to know them. The result is a body of paintings—three large canvases and a series of paintings on photographs—that are presented alongside diary pages, photographs, studies, and notes, which the artist completed during the period he was producing the show. Thinking about how this project expands Liu's practice as a painter who embeds himself into the contexts he depicts, this interview explores the artist's London show in relation to how it feeds into his practice as a whole.
As part of your process, you embed yourself into situations so as to achieve your stated goal of confronting people to 'see them as they really are'. Can you talk about this kind of 'seeing' further?
I have worked on projects all around the world and each of the locations I paint in, and the communities I work amongst, is unique: each has its own set of social and political concerns. I like to find scenes that are part of life, of someone's everyday existence and I choose places that interest me. When I paint someone, I want to capture their environment, their living state. I want to show the personal story behind the image of the person. The project in London is in the same vein as previous projects in this way.
What did you do exactly for your project in London?
For this project, I spent a week exploring the area surrounding Lisson Gallery—Edgware Road—and I observed many pubs and restaurants. I decided to paint in two pubs, The Chapel and The Perseverance, as the pub atmosphere is very casual and natural. People come here to eat, drink, and meet one another. I also painted a third work at a Middle Eastern restaurant called Shishawi. A family of a different background ran each location; one was Polish, one was American, and an Egyptian family ran the last venue.
I chose the locations partly due to logistical considerations—the spaces needed to be large enough for me to paint in—but more importantly, all three locations made me want to paint. The colours, character and architecture of all these places were interesting to me. Much like with other projects, during the process of painting at these venues I discovered new and intriguing things about the people and places I was painting. These discoveries made their way into the final works.
As a painter, you engage with painting en plein air, or xiesheng, as it is known in Chinese. Can you talk about this approach to painting and how it relates to the practice of painting and its histories?
When I taught in Taiwan I would give demonstrations in front of the students in order to show them how to paint effectively. I started to paint en plein air in 2002. Before this, my process had involved taking photographs, which I would take back to the studio to paint from. But when I started to paint outside of the studio, it was exhilarating. I feel this method allows my painting to be more natural and relaxed, which also leaves my art open to the element of chance.
Painting on location opens you up to possibilities beyond your control. Each location has its own conditions and even things that seem like problems can be beneficial. For example, bad weather on location could mean I'm unable to complete the painting at that time, but the interruption can break me out of my original understanding of the world.
Part of my approach to painting includes me keeping a diary in which I document things beyond the painting I'm working on; things from every day life. The notes I kept during my London project are also shown alongside the completed paintings in the exhibition at Lisson Gallery.
How would you 'slot' yourself into the artistic movements and trends that have emerged in the past 30 years?
Actually, the beginning of becoming famous is very important for every artist. Maybe the reason is your talent, or society just needs your art at that time. I received some approval in China when I was very young in the 1990s, which perhaps related to the social conditions. At that time, the mainstream in art was realism about the government and at the same time there were underground pockets of avant-garde art such as the '89 art movement. For me, I think I was not suitable for either of these groups as I am more concerned about myself. Art is something that belongs to an individual: an ideology related to personal life.
What would you say are your key inspirations and influences when it comes to your work as an artist?
My Chinese art education was rooted in Social Realism, so this has been very important to my work. I do still make use of my training, which involved going out into villages to paint people working there. I think, maybe, something new can emerge from travelling old roads. From western art history, I admire the work of Cezanne in particular.
In your view, what is the function of a painting in the 21st century? I am thinking here of the many times artists have announced the so-called 'the death of painting'. In your view, how does one 'be' a painter today?
Many people said painting died a long time ago. It is indeed dead! But artists are still alive and good artists can resurrect even a jar of stagnant water. So I think it depends on each person: it cannot be generalised. In this world, the good thing is not only something new: sometimes an already dead thing is still good. So there shouldn't be such a direct relationship between good and bad, new and old.
Painting is a very old profession and it is very difficult to do something new. Painting is the most difficult thing to do in today's art environment, but I would like to work on it. I like this kind of challenge, this kind of way. Painting is very hard, but it doesn't need lots of space. It can still express philosophy, psychology and society. So for me, painting is just at the beginning. —[O]