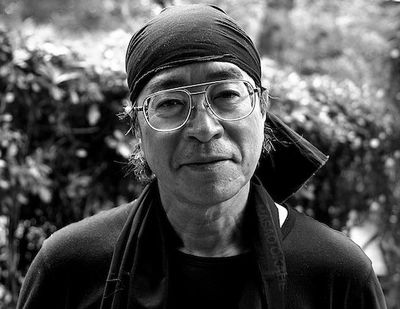 Photo: Nanda Lanfranco
Frottage is a creative process developed by the German artist and leading Surrealist, Max Ernst in 1925. It involves an artist using a drawing tool to make a rubbing over a textured surface to capture random markings. In 1977, Japanese artist Masao Okabe began producing frottage rubbings, but unlike Ernst, who developed the process because of his fascination with the associative properties of the resultant markings, Okabe was more interested in the inherent ability to memoralise.

In 1979, when Okabe stayed in Ivry-sur-Seine, Paris, he produced 169 frottage works entitled Membrane of a City
that recorded the city's streets and by implication its embedded history. In the latter half of the 1980s, Okabe devoted himself to rubbings of atomic-bomb remains in Hiroshima, and this culminated in his presentation on behalf of Japan at the Venice Biennale in 2007.
The exhibition in Venice centered around 1,400 frottages taken from the platform of the former Ujina train station, previous army assembly area and staging point near the port of Hiroshima, and a 16-meter row of stones from the platform that were exposed to the atomic bomb.
Other major exhibitions since 2007 have included Hiroshima in Tasmania at the Museum of Old and New Art in Tasmania in 2011, and a 2013 exhibition, Remembering and Documenting Minamisoma which involved rubbings taken from the stricken city as it recovered from the 2011 tsunami. Most recently, at the Hokkaido Museum of Modern Art, Okabe's work, YUBARI MATRIX (1998-2014) is exhibited as part of the Sapporo International Art Festival 2014. The work features frottages taken from the surface of a now defunct coalmine that exists on the outskirts of the city. For the first time, the artist's work is presented on the floor and underneath reinforced glass enabling the viewer to walk across the work evoking an experience of the actual site and serving as a reminder of the artistic process. The work is also intended to evoke a consideration of modernisation's extraordinary speed and the rise and fall of energy resources in its wake.
Two of the walls that surround the floor-based work at the Hokkaido Museum are dominated by another of Okabe's works, The ruins of the rooftop of Yubetsu Colliery Hospital (2009). In contrast to the pre-dominant black of YUBARI MATRIX (1998-2014), the Hospital work is rendered in a rich red, evoking both blood and leaves a lasting impression on the viewer. This work represents the culmination of a community project that the artist undertook with students to record the floors of the hospital. The red from this work is reflected in the reinforced glass of the YUBARI work creating a perhaps not unintentional overlapping of the works that have come to define a practice that captures the embedded memory of a city, while evoking a consideration of how its collective history impacts the lives of individuals.
You began making frottage works in 1977. What triggered your decision to start using frottage?
I started frottage method in 1977. I was teaching at the time and I had this chance to travel and visit Paris.
In a way, I started frottage as a means of keeping a type of diary. I also felt very limited by working inside a studio, and only from my memory and imagination. I wanted to get out of the studio and go somewhere where I could connect with society, history and people.
What I do now, I suppose it is a very primitive method—a physical experience.
In 1979, while staying in Ivry-sur-Seine, you produced 169 rubbings entitled Membrane of a City. Tell me about this early work?
In 1979, I was resident in the South of France at Ivry-sur-Seine, and I started taking rubbings of the street. People were watching and were curious. They asked me: "What are you doing?" and I responded: "I am memorising, and keeping a record of the history of the city." Frottage is originally from France, so they understood the process I was undertaking.
Taking rubbings of city streets means you have to sit on the ground, and this physical closeness to the city means you come to know it so well—you become aware of all of its details.
What type of details did you start to notice and what did they tell you about the city?
One thing I noticed in Ivry-sur-Seine is there is always a hole at the entrance of each apartment, and always a flower in that hole. I also noticed that between the road and the pedestrian pavement there is very often a brass circle, which is inscribed with names and dates. I came to understand that the dates related to a person's lifespan, and I noticed how many of the end dates were 1942, or 1944, or 1945. It made me aware that the peaceful city I was living in had once been the site of warfare; which involved people fighting to protect their city. I realised how the history of the city is embedded in its streets. The city holds its memory in a physical way—as though its history is imprinted on its surface. I wanted to bring out those histories by using the frottage technique.
There are several works at Sapporo International Art Festival. One of them is The ruins of the rooftop of Yubetsu Colliery Hospital, 2009. This work involves a collaboration between yourself and students to take rubbings of the hospital floors. You used red, why this colour?
Red is a colour that draws peoples' attention. I work in public, and I want to engage with people passing by. Ten people completed this particular work, but sometimes there can be 30 people who become involved, or sometimes even 100 people. But red is also important, because for both people involved in actually making the work, and also for those people not involved, I want the work and the experience to be memorable. Red has a strong impact and makes people remember the project and I hope it inspires them to remember the past. This colour can connect people with the past and the project.
Your first collaboration was actually in 1998 at Noosa, and since then you have often collaborated with communities to create you work. Why is such collaboration so important to your practice?
Art in my opinion is about how to interact with community. That is arts most important purpose.
You probably know that Noosa is such a small city, but it was such an honour to be able to engage with contemporary art and the community there. The oldest street in that city is also at its cultural, social and commercial centre. The work in Noosa took about a week to create, and when we finished it, it was 150 metres long.
As you know Australia has a very complicated history, particularly with respect to the indigenous people. To understand a site's history, it is a matter of going through that history step-by-step together— a similar process to creating the work.
You have another work in the Sapporo International Art Festival this year, YUBARI MATRIX (1998-2014). Tell me about this work, and how do you see it relating to the Festival's theme of 'city and nature'?
I was born in Hokkaido and I have witnessed Hokkaido's modernization and development. Yokohama Port was opened to the world over 150 years ago: in 1854. Around this time, Hokkaido's also became the centre for development in Japan, and thereafter a site of swift modernisation. In 1869, certain buildings were built to act as the centre for development, and this is now where the government of Sapporo City now exists. So that was the beginning of modernization for Hokkaido and also for Japan. Hokkaido was the experimental ground for Japan.
The central theme for the Sapporo International Art Festival is 'City and Nature', and related to this is the idea of modernisation. The goldmines were central to the modernisation of this region, and they reflect and hold a great deal of the history of the city. I started the project of working and recording the mines by using frottage in 1990. There are many goldmines in this region, and many entrances to these mines. It was a huge industry. But I witnessed the end of this industry, and then the gradual decline of the industry, which is symbolized most obviously in the gradual decline of the mine entrances—these huge facilities now are represented by piles of rubble.
Would you say your work has always been about both recording a site's history, but also more broadly allowing for a consideration of modernization and its impact?
Yes. Before this project I worked on Hiroshima and before that Paris—all of these cities have been hugely impacted by modernisation.
My work relates to a consideration of history, and its continuing impact. As part of this, I am interested in how people are affected by modernisation. History and its impact—this is what my work is about.
The YUBARI MATRIX work is laid on the floor and covered with reinforced glass so people can walk on it. I understand it was curator, Shihoko Iida who suggested this to you. How do you see this new way of presenting your work as impacting how it is perceived?
I felt it was a good idea to put the work on the floor. People are able to actually walk on it and in this way they can experience it in a more physical way. I hope that for the audience to actually physically experience the artwork, they will gain a better idea of how the work is made, and importantly what the work is about—which is about evoking the history of the site and a consideration of the impact of that history on the city and people.
I combined many frottages to create YUBARI MATRIX, and it actually represents the size of the particular site. But sometimes, I only take a rubbing of a detail of a site, but I nevertheless want that detail to evoke a consideration of the site in its entirety – just as a detail from history, can evoke a period of history.
So using a fragment to make the person think about the whole?
Yes, exactly. And then by compiling the fragments altogether, I want to give the work some impact.
I notice there were two other works in the Festival by young Hokkaido artist that I felt appeared to be very influenced by your work: a work by Ken'ichiro Taniguchi who took a mold of cracks in the pavement to create his work; and a work by Hidemi Nishida which features a life size image of discarded railway sleepers created by the artist collating hundreds of A4 scanned impressions of the site.
Yes, I noticed their work too. I think I may have influenced them, and it feels good.
But I always use my hands. That is my rule, and they use a slightly different approach.
It is nice to see younger artists perhaps influenced by me, but taking my ideas in different directions too. I am happy to hear that. —[O]