Feature
Ocula Report: ART021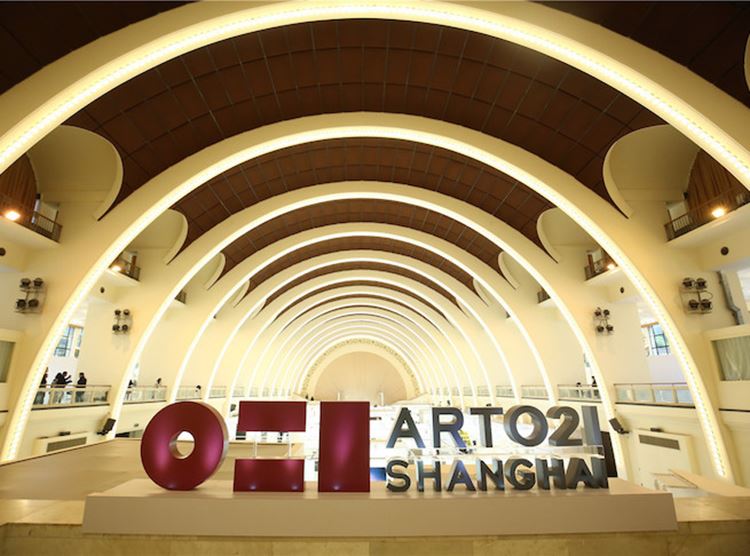 ART021, Shanghai. Image courtesy ART021.
Shanghai's upstart art fair has moved up a weight class, but some of its moves are as unusual as ever.
The opening of ART021 on Friday, 20 November ended at Shanghai Night Club (上海之夜), a four-storey karaoke bar run by Chinese collector Qiao Zhibing. Painter Ding Yi held a cigar in his hand and wore a bemused expression on his face as singer QT tottered around the venue's main stage, watched over by several large Yang Fudong photographs, lip-syncing something forgettable in front of tentacles of pink balloons that spelt out the words 'Hey' and 'Pow.' Inevitably, partiers soon broke off, ostensibly to see work by the blue chip artists—including Marina Abramović, Zeng Fanzhi and many others—displayed in the venue's dim hallways. Some were clearly more curious about the long lines of uniformed women marching through the corridors.
ART021, Shanghai. Image courtesy ART021.ART021 is a strange, strangely successful art fair. What began with 29 galleries in an abandoned art deco building on the Bund in 2013 has now grown to 75 galleries, over a quarter of them from outside China. It's the first fair to bring Gagosian Gallery to Shanghai in ten years.
The founders, PR honcho Bao Yifeng and former gallery director Kelly Ying, are young Shanghai locals, and the event, which takes its name from Shanghai's calling code, remains a vibrant affair. That's despite it shifting this year to the western half of the Shanghai International Exhibition Centre, which still feels a little haunted by its predecessor, SH Contemporary, the city's best known art fair until its implosion last year.
Outside the Exhibition Centre, He An's Dark Side of the Moon (2014) was the best of the fair's special projects. The cylinder, which is almost the size of a shipping container with eight industrial-strength lamps aimed inwards at each end, looks like an introverted bat signal or a downed UFO. He An's oeuvre is piled high with such eerie, dystopian industrial junk. He also has a work, in the form of a sign, displayed outside Shanghai Night.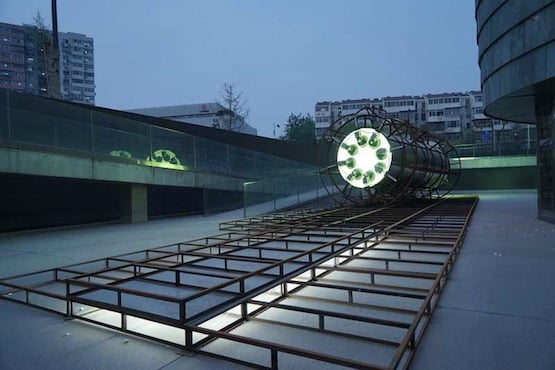 He An, Dark Side of the Moon (2014). 6 m x 1.5 m x 15 m. Courtesy MadeIn Gallery.Inside, things were much more festive with candy floss and champagne proffered to a chic, young crowd. Galleries were enthusiastic too as works sold briskly. Tokyo's Ota Fine Arts sold well (unsurprisingly two Yayoi Kusama works were spoken for within the first hours of the fair), Galerie Perrotin moved some Takashi Murakami, and ShanghART sold a wonderful abstract piece by Shanghai painter Yu Youhan, entitled 2010.09.13 (2010), for 1,800,000RMB. Gagosian kept its sales numbers close to its chest, but apparently offloaded more than 80 percent of its works, including Dan Colen's bad joke The Last Night of the World (2013). Just some of the pieces Long March Space sold included Zhan Wang's Artificial Rock No. 124 for 2.55 million RMB, Wang Jianwei's Incredibly Close No. 2 for 800,000 RMB, and tapestries, paintings and a gold wall sculpture by Chen Tianzhuo.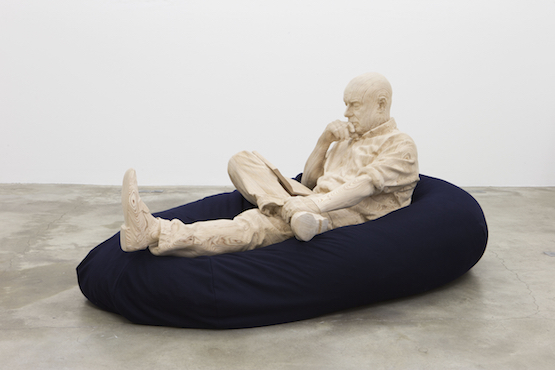 Xavier Veilhan, Brian Eno, 2015. Plywood, Wool, Polystyrene. 140 x 190 x 110 cm. Courtesy Galerie Perrotin.Chen took part in a panel discussion, wearing a technicoloured cardigan he picked up in Harajuku, and remained at the Long March Space booth afterwards, telling us about his plans to publish his own art book with a small publishing house in Beijing, the only one he could find that would publish its risqué contents. Unable to get an ISBN number in China, he has applied for an international one through Hong Kong.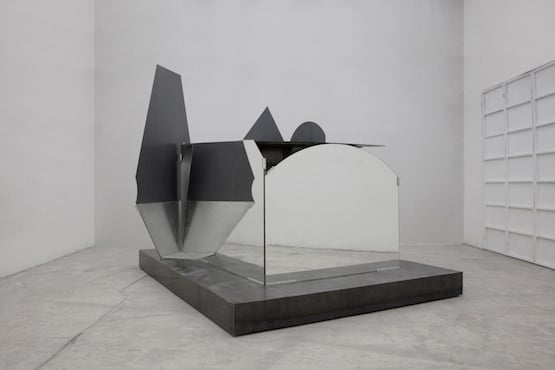 Liu Wei, Puzzle, 2014. Glass, aluminum alloy. Courtesy Liu Wei Studio and Long March Space. Photographer: Jackal Lau.Another artist on the show room floor was Iranian-born Briton—and 1994 Turner Prize nominee—Shirazeh Houshiary, showing with Lehmann Maupin. In Shanghai on her first visit to China, Houshiary, whose work draws on the Persian cultural tradition, worried that China had utterly lost its history, blinded by 'bling'. Asked about another great cultural annihilation—the sites now being destroyed by religious zealots in the Middle East—Houshiary admitted envying the astronauts, the only people who could conceive of the entire planet, not just their corner of it as home. Her solo show, Through Mist is open in Hong Kong now and until 9 January 2016.
Some of the finest work by young artists could be found at Space Station—who showed works by Yang Xin and Ye Funa, among others—and Antenna Space, which showed a car wheel drum installation by Guan Xiao, one of the favorites for the Hugo Boss Asia Art Prize 2015.
ART021, Shanghai. Image courtesy ART021.But ART021 is much more about young buyers than young artists. Some galleries admitted wondering about the seriousness of collectors, and where their pieces would end up. That said, even serious collectors sometimes put their collections in strange places. It's not just Marina Abramović that's found her way into Shanghai Night. Antony Gormley, whose sculptures are now on rooftops around Hong Kong, has a piece at the top of the first floor staircase.—[O]