Feature | Exhibitions
Brussels Gallery Weekend 2022: Exhibitions to See
Jeff Wall, Headstone on an ossuary (2007). Inkjet print. 150 x 175.5 cm. 5/5. © Jeff Wall. Courtesy the artist and Galerie Greta Meert.
Brussels Gallery Weekend returns for its 15th year (8–11 September 2022) with a robust four-day exhibition programme. Ocula Magazine shares a selection of exhibitions to see around the city.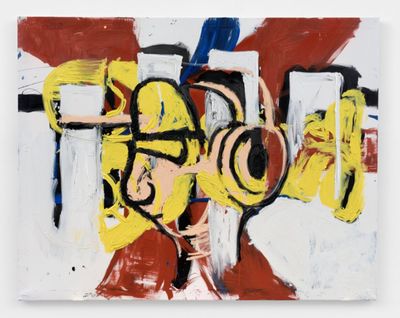 Gerasimos Floratos,
Dura Cipher
(2022). Oil and acrylic on canvas. 167.6 x 213.4 cm. © Gerasimos Floratos. Courtesy the artist and Almine Rech. Photo: Dan Bradica.
Gerasimos Floratos: Maps
Almine Rech, 20 Rue de l'Abbaye
8 September–8 October 2022
Gerasimos Floratos' disjointed figurations abstract anonymous bodies while doubling as topographical maps of New York City, where he lives and works. A suite of these works is on view for the artist's second solo exhibition with Almine Rech.
Distinct high-rise structures from the metropolis are noted in paintings like Dura Cipher (2022). Tangled in a swirl of yellow hair, the faceless figure is segmented by a row of upright rectangles. A red 'X' crosses the pure-white backdrop, denoting the dissolution of individual identity.
Other paintings depicting psychoactive mushrooms speak to the artist's ongoing interest in exploring alternative perspectives. A parallel is formed between mind-altering substances and mental conditions, and the possibilities are extended by the artworks.
Jeff Wall, Event (2020). © Jeff Wall. Courtesy the artist and White Cube, London. Courtesy Galerie Greta Meert.
Jeff Wall
Galerie Greta Meert, 13 Rue du Canal
8 September–5 November 2022
Vancouver-based photographer Jeff Wall is known for large-scale images that stage open moments. With warm tones and neorealist influences, photographs on view span four decades.
From early-1980s documentary photographs to cinematographic tableaus from recent years, trends are noted within the artist's works, often referred to as instances of 'prose-poetry' that speak to present times.
Among them, the inkjet print Event (2020) depicts two men intercepted mid-conversation at a formal event. Wall makes it clear it is an enactment, with stiff postures and colour-filtered frames. The focus is on the action portrayed, which is apprehended outside the image's context.
Maria Zahle, Ocean (2018). Hand-coloured paper collage and archival tape (framed). 59.5 x 79 cm. © Maria Zahle. Courtesy Arcade.
Maria Zahle: TURN, TURN, TURN
Arcade, 10 Rue du Marché aux Porcs
8 September–8 October 2022
Danish artist Maria Zahle's minimalist paper works are notable for their bricolaged constructions. It is as though Zahle resists digitally mediated images by turning to craft and handiwork.
Among the works on view is the paper collage Ocean (2018). A pink shape is secured with a small piece of tape on a hand-coloured surface. The work extends from a series of the same name, in which forms cut out of solid colour are collaged onto backdrops of darker shades.
Similar forms are present in The Toe, The Horse, The Sister (2021), Zahle's visual poetry book that includes 25 poems reflecting on the roles she assumes, both within the art world and as a family member.
Monique Van Genderen, Untitled (2019). Oil on linen. 213 x 183 cm. Courtesy the artist and Bernier/Eliades Gallery.
Monique Van Genderen: California Painting: Fire, Air & Water
Bernier/Eliades Gallery, 46 Rue du Châtelain
8 September–17 December 2022
Monique Van Genderen's abstract landscapes are known for their variations in colour and translucency, often drawing from natural elements within her native South California.
In California Painting: Fire, Air & Water, bold, gestural marks appear as calligraphy or minimalist strokes, atop delicate, semi-translucent surfaces in the oil on canvas paintings.
'I am from Southern California and represent the harder light,' Van Genderen explains. 'From Los Angeles, I represent experimentation with new materials.' Accordingly, in the past, the artist has experimented with materials from egg tempera to wax on paper and glaze on clay.
Miranda Fengyuan Zhang, An entrance (2022). Hand-woven cotton. 109.9 x 64.1 cm. © Miranda Fengyuan Zhang. Courtesy the artist and Mendes Wood DM, São Paulo/Brussels/New York. Photo: Kunning Huang.
Miranda Fengyuan Zhang: Thus to sleep is sweeter than to wake
Mendes Wood DM, 13 Rue des Sablons
8 September–8 October 2022
Miranda Fengyuan Zhang's first exhibition in Brussels explores the 'luring sensation of dreams'. Accordingly, works on view include a 19th-century French divider installation and hand-woven paintings that double as narrative devices to organise memory.
Zhang contends with the shifting function of the 4th-century Chinese antique from windshield to ornament. She considers it as something that can and cannot be read, as with a lucid dream. Building on the latter, windows, passages, entrances, and openings appear as motifs throughout.
In An entrance (2022), a rugged cotton surface of muted purple and red displays uneven lines that recall the blurred nature of impressions within dreamscapes. A small opening at the bottom centre urges the imagination towards possibility.
Sophie Kuijken, K.I.O. (2022). Acrylic and oil on plywood panel. 30 x 90 cm. Courtesy the artist and Galerie Nathalie Obadia Paris/Brussels. Photo: We Document Art.
Sophie Kuijken
Galerie Nathalie Obadia, 8 Rue Charles Decoster
8 September–15 October 2022
While contemporary in their features, at first glance Sophie Kuijken's portraits resemble Flemish Renaissance paintings. Only, they are composed of photographs collected from the internet.
Reflecting the prominence of data compilation as a time-collapsing practice, portraits like K.I.O. or P.L.K. (both 2022) depict a man and a child respectively, both of whom could very much be alive today.
Referencing traditional portraiture, Kuijken seats one subject in a green tunic with crossed arms, as if they were a mediaeval priest expressing piety. The other is covered in a trailing silk gown like royalty.
Cecilia Edefalk, FÄNKÅL, Fennel, Foeniculum vulgare (1979). Watercolour on paper, four parts. 31.3 x 10.3 cm; 3.3 x 22.2 cm; 31.3 x 22.2 cm; 31.3 x 11.5 cm. Courtesy the artist and Gladstone Gallery.
Cecilia Edefalk
Gladstone Gallery, 12 Rue du Grand Cerf
7 September–8 October 2022
Previously shown at the Nordic Watercolour Museum in Sweden alongside watercolours by Hilma af Klint, Cecilia Edefalk's botanical drawings from the late-1970s are on view at Gladstone Gallery.
Edefalk's drawings are based on years-long road trips along Europe's coastline, during which the artist documented and catalogued native plants in collaboration with botanist Anders Tehler.
Extending the artist's reflections on the natural world is a film work comprising digital slides of the journey, and a documentary-style film that highlights different ways to engage with and experience nature.
Benoit Platéus, The Purple Oyster (2022). Oil and collage on canvas. Courtesy Meessen De Cercq.
Benoit Platéus: 7 Hz
Meessen De Clercq, Rue de l'Abbaye 2A
8 September–5 November 2022
Benoit Platéus explores the potential for representational forms to materialise new realities, in a series of paintings inspired by brain waves emitted during meditation, deep relaxation, and R.E.M. sleep.
Alluding to worlds-in-the-making, abstracted fauna and floral forms linger atop gradated, wavering, or grainy surfaces, as seen in the oil and collage on canvas, The Purple Oyster (2022).
The artist's interest in the fluid nature of the image can be traced to his ongoing 'Jugs' series. In this series, an array of plastic bottles containing darkroom chemical residues are rendered solid as resin mouldings, thus embodying the images that could have been.
Louisa Gagliardi, Boiling Point (2022). Nail polish and ink on P.V.C. 170 x 155 cm. Courtesy the artist and rodolphe janssen, Brussels. Photo: HV photography.
Louisa Gagliardi: Around the Clock
rodolphe janssen, 35 Rue de Livourne
8 September–22 October 2022
Louisa Gagliardi's printed mind palaces are not ordinary, despite embedding memory into the everyday. In Around the Clock, they appear as fading moments in uncanny domestic locations, resting on vinyl surfaces and slipping away.
In Boiling Point (2022), tangled spectres emerge from translucent pots on a stove, caught in an embrace. Moments of stillness and waiting open into a revelation of the subconscious, rendered in nail polish and ink.
This merging of analogue and digital echoes the perceptual shifts following the introduction of digital space. Gagliardi's works may act as an atemporal storage container of sorts, where fact blends with fiction.
Prune Nourry, Chasseresse à sein unique (2021). Bronze, incense (inox). 76 x 25 x 20 cm. Edition of 5 + 2 AP. Courtesy the artist and Templon.
Prune Nourry: Infinite Arrows
Templon, Rue Veydt 13A
8 September–22 October 2022
The arrow has appeared in Prune Nourry's work since the artist's first depictions of Amazon warriors after her breast cancer diagnosis in 2016.
Motifs of healing and women fighters as symbols of strength have featured in Nourry's work since—from the four-metre-tall Amazon warrior covered in incense sticks made in 2018, to L'Amazone Érogène, where 888 floating arrows were installed inside a Parisian department store in 2021.
The arrow motif is explored through the lens of American minimalism at Templon, where bronze figures, delicate arrow-and-wire sculptures, and wooden targets framed and marked by feathered arrows, synthesise the artist's reflections from recent years.
Joe Bradley, Untitled (2022). Graphite on paper. 35.2 x 44.5 cm. Courtesy the artist and Xavier Hufkens, Brussels. Photo: HV-studio.
Joe Bradley: New Paltz
Xavier Hufkens, 6 Rue St-Georges
9 September–15 October 2022
When Joe Bradley moved into abstraction in the late 1990s, he did so with the intent to 'inject a bit of irony'. Modular paintings soon followed, in which figurative forms appeared as assemblages of totemic geometric shapes.
As such, Bradley's drawings, paintings, and sketches have been compared to cave-like paintings and primitive art, as though expressing something fundamental about the need to create. In New Paltz, recent paintings and works on paper that recall comic strips contest the history of Abstract Expressionism and studio practice.
An untitled pencil drawing from 2022 manifests this tension between 'pure' expression and art-making. A triangular incision rests below tangled letters that form the word 'Struggle', in which the 'T' is firmly held by a hand emerging from the 'S'.
© Olivier Foulon. Courtesy the artist and dépendance.
Olivier Foulon: Les hommes du pier
dépendance, 4 Rue du Marché aux Porcs
8 September–22 October 2022
Belgian artist Olivier Foulon's third exhibition with dépendance leaves its contents undisclosed. Known for still-life photographs that reference the photographic medium, Foulon has incorporated art historical references in his work, from Courbet to Broodthaers.
Foulon's 2016 exhibition at Galerie Clages in Cologne, for instance, featured photographs contending with absence. The works were inspired after a visit to the Musée d'Orsay in Paris, intending to see Courbet's L'atelier du peintre (The Painter's Studio) (1854–1855), just as the work was being restored.
In this painting, Courbet sought to portray his social milieu as a painter. Foulon replaced the setting with the work's current museum context, including school children, information labels, and backpack-wearing visitors, alluding to the shifts in meaning introduced by gaps in time.
Shimabuku, Sharpening a MacBook Air (2015). H.D. video with sound and MacBook Air with handle. 2 min, 6 sec. Collection Silvia Fiorucci Roman, Monaco.
Shimabuku: Instrumental
WIELS, Av. Van Volxem 354
9 September 2022–8 January 2023
Shimabuku's first presentation in Belgium deploys absurdity to address the function of art, and its expectations of functionality.
The exhibition centres on musical instruments and the role of music within the artist's practice, which has included manual tools and objects transformed into instruments, such as an archer's bow transformed to be played as a double bass.
Accordingly, music takes centre stage within video works on view, such as Some Things Happen Twice: An Elephant Comes from the Sea (2021) and Sharpening a Macbook Air (2015), both of which feature the unlikely occurrences implied in their respective titles.
Trong Gia Nguyen, The Diabolical (Number 1.2) (2022). Acrylic latex on wood. 91 x 67.5 cm. Courtesy La Patinoire Royale and Galerie Valerie Bach.
Trong Gia Nguyen: In Perpetuity
La Patinoire Royale, 15 Rue Veydt
9 September–12 November 2022
Brooklyn-based artist Trong Gia Nguyen explores power structures and their relationship to culture, politics, and the economy. His works range from phone applications to performances, installations to web-based actions.
For the artist's second exhibition with La Patinoire Royale, themes including war, misogyny, and the erosion of civil rights are revisited, with an emphasis on highlighting the increasing normalisation of cruelty and violence.
Among the paintings on view is a depiction of a long table à la Putin, and a collection of low-relief height charts—similar to those that may be used as mugshot backdrops. In The Diabolical (Number 1.2) (2022), the chart is rendered in cool blue acrylic latex on wood, with the phrase 'Recolonize this Place' appearing in dripping letters at the bottom.
Exhibition view: Sofia Pashaei, Meaning in the off hours, Ballon Rouge, Brussels (8 September–23 October 2022). Courtesy the artist and Ballon Rouge. Photo: GRAYSC.
Sofia Pashaei: Meaning in the off hours
Ballon Rouge, 2 Place du Jardin aux Fleurs
8 September–23 October 2022
For her first solo exhibition at Ballon Rouge, Sofia Pashaei presents narrative paintings that address the relationships that form the core of our identities, both with ourselves and with others.
Pashaei's paintings are recognisable for their crisp colours and distinct figurations. Female bodies and their backdrops are often abstracted into geometric forms with a surreal edge.
Recurring motifs such as toy birds and lemons hint at childhood and making do with life's offerings. In one A.R. animation on view, the central lemon character carries forth the artist's enquiries, reflecting on the passage of time and the meaning of home.
Christine Want, Sarcastic Willy Wonka (2020). Courtesy the artist and Super Dakota.
Liquid Life
Super Dakota, ​​45 Rue Washington, B
8 September–22 October 2022
The group exhibition Liquid Life explores the nuances of contemporary life. In conditions of increasing acceleration and uncertainty, the show questions the possibility to escape from within.
Addressing this 'collective experience of alienation', works by Chris Dorland, Sin Wai Kin, and Christine Want, among others, explore present modes of communication, identification, and desire.
Want probes the meme as a form of contemporary documentation with Sarcastic Willy Wonka (2020), which presents an image of the Wonka meme reading, 'So you made an exhibition about memes. That sounds so interesting'.
Aryo Toh Djojo, Flick of the Wrist (2022). Acrylic on canvas. Set of four works. Variable dimensions. Courtesy the artist and Stems Gallery.
Aryo Toh Djojo: Sploastce
Stems Gallery, 4 Rue du Prince Albert
8 September–12 November 2022
Known for nostalgic representations of California's landscapes, Aryo Toh Djojo's cinematographic visualisations carry over to Sploastce, where the artist explores the seemingly arbitrary occurrences that make a life.
Djojo's puzzles recover the rebus to explore the idea of chance, with sets of four paintings combined to form sentences. Possible arrangements are envisioned from associations formed over a lifetime. Just like the shifting landscapes, the familiar becomes unfamiliar. —[O]