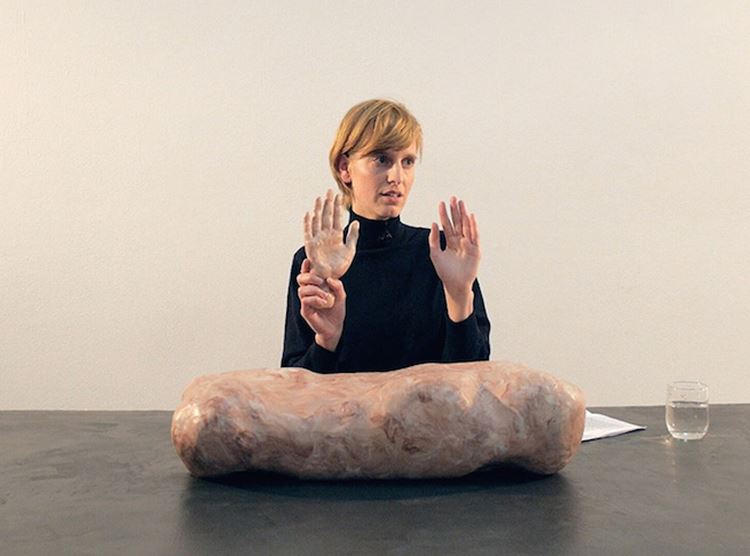 Video still from Hedwig Houben, 'The Hand, the Eye and It', 2013. Lecture/performance. Video by Bas Schevers. Courtesy of Fons Welters Gallery, Amsterdam and Parasophia
Spring has finally arrived, and though the blooming of the sakura cherry blossoms may already be in the past, the weather is still lovely, no doubt inspiring people to discover new places to enjoy beauty. Luckily, in Kyoto, sakura aren't the only things that wil bloom this spring. In a city full of galleries big and small, as well as alternative art spaces such as café-galleries, and with the opening of several international art festivals, the art scene in Kyoto is also in full bloom.
Parasophia: The Kyoto International Festival of Contemporary Culture, 2015
Saturday, 7th March – Sunday, 10th May
Website: www.parasophia.jp
Over the course of 65 days in March, April and May, artists from all over the world will show their work at various museums that will act as venues for Parasophia. This is the first large-scale international contemporary art festival ever to be held in Japan's cultural capital of Kyoto.
One of the key characteristics of the event is how the works were created. Prior to the festival, the participating artists visited Kyoto to immerse themselves in its distinct atmosphere and to interact with the locals, thus inspiring the work created for the event. For example, 2010 Turner Prize winner Susan Philipsz chose the Kamo River Delta (where the Kamo and Takano Rivers meet) as the venue for her sound installation.
The organisers of the event are encouraging art-goers to visit the various exhibitions multiple times by offering a passport ticket allowing unlimited entrance to the festival's exhibitions. The Kyoto Municipal Museum of Art and The Museum of Kyoto will be serving as main venues, with other more intimate venues located within 2km.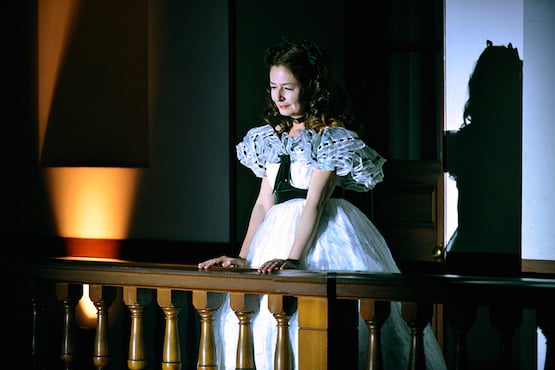 Parasophia: Kyoto International Festival of Contemporary Culture, 2015. Open Research Program 03 [Lecture/Performance] Dominique Gonzalez-Foerster M.2062 (Scarlett), Annex, The Museum of Kyoto, September 6, 2013. Photo by Tadashi Hayashi, courtesy of the Parasophia Office
KYOTOGRAPHIE International Photography Festival 2015
Saturday, 18th April – Sunday, 10th May
Website: www.kyotographie.jp
This annual springtime international photography festival, now in its third year, seeks to integrate the artworks with the exhibition space to accentuate both. This year's festival will be spread across 15 different venues, some modern and some traditional, but each distinguished by their architectural beauty. Of particular note will is a temporary venue made out of recycled cardboard and set up outside Kyoto City Hall by internationally renowned Pritzker Prize-winning architect Shigeru Ban in collaboration with students from the Kyoto University of Art and Design. Other highlights include an exhibition of photos from 1950s Alaska presented in the kura (traditional storehouse) and an exhibition by artist Kimiko Yoshida who, with the support of the Italian design house Gucci, has created a series of self-portraits that integrate traditional Kyoto crafts into her own contemporary style. This exhibition will be held in Karakuan, an official Cultural Property of Kyoto City.
There will also be a range of talks, workshops, musical events and special programs to help engage the public in photography. These include a portfolio review for photographers and a 3-day photography masterclass on project development led by Stéphanie de Rougé from the International Center of Photography in New York.
In addition, there is a satellite festival: KG+, featuring the work of emerging photographers in more intimate venues such as temples and café-galleries to allow artists, industry professionals and visitors an opportunity to interact with each other.
Suntag Noh, reallyGood, Muder #BIK1809, Chungcheong-do, 2008. © Suntag Noh. Courtesy KYOTOGRAPHIE
chokyoto
Friday, 24th April – Sunday, 26th April
Website: www.chokyoto.com
chokyoto is an art fair in Kyoto that has been held irregularly since 2010 and specialises in showing contemporary art in traditional settings. This year, the chokyoto fair will be held in conjunction with another annual art fair, artkyoto. Drawing on the concept of "Ingenuity: the definition of skill", chokyoto will display works from 11 artists nominated by galleries participating in the artkyoto event. The works will be shown at Chionsha, a traditional machiya building dating from the Taisho Era (1912-1926), and the former residence of Kichiemon Nishimura, the proprietor of Chikichi, a store that supplied Buddhist monks with their religious vestments. Chionsha is a five-minute walk away from the Museum of Kyoto, which is the venue for artkyoto. Participating galleries include Arataniurano, Yamamoto Gendai, Mujin-To Production, Mizuma Art Gallery and Tomio Koyama gallery.
chokyoto exhibition space Chionsha
RECOMMENDED GALLERIES IN KYOTO
Imura Art Gallery
The Imura Art Gallery is a contemporary art gallery located in Kyoto since 1990 that focuses on displaying the work of Kyoto-based artists. Its next exhibition starting 18 April, "1x1=1", will be a solo exhibition featuring the photo digital paintings of Masaharu Sato. Sato has developed his own technique of tracing photographs to recreate hyper-realistic images. The artist says of his work: 'I divide one thing into two or consolidate two things into one. Then I trace photographs, which are replicated objects, to replicate them once again by drawing. These works are an attempt to express the intermediate structure between photographs and paintings which I have been working on recently'.
Location: Marutamachi Street and one block west of Higashioji Street. Train Station: Keihan Marutamachi Jingu.
Imura Art Gallery
Mori Yu Gallery
A short 10 min walk from the Imura Art Gallery, the Mori Yu Gallery is located by the Lake Biwa Canal. It is a contemporary art gallery that has focused on showing the work of both emerging and established artists since 2001. The gallery's stated aim is to encourage originality of artistic expression and to show work that seeks to stimulate—and even shock—the senses. The programme also focuses on work that references traditional Japanese aesthetics (such as the formalism of Rimpa or the essence of Edo and Meiji) in the creation of original contemporary artworks. Its next exhibition, a singular community, will feature the work of the French artist Alexandre Maubert and will include inkjet prints and sculptural work.
Location: Reisen Street, one block west of Higashioji Street. Train Station: Keihan Marutamachi Jingu, Exit 2 (7 minute walk)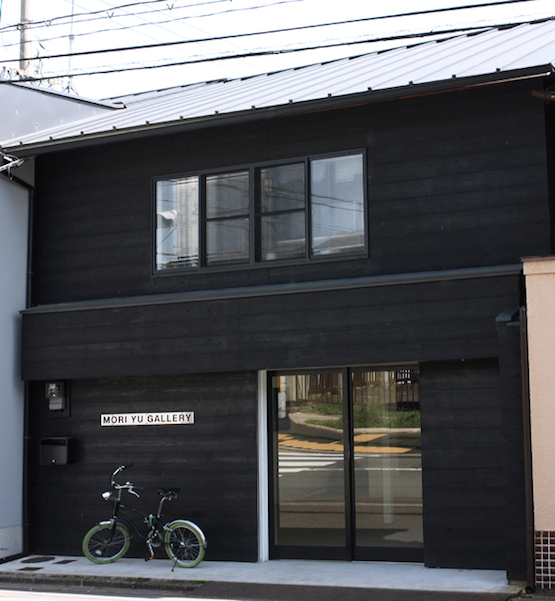 Mori Yu Gallery
eN arts
Opened in 2008 in Maruyama Park, the eN arts gallery is housed in a tranquil Japanese style building. The next exhibition, Tsukurimono Showcase #4 will present photographic works curated by Minoru Shizumu. Featured artists will include Daisuke Nakashima and Yusaku Yamazaki. It will run from Friday, 8th May until Sunday, 31st May.
Location: Just north of Yasaka Shrine, south of Chionin Street.
Train Stations: Keihan Shijo Station or Hankyu Kawaramachi Station (10 minutes walk)
Sokyo Gallery
Sokyo focuses on ceramics and figurative sculptures. Their work expands beyond traditional uses for ceramics and explores the medium with a focus on innovative expression.
Location: Just west of the intersection of Furumonzen Street and Yamatooji Street in the Higashiyama District. Train Station: Keihan Sanjo Station or Sanjo Subway Station, Exit 5 (5 minutes walk), or Hankyu Kawaramachi Station (10 minutes walk).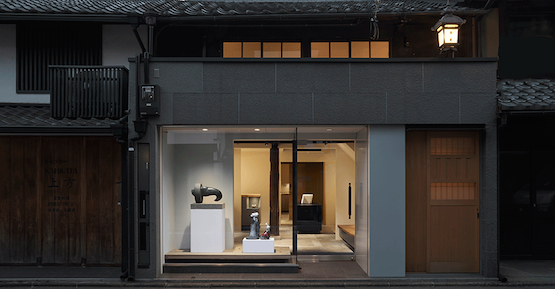 Sokyo Gallery
Kodama Gallery
With two gallery spaces, one in Kyoto and the other in Tokyo, collectively Kodama Gallery has the largest available gallery space in Japan. Across its three galleries, Kodama hosts about 25-30 exhibitions a year, mostly focusing on contemporary artists from the Kansai region. Until 25 April, the gallery will showcase the experimental film-based work of Ryusuke Ito in an exhibition called
All Things Considered
.
Location: The corner of Jujo Street and Kawaramachi Street. Train Station: Jujo Subway Station (3 minute walk) or Keihan Tobakaidou (5 minute walk).
Gallery Nomart
Gallery Nomart focuses not only on the visual elements of art, but also on how other sensory modalities (such as sound) can be integrated into the visual experience. In addition to their gallery space, Gallery Nomart produces graphic design work for various clients, and also runs a workshop area where they carry out commissions for graphic prints and architectural sculptures. Their next exhibition, Mixta Celebración, will feature work by Tadahiko Ikegaki inspired by his time in Mexico and Spain, and will run from Saturday, 18 April – Saturday, 16 May. There will be a special music/talk event to celebrate the opening at 6pm on 18 April (1500yen).
Location: 3-5-22 Nagata, Juto-ku, Osaka City. Train Station: Fukaebashi Subway Station, Exit 1 (5 minute walk), JR Hanaten Station on the Katamachi Line (15 minute walk).
Since the venues of Parasophia are scattered throughout the city, we recommend that you buy a one-day bus pass for Kyoto City bus. A good itinerary would have you starting at Kyoto City Museum, followed by a walk around Okazaki neighborhood where you can visit the Mori Yu Gallery. Then move on to the Sanjo area of the city, only 15 minutes by bus from the Kyoto City Museum, to see the Kyotographie exhibition.—[O]