Feature | Exhibition
Miami Lowdown: Must-See Exhibitions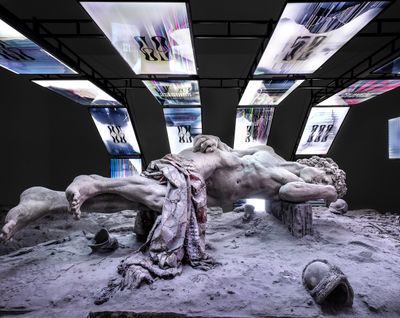 Exhibition view: Adrián Villar Rojas and Mariana Telleria, El fin de la imaginación, The Bass Museum of Art, Miami (27 November 2022–14 May 2023). Photo: Zaire Aranguren.
Anticipating Art Basel's return to Miami Beach (1–3 December 2022), Ocula Magazine shares a critical selection of must-see exhibitions across the city's main galleries and institutions.
Didier William, Mosaic Pool, Miami (2021). Acrylic, collage, ink, wood carving on panel. 172.72 x 264.16 cm. Collection of Reginald and Aliya Brown. Courtesy Museum of Contemporary Art Miami.
Didier William: Nou Kite Tout Sa Dèyè
Museum of Contemporary Art, North Miami, 65 Bleecker Street
2 November 2022–16 April 2023
A closer look at Haitian-born painter Didier William's cloaked bodies will reveal their dark forms are composed from a dense mesh of all-seeing eyes that prompt an inquiry into their identities.
Their amorphous figures often populate vivid autobiographical and mythological narratives inspired by Afro-Caribbean history. Such influences combine with the artist's memories growing up in North Miami in recent figurations like Mosaic Pool, Miami (2021), where semi-abstracted bodies bathe in turquoise waters in a backyard scene.
We've Left That All Behind is the artist's largest retrospective so far, illustrating the 'psychosocial spaces' of Miami's diaspora communities across over 40 paintings, prints, drawings—and a very first sculpture inspired by religious columns in Haitian worship rituals.
Paula Wilson, Strata III (2022). Mixed-media on muslin and canvas. 217.80 x 124.46 cm. Courtesy Emerson Dorsch.
Paula Wilson: Be Wild. Bewilder
Emerson Dorsch, 5900 NW 2nd Avenue
27 November 2022–21 January 2023
New Mexico-based artist Paula Wilson is known for historically revisionist works that contend with the complexities of contemporary identity, often inserting herself or known female tropes within past landscapes and art-historical canons.
Wilson's present exhibition extends a meditation on fragmentation and regeneration, with works gathering pieces from other paintings, smaller representations of objects, and everyday debris, collaged and collated, as if discarded ruins given new significance.
In the mixed-media painting Agora (2022), a procession of figures wearing different traditional garments made from scraps of the artist's old prints on fabric, appear to congregate on the hills, while the visual clash suggests a myriad of coexisting perspectives.
Michel Majerus, Progressive Aesthetics (1997). Acrylic on canvas. 321.95 x 475.93 cm; two parts, 321.95 x 237.97 cm each. © Michel Majerus Estate, 2022. Private collection. Courtesy neugerriemschneider, Berlin. Photo: Jens Ziehe.
Michel Majerus: Progressive Aesthetics
Institute of Contemporary Art, Miami, 61 NE 41st Street
28 November 2022–12 March 2023
Confronting the mass dissemination of the image in the 1990s, Michel Majerus' sober reflections on popular culture and the modernist tradition mirrored the onset of a contemporary aesthetic sustained by a consumer society. The artist's first museum survey in the United States highlights works made during his short but prolific career.
Among them are six screenprint appropriations of collaborations between Andy Warhol and Jean-Michel Basquiat (1984–1985), which the artist flattens and reconfigures, inserting himself into the co-production, as a reflection on cultural progression, mastery and originality, and genius.
Majerus became interested in American consumerism after his many visits to the United States. Speaking to the ever-changing nature of culture and taste, WHAT LOOKS GOOD TODAY MAY NOT LOOK GOOD TOMORROW (2000), reflects the artist's influences beyond fine arts, from graphic design to advertisement and comics, with the text depicted as a whole and in fragments within bubbles, as if a streetside poster.
Cleon Peterson, Wasteland (2022). Acrylic on canvas. 76.2 x 76.2 cm. Courtesy the artist and albertz benda, New York.
Cleon Peterson: No Place (Utopia)
Mindy Solomon Gallery, 848 NW 22 Street
27 November 2022–2 January 2023
Evocative of warfare images on Greek pottery, Cleon Peterson's timely visualisations of men and women caught mid-violence and debauchery recall the Hobbesian state of nature—the same carnage one supposedly overcomes through the establishment of political bodies.
From the belief that happiness comes at the expense of others, Peterson's visual observations speak to utopias founded on destruction. Within the artist's mostly colourless scenes, armed figures enact these power relations as critiques of contemporary society.
Perhaps prompted by their vraisemblance to present political outcomes worldwide, the artist's latest exhibition shift to introspection, with seated figures like the quiet man in Broken Man (2022) seemingly lost in thought, with one hand gripping his weapon like a walking stick.
Adrián Villar Rojas, Mi familia muerta (My Dead Family) (2009). Unfired local clay, rocks. 300 x 2700 x 400 cm. Exhibition view: Yatana Forest, 2nd End of The World Biennial, Ushuaia (24 April–25 May 2009). Courtesy the artist and The Bass Museum of Art. Photo: Carla Barbero.
Adrián Villar Rojas and Mariana Telleria: El fin de la imaginación
The Bass Museum of Art, 2100 Collins Avenue
27 November 2022–14 May 2023
Adrián Villar Rojas and Mariana Telleria's latest installation, commissioned by The Bass Museum of Art, contends with humanity's trajectory to colonise space and whether arrival to these new places marks a rupture from earth-bound histories and traditions.
Villar Rojas is known for site-specific works that reflect on the anthropocene and fragility of existence. Made of fissured cement, metal, or unfired clay, monumental bodies such as Mi familia muerta (My Dead Family) (2009), a whale immortalised between bare trees inside Argentina's Yantana Forrest, recall the eventual fossilisation of all things.
At The Bass Museum of Art, the artists present an immersive environment where anthropomorphic and proto-human figures explore the symbolism these intergalactic conquests might generate, including new meanings associated with landscapes such as the moon or Mars.
Kathleen Jacobs, Untitled (1995). Baling wire and encaustic paint (oil and wax) on Masonite. 40 x 61 x 7.6 cm. © Kathleen Jacobs. Courtesy the artist and The Bonnier Gallery.
Kathleen Jacobs: Green Creek
The Bonnier Gallery, 3408 NW 7th Avenue
26 November 2022–4 February 2023
Kathleen Jacobs spent many years painting outside before deciding to incorporate the natural environment into her work. In one untitled painting from 1995, an enmeshment of wire and twine tightly enwrap a grey masonite board, prophecising industrial decay.
Jacobs developed her signature frottage style in 1989, when over the course of ten years, the artist wrapped 18 aspen trees with linen and canvas upon which she rubbed layers of oil stick, thus imprinting the textures of their barks onto the fabric, capturing the passage of time.
Green Creek features many of these textured paintings, which transplant nature's imprints into the gallery space, reflecting its gradual dissolution. Equally attesting to humanity's modification of natural environments are clay and porcelain-covered tree trunks, drawings, and prints.
Pablo Atchugarry, Untitled (2010). Cherry wood. 173 x 54 x 62 cm. Courtesy the artist and Piero Atchugarry Gallery.
Pablo Atchugarry: Time's Folds
Piero Atchugarry Gallery, 5520 NE 4th Avenue
27 November 2022–1 April 2023
Renown for large-scale public sculptures made of delicately carved marble that recall monoliths from early civilisations, Pablo Atchugarry's formal invocations of spirituality and divine incantations are surveyed over three decades of work.
In Atchugarry's hands, rock turns into flexible matter. Undulating totemic structures adorning veins and streaks are coated in vivid blues and brasses—carved from materials ranging from Portuguese pink, white Carrara, and crystalline marbles, to bronze and cherry wood.
Conceived from pink marble, one untitled vertical structure from 2010 recalls the silhouetted figure of a Greek goddess; softly branching out from the top, its smooth pastel surface wrapped in an accordion of layers.
Amber Cowan, Fountain with Butterflies in Periwinkle and Milk (2022). Glass and mixed-media. 63.5 x 55.88 x 25.4 cm. Courtesy the artist and David Castillo Gallery.
The Floral Impulse
David Castillo Gallery, 3930 NE 2nd Avenue S201
29 November 2022–28 January 2023
Throughout time, flowers have served as a prominent motif to represent romantic ideals and facts of nature within art and the still-life tradition. Between beauty, growth, mourning, ritual, and remembrance, its symbolism has marked historical imagination.
At David Castillo Gallery, an exhibition curated by Xaviera Simmons brings together the works of 27 artists who explore its history and mythologies. Works on view range from your traditional oil on canvas, to prints and glass sculptures.
Among them, Amber Cowan's intricate glass fountain Fountain with Butterflies in Periwinkle and Milk (2022), comprises an entanglement of roots, flowers, and leaves, overseen by a dark blue stream emerging from the porcelain-white backdrop of collated floral forms. —[O]