Feature
Berlin, Boners and Brecht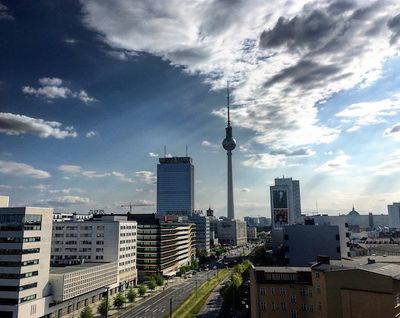 Image: View of Berlin skyline. Courtesy Diana d'Arenberg.
Apparently my timing sucks. One week too late for Berlin Gallery Weekend, and one month too early for the Berlin Biennale. 'You should have been here last weekend for Berlin Gallery Weekend!' a Berliner friend exclaimed. 'Everyone was having orgies at Soho House! It was the best art world networking!' I shifted uncomfortably on my Soho room sofa and cast my eye anxiously across its surface and to the stash of hand wipes in my bag. I am not keen on exchanging bodily fluids with people I am likely to see on the art fair hamster wheel for the next decade.


James Turrell at Dorotheenstadt Chapel, Mitte. Courtesy Diana d'Arenberg.
Now relieved to be a week late, I played catch-up visiting all the latest Berlin exhibitions and drinking with some of the city's most disreputable creative provocateurs. That's not hard to do in Berlin. There is art (and provocateurs) everywhere: it spills out from the city's many galleries and museums into clubs, bars and restaurants (Rikrit Tiravanija is rumoured to be opening a restaurant in the city), and cemeteries. It's on the walls across this famous city of walls; it sits on sidewalks ready to be transformed into readymades; it pops up in weekly events, fairs, and spontaneous happenings; it's exhibited in churches and bunkers; it's on the walls of loos (where I once found an impressive and exquisitely anatomically detailed drawing of 'Mutti' Merkel).
First stop, the Paris Bar, home to an impressive collection of artworks—hung from walls and ceilings—from local artists and international stars alike, and watering hole of legendary German artist Martin Kippenberger. 'You know, he was seated just at that table across from us, fat and drunkenly dribbling all over himself, passing out in his soup shortly before he died', a friend informed me. Everyone in Berlin has an artist story—just like the pinky-ring-wearing brigade in London all have a Royals story—particularly of enfant terrible, Kippenberger. A later dinner at the newly opened Le Petit Royal with a group of arty Berliners, including one who came in bearing a bow and arrow, took place before one of Cosima von Bonin's phallic missiles and a rare drawing by Yves Saint Laurent featuring the biggest boner you've ever seen. This was to be a recurring theme that week, in art, I mean.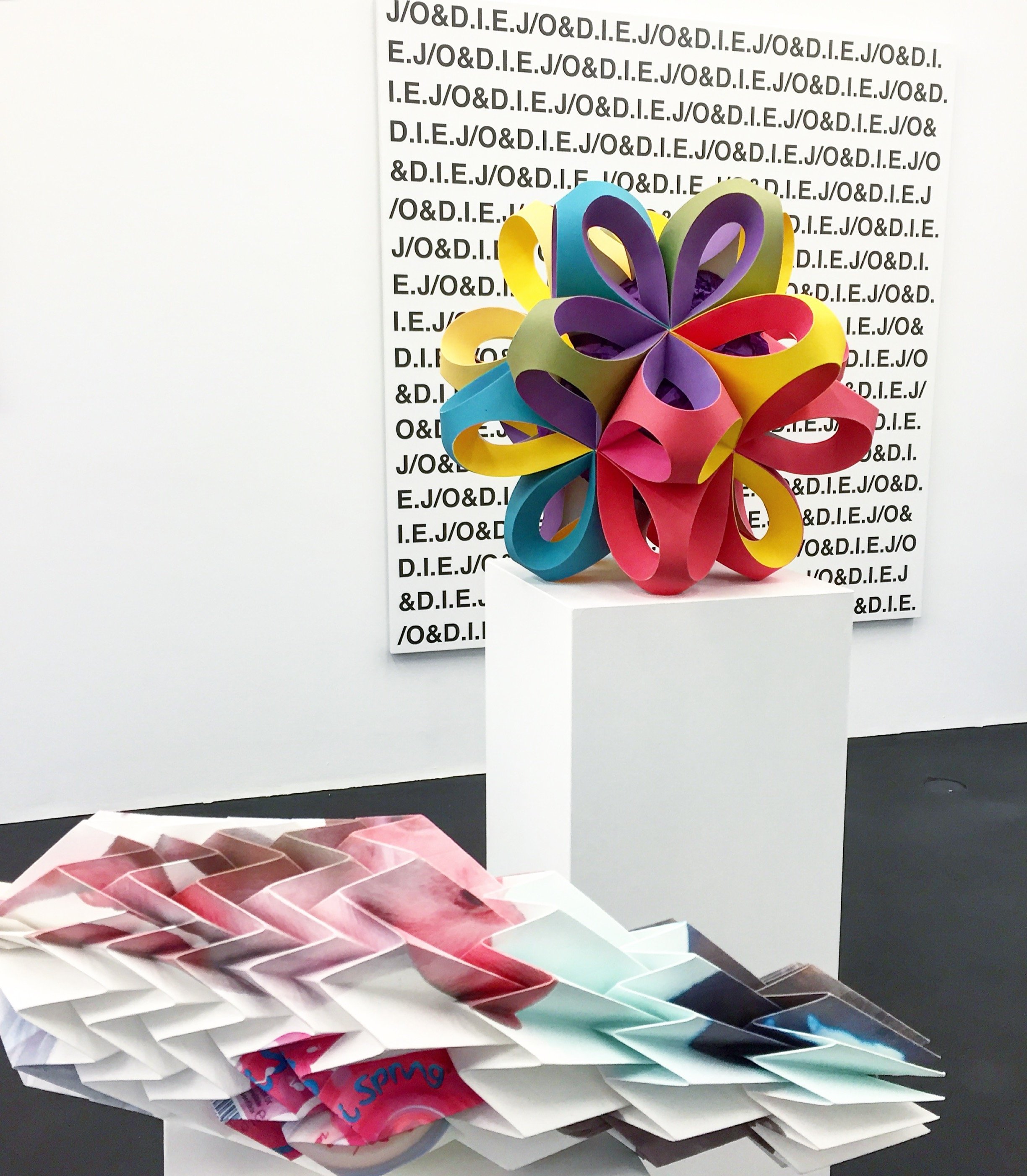 Exhibition view of Tobias Rehberger's exhibition presently at galerie neugerriemschneider. Courtesy Diana d'Arenberg.
The week before, a disorderly party had been held upstairs by one of the restaurant regulars, which included a handful of YBAs and Brit designers. 'You know the artist Tom X *? He had to go down and get some money from the ATM. It's just around the corner, a 5-minute walk on Kant Strasse. He came back 8 hours later missing his shirt and jacket … and no money, or phone. He said he was lost on C*%# Bar on C%# Street and couldn't remember anyone's number to call for help, but his mum's in London. You can really lose yourself in Berlin at 3 AM.' Literally. Or in some cases discover a whole new you.
Over dumplings and Korean sushi with a random bunch of people sharing our table, including Karo, a performance artist known for filming himself having sex with his boyfriend painted as the universe ('so that I am f*&#ing the universe, you see?'), I chat about Araki with a gorgeous shibari performer (the Japanese art of rope bondage). 'I was tied up and suspended from a tree in a Polish forest by a man after doing a lot of MDMA. I'd never met him before. That was my first time doing shibari.' Errr? I think I've seen this film and it didn't turn out so well. 'Yes, it could have gone wrong. But it turns out he was a professional shibari artist in Berlin and now I pose for his photos. I can give you the contact if you want to check it out.' It's fine, I'll just stick to the Araki catalogue.


Exhibition view, Carl Andre: Sculpture as Place, 1958-2010 at Hamburger Banhof Museum fur Gegenwart - Berlin. Courtesy Diana d'Arenberg.
It was a typical Berlin week of contrasts, of darkness and beauty, the sacred and the profane. Amongst the week's exhibitions, we checked out a retrospective of the OJ Simpson of the art world, Carl Andre, at the Hamburger Bahnhof, where Julian Rosefeldt was also showing his incredible Manifesto (2014-15) upstairs. At the Martin-Gropius-Bau, an overrated and rather disappointing Isa Genzken exhibition stood side-by-side with a beautiful exhibition of South African artist William Kentridge's film installations and drawings. Tobias Rehberger was showing a series of colourful geometric paper vases at galerie neugerriemschneider, while silver helium fish floated above our heads like forgotten remnants of a party. And at Galerie Deschler's group show, Boys, Boys, Boys, the bouncer of legendary Berlin club, Berghain, Sven Marquardt was showing black and white photos of bearded tattooed leather boys who looked like they were scouted from the club's infamous fetish parties.


Exhibition view of William Kentridge's exhibition NO IT IS! at Martin-Gropius-Bau. Courtesy Diana d'Arenberg.
I caught up with Lyndal Walker, an old Melbourne artist friend now based in Berlin, and headed to a chapel, located in the 250-year-old Dorotheenstadt cemetery in Mitte, to see a James Turrell installation. We were on hallowed ground and in hallowed company. The cemetery is the final resting place of Bertolt Brecht (to whom we paid tribute, having performed his plays in our younger years); Hegel; and architect Karl Friedrich Schinkel whose buildings can be found dotted around Berlin. The tiny chapel, crammed full of elderly couples, was renovated to an all white minimal interior to better showcase the light installation, which fills the space up with colour and glows from the pulpit and walls. It could have been an hour of spiritual communion, washed in silence and light as Turrell intended, were it not for the interminable monotone commentary, in German, on the work and the chapel's history. From the outside, however, standing amongst graves in the rain, we watched the colours slowly transform in the chapel—from blue, to deep pink and crimson, mirroring those of the late Berlin sunset, and it was truly magical.


With artist Lyndal Walker in Dorotheenstadt cemetery, Mitte. Courtesy Diana d'Arenberg.
Lyndal showed me a collection of her limited edition silk scarves later that week: digitally-printed images of rather impressive anonymous erections from models scouted off Tinder. 'I was very hands on about the whole thing', she explained about the multitasking involved in achieving the desired result. I bought one of a rather chiseled torso reclining on a mid century modern tubular steel chair. I'm all about the design and the composition … and detail. A misguided and misjudged Facebook post with said scarf may have looked like I was enjoying a night out with the Chippendales and will dash my hopes of a future political career, but it was just the thing to leave a lasting impression during my London Soho art misadventures the next week. —[O]
* not his real name because I don't want to get sued.


Wearing one of Lyndal Walker's scarves. Courtesy Diana d'Arenberg.