Insight | Exhibition
Justin Caguiat Blends Paint and Memory
Constellations of colour spill across planes of unstretched canvas and linen in the paintings of Justin Caguiat, coming together in fragmentary scenes that shift in and out of view. At Modern Art in London, Caguiat's latest canvases are presented in his first solo show with the gallery, Permutation City 1999, running until 8 August 2020.
Justin Caguiat, The saint is never busy (2019). Oil on linen. 217.2 x 284.5 cm. Courtesy Modern Art.
The exhibition follows on from the artist's first solo show in 2018 at 15 Orient in New York, a crumbling, elegant apartment owned by Paul Gondry and Shelby Jackson in Brooklyn. Caguiat's large-scale paintings were pinned to white walls: rich yet muted tones containing pointillist patterns and organic forms, their stylistic references ranging from Symbolism to the Viennese Secession, a school of painting informed by Art Nouveau, with Gustav Klimt at the helm. In the gouache on linen Merculet (2018), curved green, yellow, and white shapes resembling halved apples dance against an earthy blue-green backdrop punctuated by white points and crescents. To borrow critic Sophie Ruigrok's apt description, Caguiat's paintings read 'like a primordial soup', their layers pooling into one another and building into patterns and shapes.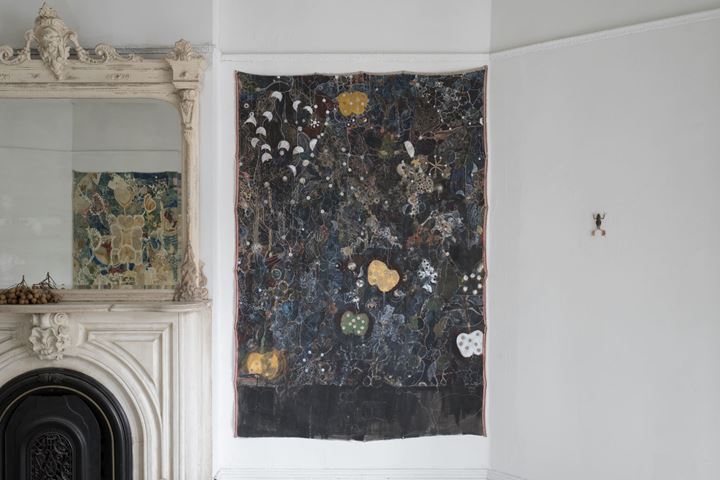 Justin Caguiat, Merculet (2018). Gouache on linen. Exhibition view: God is a Concept from a Story Come to Life, 15 Orient, New York (27 October–30 November 2018). Courtesy 15 Orient.
Important to Caguiat's work are his literary references, which allow his compositions to seep beyond their imperfect edges. At 15 Orient, a segment of Paul Goodman's epic novel The Empire City (1949) supplemented the exhibition, conjuring the image of a river whose surface 'was everywhere giving itself to the air', its vapours contributing to a 'dense atmosphere'. In the absence of frames or borders, language coaxes the depths of Caguiat's canvases to shift outwards, allowing viewers to make connections across resplendent surfaces.
The reverential quality of these paintings is frequently emphasised by their titles. One example is All Flesh is Grass, and all its Trust like the Flowers of the Field (2019), which comes from 'All flesh is grass', a phrase from the Old Testament, and the title of a 1965 science fiction novel by Clifford D. Simak about a small American town that has been enclosed by a barrier enforced by extra-terrestrials who intend to bring unity to the town's population, but instead wreak terror. The work, presented in the group exhibition The Oppposing Shore at Lomex in New York (15 March–21 April 2019) is rendered on unstretched canvas pinned within a wooden frame, containing canary yellows and oranges set against central pools of green.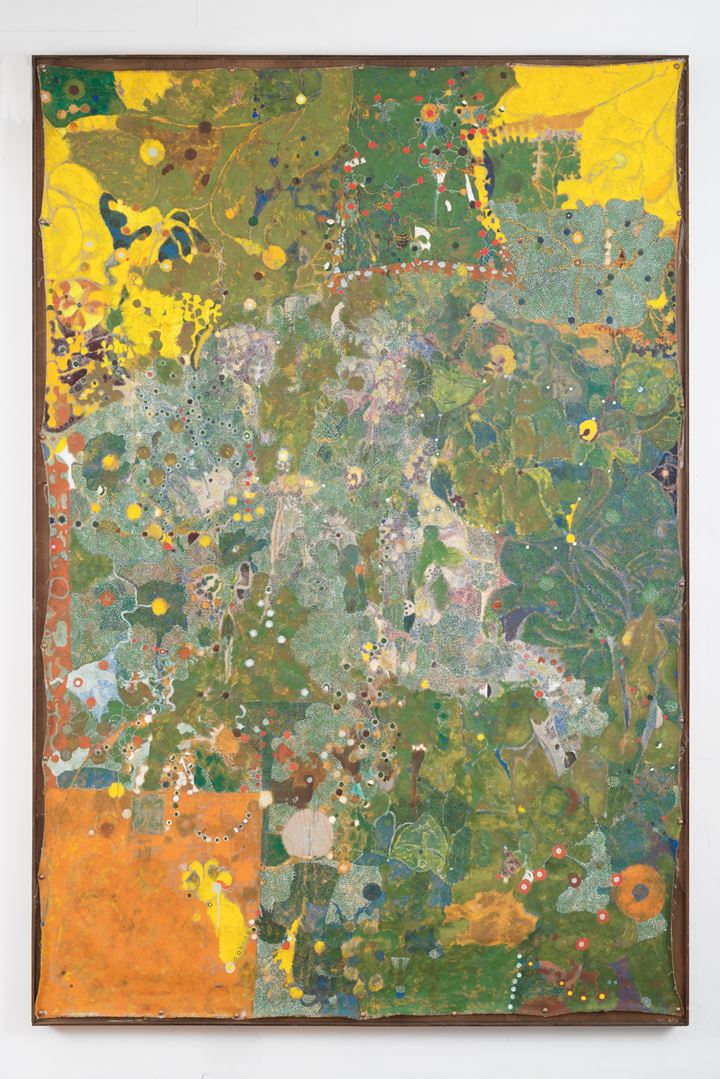 Justin Caguiat, All Flesh is Grass, and all its Trust like the Flowers of the Field (2019). 219.71 x 148.91 cm. Exhibition view: The Opposing Shore, Lomex, New York (15 March–21 April 2019). Courtesy Lomex.
Born in 1989 in Tokyo, Caguiat is co-director of Manila Institute and a published poet. At Modern Art, a text written by the artist supplements the exhibition, conjuring a collection of fragmentary, fictional memories of Tokyo, Manila, and the Bay Area of California, pulled from a journal that an unnamed protagonist finds tucked between the bed and wall of a youth hostel in downtown Berkeley, where he escaped after the Covid-19 outbreak to be with his family. Each excerpt from the journal results in a title for each painting, ranging from soft memories of 'sleepy stray cats and small fields of dirt and wild grass' in the quiet streets of Tokyo, to violent memories of the Japanese occupation in Manila, as recalled by the protagonist's Filipino grandmother.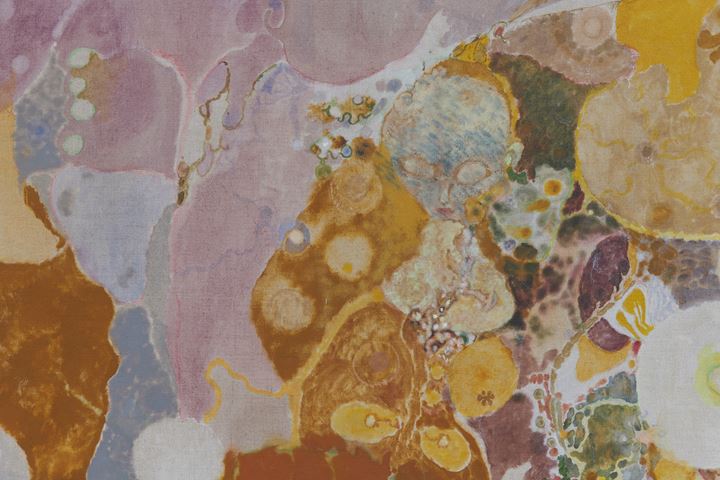 Justin Caguiat, The saint is never busy (2019) (detail). Oil on linen. 217.2 x 284.5 cm.. Oil on linen. 221.5 x 152 cm. Exhibition view: Permutation City 1999, Modern Art, London (25 June–8 August 2020). Courtesy Modern Art.
Influences are far-reaching across Permutation City 1999, ranging from science fiction, the 'baroque-folk hybrid aesthetic' of early Filipino Catholic Santos, sixties psychedelia, and Ukiyo-E. Defined as a 'set or number of things that can be ordered or arranged', the word 'permutation'—drawn from a 1994 science-fiction novel by Greg Egan—allows each painting to be read in abstract association to Caguiat's text. In The synthetic memory forming (2020), figures are hazily rendered with a shroud of dots, recalling the fragments of memory in the text. In to the approach of beauty its body is fungible (2020), enveloped in crumbling segments of brown and light blue, the titular extract reminisces on wanderings 'as far as Shibuya or Harajuku', where the protagonist would 'sleep in parking lots and in nooks in between buildings, hidden places underneath'.
Exhibition view: Justin Caguiat, Permutation City 1999, Modern Art, London (25 June–8 August 2020). Courtesy Modern Art.
In the absence of figuration, mental imagery comes into play with Caguiat's abstractions, inviting viewers to bask in dreamlike canvases whose scale and dusky tones approximates them to frescoes. Shuddering between layers of paint on canvas and transnational recollections in writing, Permutation City 1999 is somewhat reflective of the current global landscape, where radical and geographically disparate events seem to be coming together as a 'primordial soup', forming a new normal yet to be known.—[O]