News | Institutions
Art World Remembers 'Complex' L.A. Art Patron Eli Broad
Broad helped found MOCA Los Angeles in 1979 and opened The Broad across the street in 2015.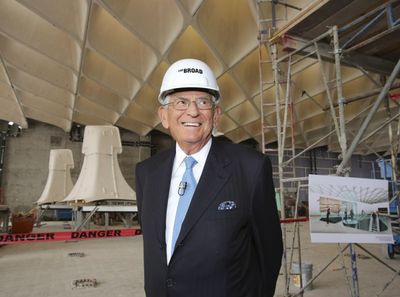 Eli Broad. Photo: Ryan Miller © Capture Imaging.
Los Angeles patron of the arts Eli Broad died on Friday 30 April. He was 87.
Broad (pronounced 'brode') was the founding chairman of MOCA, which opened in 1979, and opened art museum The Broad across the street in 2015.
According to a statement from the Broad Foundation, over his lifetime Broad and his wife Edythe gave nearly $1 billion to Los Angeles arts and culture institutions, in addition to financing the $140 million Broad.
'He was very early in buying my work,' said Los Angeles artist Mark Bradford. 'It meant that collectors who were shaping the L.A. landscape were including me in that history. The canoe went a little further down the river after that — like a rising tide lifts all boats — and he was part of that.'
Jeff Koons tweeted 'it is hard to think of any person who has done more to help people across the spectrum through education, science, and the arts.'
In the late '90s, when the price of fabricating Koons' first balloon dog leapt from $250,000 to $1.7 million, Broad footed the bill.
'He stood by the work and made sure it would be finished. Now the blue Balloon Dog is at the Broad,' Koons told the Los Angeles Times.
For all Broad's generosity, Koons told The New Yorker, he didn't make any money on the sale.
As well as supporting artists and institutions, Broad had a reputation of being stubborn, controlling and egotistical. He is said to have feuded with architects Frank Gehry and Renzo Piano, tried to have a building at MOCA renamed the 'Eli and Edythe Broad Museum of Contemporary Art', and requested that the 'Broad Contemporary Art Museum (BCAM)' at the Los Angeles County Museum of Art (LACMA) have its own separate committee of trustees. Allegedly failing to get his way, he rescinded an offer to donate his collection to LACMA just days before the opening of BCAM.
'Eli Broad was an ambitious and complex man who fell in love with an ambitiously complex city,' said artist Barbara Kruger, who is also the Distinguished Professor of New Genres at the UCLA School of the Arts and Architecture.
There are 'very few in L.A.'s history who have come remotely close to his sense of duty and his willingness to put his own time and effort — pressing his political connections, strong-arming business peers into stepping up for the arts — the way he did,' Joanne Heyler, the founding director of The Broad, told The New York Times.
Politicians also acknowledged Broad's contributions. On Twitter, Nancy Pelosi described him as 'a legendary patron of the arts' and Los Angeles Mayor Eric Garcetti described him as 'L.A.'s most influential private citizen of his generation'.
Born in the Bronx, New York City, Broad started his career as an accountant in Michigan. He teamed up with the husband of Edythe's cousin to establish an affordable housing company that they took public in 1961. He moved to Los Angeles in 1963, where he became interested in art and philanthropy. In 1971 he acquired the Sun Life Insurance Company of America for $52 million and, after restructuring and taking it public in 1989, sold it for $17.8 billion.
The Broads began their art collection in the 1970s with works by Joan Miró, Vincent van Gogh, Henri Matisse, and Amedeo Modigliani. They went on to collect Cindy Sherman, Jean-Michel Basquiat, Anselm Kiefer, and Eric Fischl, among others. In 2005, they purchased David Smith's nine-foot-tall steel sculpture Cubi XXVIII (1965) for $23.8 million at Sotheby's. It's in the collection of The Broad, which will reopen to the public on 26 May. —[O]