News | Institutions
Asia Forum Announces Venice 2022 Programme
The event will feature contributions from artists Ho Rui An, Saodat Ismailova, Yuki Kihara, and ruangrupa's Reza Afisina, among others.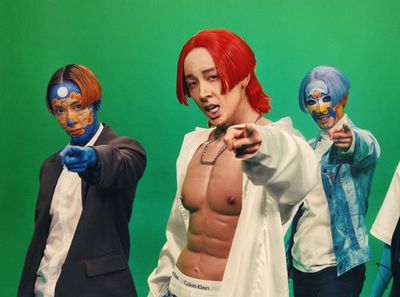 Sin Wai Kin, It's Always You (2021). Courtesy of the artist and Blindspot Gallery.
Asia Forum has announced the programme for its one-day launch event, which will take place at Fondazione Querini Stampalia on 23 April during the opening week of the 59th Venice Biennale.
The event will begin with a roundtable discussion that describes Modernism as a 'crime scene'. It features Asia Forum founder Annie Jael Kwan, Sharjah Art Foundation's Hoor Al-Qasimi, Filipino curator Patrick Flores, Canadian curator Ming Tiampo, London-based curator Hammad Nasar, and Asia Art Archive researcher John Tain.
Subsequent sessions will be presented by artists Ho Rui An, Abbas Zahedi, Yuki Kihara, Sin Wai Kin, Saodat Ismailova, and ruangrupa's Reza Afisina, plus a presentation by Sheelasha Rajbhandari and Hit Man Gurung, curators of Nepal's first ever pavilion at the Venice Biennale.
Saodat Ismailova, Qyrq Qyz" (forty girls) (2018). Filmed by Carlos Casas. Courtesy of the artist.
Asia Forum began as a series of digital gatherings in 2021. It was conceived by independent curator Annie Jael Kwan with support from British charity the Bagri Foundation to consider, for instance, how adopting 'Asias-centred' perspectives could help us 're-imagine futures beyond current thought paradigms'.
'As art spaces and gatherings, and indeed, global travel, re-open, a new post-pandemic energy is greatly welcomed after the challenges of isolation across the [past] two years,' Jael Kwan said.
'However,' she continued, 'recent events have illustrated that such optimism is precarious, with the ongoing ramifications to our health, safety and ability to connect, and now the rumblings of a new world order with the possibility of a new Cold War that has also begun in the art world.'
Jael Kwan said Asia Forum would help friends and colleagues 'to continue our conversations about how art plays an important role in keeping us connected, resilient, and hopeful in these challenging times.'
Seats at the event can be booked here. The Forum will also be live-streamed by ArtReview. —[O]