News | Market
At NFT.NYC, 'It's Not a Bear Market, It's a Build Market'
Fifteen thousand people gathered at the NFT.NYC conference in New York last week, with many more joining just for satellite events around the city.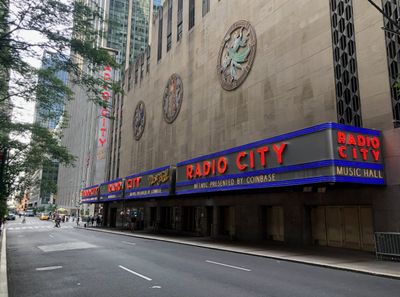 A number of NFT.NYC sessions took place at Radio City Music Hall. Photo: Sam Gaskin.
There was a boosterish tone to most of the talks at NFT.NYC, the conference devoted to non fungible tokens that wrapped in New York on Thursday.
The optimism was palpable in spite of a crypto crash that has seen Ethereum plunge almost 80% since November 2021. Weekly NFT sales have fallen below US $200 million from over $1.8 billion in August, according to market analysts NonFungible.
People queued around the block outside the Marriott Marquis in Times Square on Monday 20 June, waiting up to two hours in the heat just to pick up their badges. Altogether, 15,000 people registered for the conference, whose programme—bloated with some 1,500 speakers—was too long to meaningfully sift through.
Spike Lee discusses NFTs at NFT.NYC in New York, 2022. Photo: Sam Gaskin.
Celebrity endorsement—often maligned by NFT sceptics—came from director Spike Lee, who spoke at Radio City Music Hall on Tuesday 21 June. NFTs, he said, could help young filmmakers finance their first short films after incurring a quarter million dollar debt to study with him and other professors at NYU. (The bubble in U.S. tertiary education fees has yet to burst.)
The crypto comedown was acknowledged here and there. Cocktails at the nft now gala celebrating their NFT100 power list were given glibly gloomy names such as 'Bear Market' and 'Down Bad' by a crypto-savvy community who have weathered such crashes before.
Emcees Joel Comm and Travis Wright from the Bad Crypto podcast, who followed Lee's session, spun the bear market as a 'build market'.

Jeff Koons, Moon Phases (2022). Installation view at Pace Gallery, New York City. Courtesy the artist and Pace Gallery.
Galleries Defy the Market Downturn
Pace Gallery continued its efforts to build sustainable markets for their artists' NFTs with an exhibition in Chelsea. Released on 21 June, John Gerrard's 196 Petro National (2022) works sold out in 20 minutes for prices ranging from US $2,200 to $5,500.
Jeff Koons' Moon Phases will see 125 one-inch moon sculptures literally travel 'to the moon', with larger mirror-polished steel and gemstone versions remaining with collectors here on Earth. The works, which Pace is slowly making available to collectors, are being purchased for US $2 million each.
On the Upper East Side, Gagosian saw an uptick in visitors to Takashi Murakami's exhibition An Arrow through History, which was towards the conclusion of its run from 11 May to 25 June. Gagosian was not directly involved in Murakami's recent NFT project, a series of pixelated flower characters, but they did sell out acrylic on canvas paintings based on a selection of the NFTs.
Takashi Murakami, An Arrow through History, 980 Madison Ave installation view, 2022. Artworks © 2022 Takashi Murakami/Kaikai Kiki Co., Ltd. All Rights Reserved Courtesy Gagosian. Photo: Rob McKeever. Courtesy Gagosian.
Christie's held an exhibition of NFTs entitled Cartography of the Mind: A Curated NFT Sale to Benefit MAPS at its gallery space in the Rockefeller Center from 21 to 28 June. The show featured works by Mad Dog Jones, Beeple, Refik Anadol, and others (shown on Atomic Form displays) to benefit the non-profit Multidisciplinary Association for Psychedelic Studies (MAPS).
During an NFT.NYC panel session on the exhibition, Mad Dog Jones revealed that psychedelics have been instrumental to his artistic development. More surprisingly, Christie's rainmaker Noah Davis, who oversaw the auction in which Beeple's Everydays: the First 5,000 Days sold for US $69 million, said that he will be leaving to work as Brand Lead of CryptoPunks, the NFT series created by Larva Labs in 2017 and purchased by Yuga Labs in March.
Meanwhile, contemporary art-focused NFT platform Outland, who have previously launched NFT projects by Fang Lijun and James Jean, hosted a rooftop party to introduce their upcoming projects.
Dustin Yellin, Pscyhoprogeny - Mother Tree (2022) at Christie's Cartography of the Mind: A Curated NFT Sale to Benefit Maps. Photo: Sam Gaskin.
Anyone Can Make NFTs. Who Can Make Bank?
A theme that ran through both the NFT.NYC sessions and satellite exhibitions was that the NFT art community is for everyone. Panel participants with names like Ragzy X and Rad Laser Falcon discussed the opportunities for minorities and weirdos, NowHere Gallery and display makers Infinite Objects showcased female NFT artists from around the globe, and SuperRare gave away stickers that read 'SuperQueer'.
More important to many NFT artists' success than their gender, ethnicity, or sexuality has been how early they entered the space (in part because of a genuine interest in the technology not shared by latecomers). Artists making their first NFTs now, in a more crowded market, will have to find another way to set themselves apart.
NFT.NYC sessions on how to run a strong NFT project recommended roadmaps promising additional benefits, adding 'utility' such as access to parties, and contributions to charities—tactics that suggest a lack of confidence in the inherent value of the art.
An important alternative—that galleries, curators, and critics can be at least as important as Discord servers in identifying and championing the best NFT art projects—didn't really come up. —[O]