News | Galleries
Pace Verso and Art Blocks Announce NFT Partnership
Boasting its own gallery in Marfa, Texas, Art Blocks has been as eager to embrace the contemporary art world as Pace has to promote NFTs. Their first collaboration is a series of oil slicks by John Gerrard.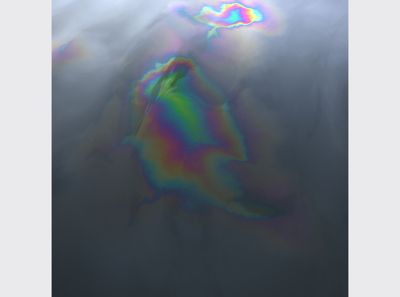 John Gerrard, Petro National (United States of America) (2022). © John Gerrard / Artists Rights Society (ARS), New York.
Two major players in the art NFT space announced a new collaboration today. Pace Gallery's digital art wing Pace Verso and generative art platform Art Blocks, which has so far racked up sales of US $1.47 billion (with a 'b'), will team up to release generative art NFTs by both Pace artists and 'crypto-native' artists.
'Only a year ago, it would have been beyond the edges of my imagination to think that we would be announcing a collaboration with Pace, a top-tier gallery with an incredible roster of artists, many of whom have been meaningfully inspirational in my life,' said Art Blocks founder Erick Calderon in a statement. 'One of the artists, John Gerrard, will be leading the way with a project called Petro National that literally gave me goosebumps when I first experienced it.'
The 196 unique NFTs in Petro National depict the outlines of different countries as rainbow-hued gasoline spills on the ocean. The works will be on view at Pace's 540 West 25th Street gallery in New York from June 21 to 23 during the upcoming NFT.NYC conference prior to the opening of Gerrard's solo show at Pace's 510 West 25th Street space on 28 June.
Last year, Gerrard released an NFT of his 2017 work Western Flag (Spindletop, Texas) on Foundation. The work shows black-smoke-billowing from the top of a flagpole at the site of what was, in 1901, the world's largest ever oil strike. The work was listed for 250 ETH but didn't sell.
Beeple, Pilgrimage (2022). Courtesy Christie's Images Ltd. 2021.
Describing their new partner, Pace CEO Marc Glimcher said 'Art Blocks is a leader in the world of crypto art and has cultivated a unique community of artists and collectors using a cutting-edge algorithmic NFT platform that propels the medium forward. They share our ambition to provide artists with the tools they need to invent and create artworks that will endure the test of time.'
'Our shared belief in the future of generative art aligns with our history of working with systems-based artists, from Sol LeWitt to Leo Villareal,' he said.
In addition to platforms and art galleries' NFT efforts, auction houses continue to announce new NFT sales.
Sotheby's Hong Kong will auction the first NFTs by New York-based Japanese artist Tomokazu Matsuyama alongside 13 newly created paintings from 14 to 21 June.
And Christie's New York will present works by digital artists including Beeple, Sarah Meyohas, Refik Anadol, and Mad Dog Jones to benefit the Multidisciplinary Association for Psychedelic Studies (MAPS) from 21 to 28 June. —[O]